LOG Illustrated Issue 8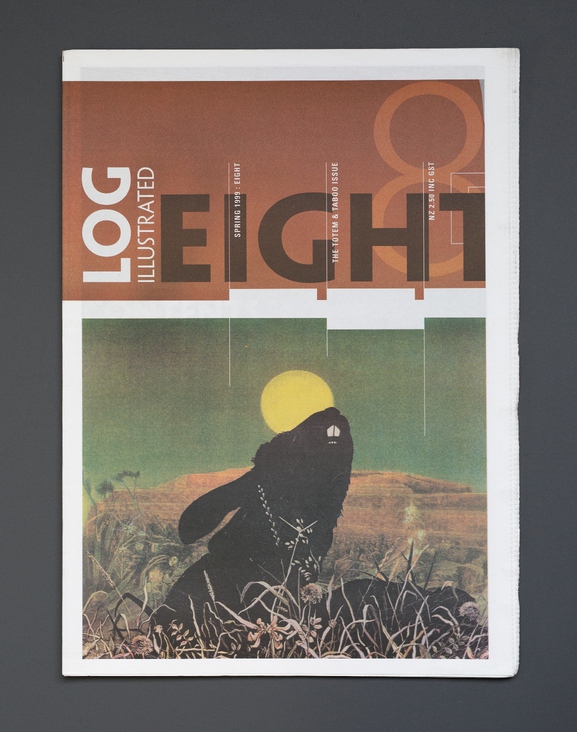 With a superb full colour cover by Megan Dunn, this issue is a visual stunner.
Pageworks by Yvonne Todd, a centre spread by Bill Hammond, and a combined effort with poetry and images by John Pule and Sofia Tekela, this is definitely a LOG worth collecting. The Freudian theme is dabbled with in Nik Wright's discussion of prison tattoos, Ochiichi Augustmoon's discussion of gendered language, and David Woodward's examination of the disinhibiting effects of the "Feraliminal Lycanthropiser".
Meanwhile, Bryce Galloway gets back to his Scottish roots while Gwyn Porter goes back to Christchurch and lambastes all the sacred cows. Heather Galbraith reviews Sophie Calle in the Freud Museum, London, and Danny Huppatz talks about the inaugural Melbourne Biennale, Signs of Life.
LOG Illustrated was a contemporary art magazine. LOG was published in tabloid format three times a year. Rather than being strictly about-art dialogue-based, LOG was conceived, in 1997, to provide a site for artists and writers to experiment with images and texts in a print format.
Shipping costs:
Please select "Publication postage (within NZ)" at checkout. If you are based abroad, please select "QUOTE (for large items and international postage)" and we will be in touch about shipping options.