Past event
19 September to 02 November 2008
Various Times
Free Tours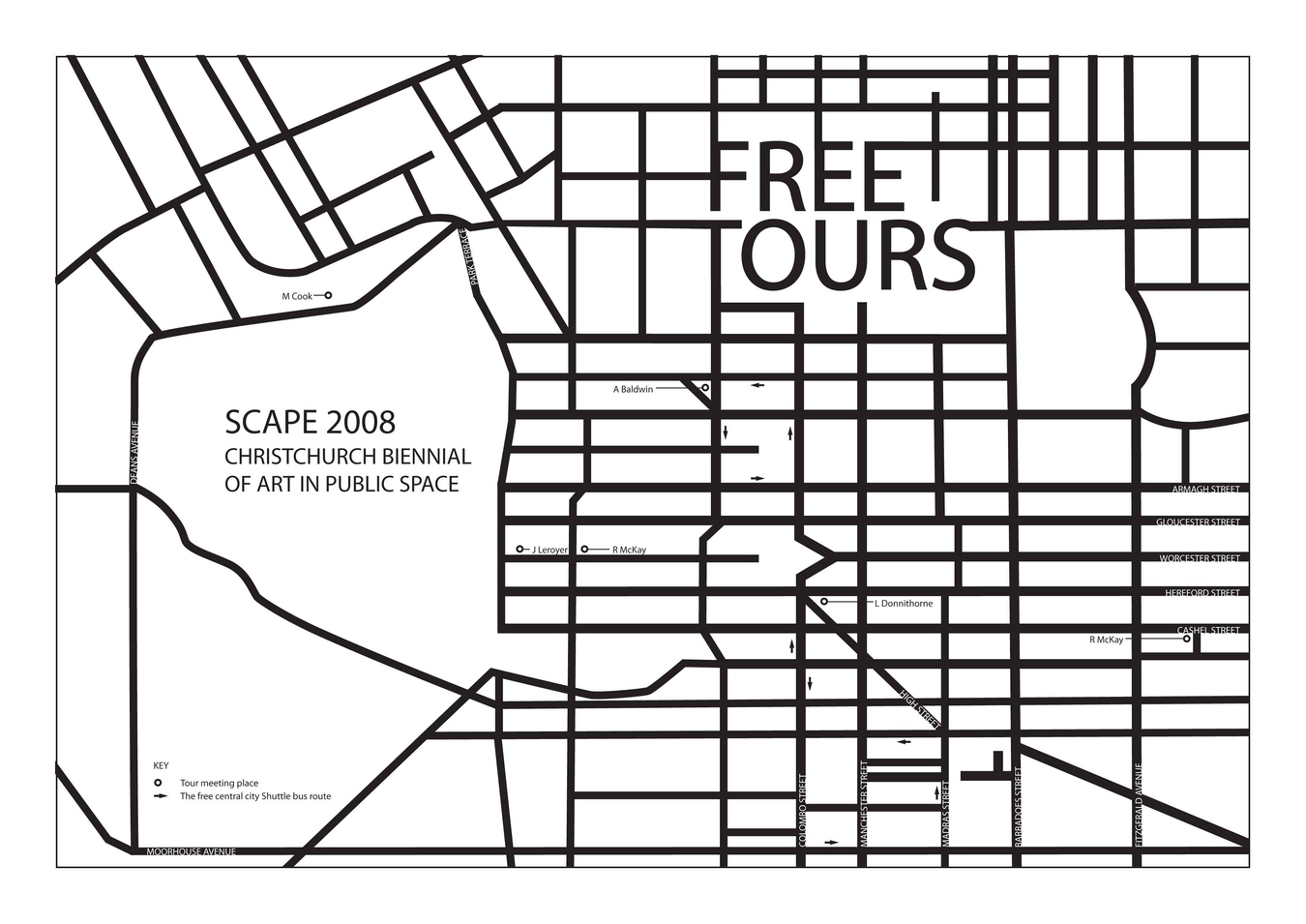 19 September to 02 November 2008. Free entry.
In June 2008 a call-out for volunteers was circulated in Christchurch by Marnie Slater through mailing lists, notice boards, email, newspaper classifieds and word of mouth. During late July and early August, in the lead up to SCAPE 2008 Christchurch Biennial of Art in Public Space, Slater met with the resulting group of individuals to work along side them as they grappled with the artist's proposed project.
Each volunteer was invited to work with Slater to plan, write and choreograph their own tour of a work, site or event connected to SCAPE 2008. These tours could happen anywhere, at any time, and there would be no restriction on the content or approach.
We are now very pleased to announce that as of this Saturday 20 September, Free Tourswill be active within the central city of Christchurch expressly for a public audience. The tours are free to participate in and each will respond to the works included in SCAPE 2008 Wandering Lines: Towards a New Culture of Space as well as the city of Christchurch itself.
Marnie Slater's Free Tours project was commissioned for SCAPE 2008 and has been realised with the support of The Physics Room, The Christchurch City Council, Hotel So, Spectrum Print and a very dedicated group of local volunteers.
TOUR GUIDES AND PROGRAMMES
Audrey Baldwin
Audrey is a Fine Arts student at the University of Canterbury majoring in sculpture; her practice is largely performance based. She has always been interested in how people work in social situations-the unwritten rules of everyday practice and what behaviour we come to expect from each other.
FREE TOUR
Meeting Place: The free central city Shuttle bus (for more information visit www.metroinfo.org.nz)
SCAPE 2008 Artist: Carmela Gross
A transient space will, for a short time, become a destination. People will listen and (over)hear things about the art happening in their public spaces whether they intend to or not. On the bus, you will be a captive audience.
The tours are taking place on board the free central city Shuttle bus that does a circuit around the city centre. People who want to take part in the tour will need to catch the Shuttle that Audrey is on-this bus will have a FREE TOUR sign displayed (perhaps somewhat covertly) in the window and will be driving around the city between 6.30-7pm on the nights scheduled. The tour itself will be quite short-approximately 5 minute bursts of 'tour talk' that will be repeated for the duration of the Shuttle circuit.
LOUISE DONNITHORNE
Louise's long-held interest in art history, Canterbury history and natural history was recently formalised with a degree from the University of Canterbury but has been nurtured, enriched and invigorated over the years by travel and reading.
Meeting Place: Stewart Plaza, corner of Hereford Street and Colombo Street
Art & Industry Permanent Commission Artist: Regan Gentry
Flour Power by acclaimed sculptor Regan Gentry is a succinct fusion of concepts from art and industry with visual reference to Canterbury's near and distant past. A street talk will expand the historical and contemporary themes that motivate this powerfully evocative sculpture.
UPDATE: Please note, Louise Donnithorne's tour, scheduled to take place on Wednesday 29 October, 1.00 - 1.30pm has been cancelled.
JUSTIN LEROYER
Justin holds a (French) Masters Degree in Strategies for Cultural Development. Justin's tour will take care of the audience members 'in vivo' while they meet the artistic projects included in SCAPE 2008.
YOU HAVE GIVEN, WE SHALL TAKE (OR IS IT TALK)...
Meeting Place: Outside Le Cafe, The Arts Centre, Worcester Boulevard
SCAPE 2008 Artists: Billy Apple, Carmela Gross and more!
SCAPE 2008 will open a new city sized museum-are the works of art imposed on us or are they at our disposal? Join Justin with your digital camera to re-write their history in YOUR photo novel. Please bring all the necessary cables you need to download your photographic novel onto Justin's computer.
RODERICK MCKAY
For Roderick, art mediates new ways of looking at the world. Art has been a balancing factor during a career in science and education that, in turn, leads him to look for new understandings from the evidence within a work.
RE-NEGOTIATING EXPECTATIONS
Meeting Place: Ex Tenebris Lux, foyer of the Christchurch Art Gallery Te Puna o Waiwhetu
SCAPE 2008 Artist: Maider Lopez
Maider Lopez introduces subtle changes in familiar environments that can alter perceptions and behaviour as her participants/audience reassess expectations. This tour introduces her installation in the Christchurch Art Gallery, leading to a conversational exploration of our expectations of an art museum.
OPEN HOME AT 424 CASHEL
Meeting Place: Open Home sign at 424 Cashel Street
SCAPE 2008 Artist: Callum Morton
424 Cashel Street is a nexus for the wandering lines that help define our city. Callum Morton's work suggests a change of cosmic proportions: the Open Home at 424 Cashel will consider past influences and future possibilities.
M.S.A
HOW TO EXPLAIN ART TO MY PARENTS
SCAPE 2008 Artists: All
Unscheduled, covert meanderings for the duration of SCAPE 2008.
MARJORIE COOK
Marjorie was a teenager when John Lennon's 'Imagine' was in the charts and his music has always been part of her life. She enjoys the poetry of John's lyrics and believes in the universal appeal of music, art and strawberries.
STRAWBERRY FIELDS
Meeting Place: Little North Hagley Park
SCAPE 2008 Artist: Paul Johns
The Christchurch plaque to John Lennon is one of many similar memorials around the world, and appeals to a sense of universal connectedness between peoples. Visitors to John Lennon's memorials remember both his music and his dreams for world peace, and this helps to keep the possibility alive.
Marjorie's tour will cover a short history of the plaque and the connection it provides to other memorials to John Lennon worldwide. It will be offered directly after the ceremony to re-install the plaque which is scheduled to begin at 10am.
We're on Facebook