LOG Illustrated Issue 15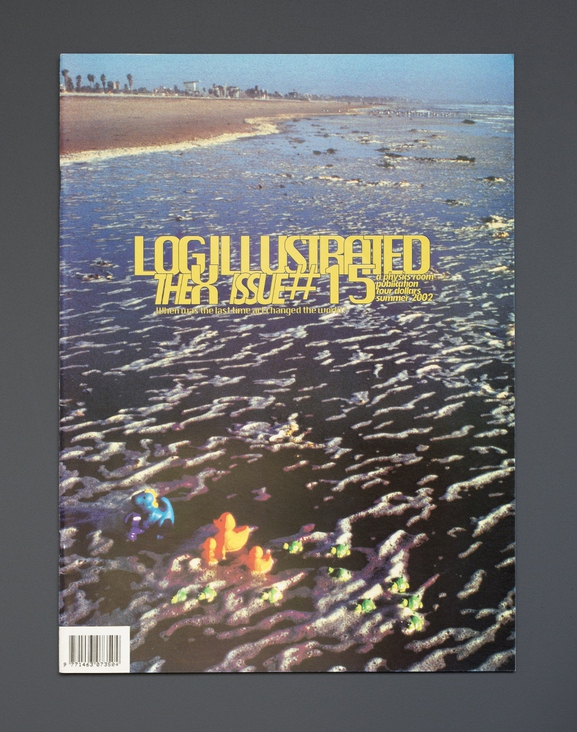 Cover: Shirley Tse's Quack heard around the world #1. Of this image she said it was "only a simulation of the actual situation". "An incident in 1992 gives us a perfect example of the paradox of artificiality: a freak ocean storm washed a container off a freighter in the middle of the Pacific Ocean, releasing 29,000 plastic bathtub toys being shipped from Hong Kong to Tacoma, Washington. Over the next year, thousands of blue turtles, red beavers, yellow ducks and green frogs washed up on the Alaska coast, giving oceanographers a great deal of data on North Pacific winds and currents. The marine research community dubbed this incident 'the quack heard around the world' and used it to update their computer models of the ocean." This image was used as illustration to "Post-colonial Mutation and Artificiality Hong Kong, a case study", a slide lecture for the all-nighter Chance Conference organised by Chris Kraus at Whiskey Pete's casino in Primm, Nevada, 1996.
LOG Illustrated was a contemporary art magazine. LOG was published in tabloid format three times a year. Rather than being strictly about-art dialogue-based, LOG was conceived, in 1997, to provide a site for artists and writers to experiment with images and texts in a print format.
Shipping costs:
Please select "Publication postage (within NZ)" at checkout. If you are based abroad, please select "QUOTE (for large items and international postage)" and we will be in touch about shipping options.