Correspondence 2.1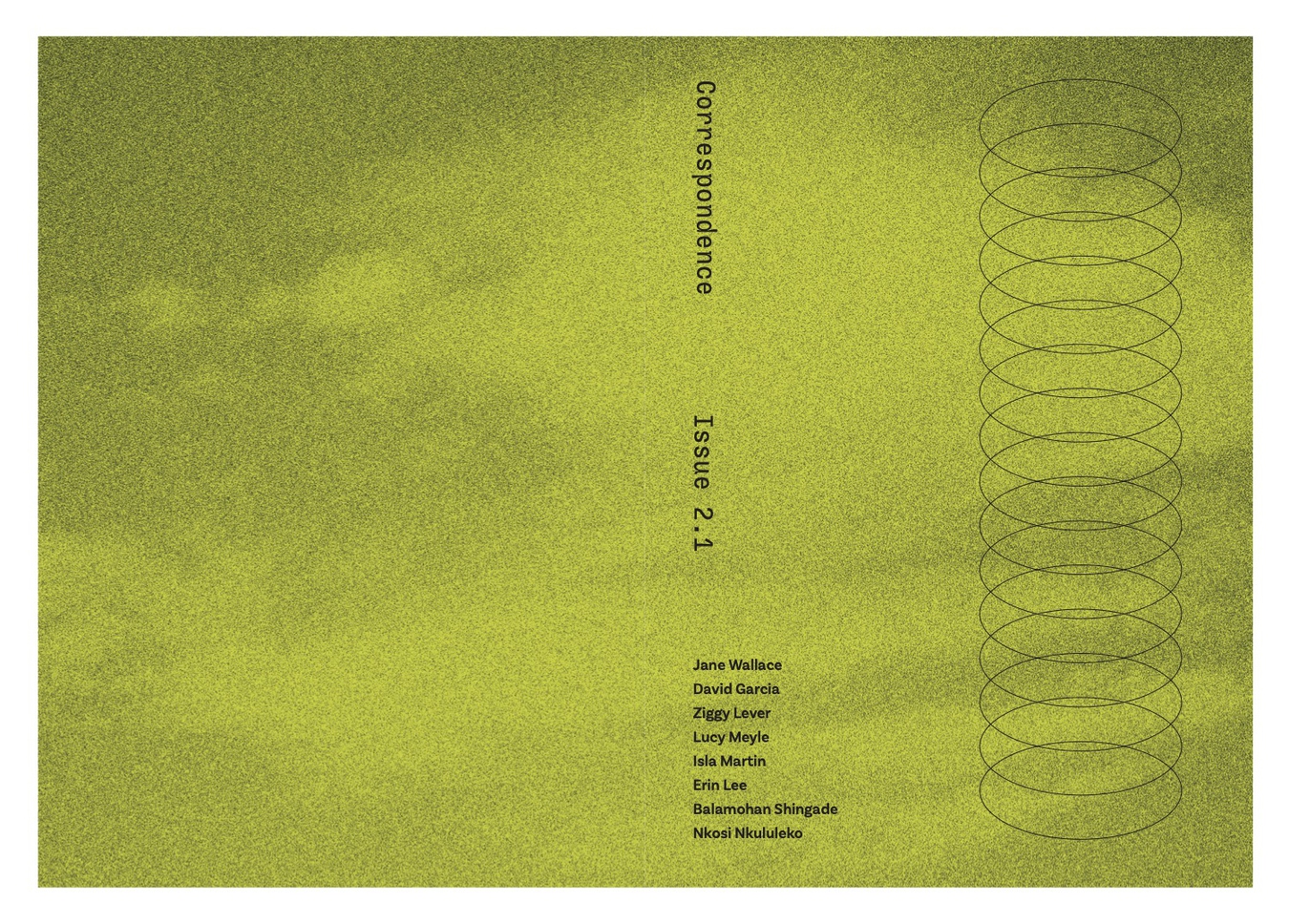 Correspondence is a biannual tabloid, publishing pairs of works for the page, web, and ear, as openings into artistic practices and relationships.
Volume 2, Issue 1 includes audio and print contributions from Jane Wallace, David Garcia, Ziggy Lever and Lucy Meyle, Isla Martin, Erin Lee, and Balamohan Shingade and Nkosi Nkululeko.
Publications & Writing Coordinator Orissa Keane, editor of this series, invited contributors to thinking about what a spacious atrium could be, what potential lies in this pair of words or imagined architecture. Gathered in this issue are the results of that invitation. Correspondence 2.1 is also available for listening through an audiobook edition, recorded by the contributors themselves, alongside the two 2021 issues of this bi-annual tabloid publication by The Physics Room.
We hope you'll be able to pick up a copy from one of our listed distribution points below. However, you can also enjoy this issue by downloading the full PDF, by listening using your screen reader, or by listening to the audiobook below.
Please note that the HTML text version of Correspondence 2.1 on this webpage is intended mainly for screen readers. If you're a sighted person, you might better enjoy the thoughtful design qualities of the downloadable PDF and print versions. The audiobook is there for all audiences to provide as an alternative way to engage with the contributions in this issue.
Correspondence 2.1 is designed by Jane Maloney, MK Press.
You can find Correspondence 1.1 here, and Correspondence 1.2 here.
Contents
Spacious Atrium
Orissa Keane
Editorial note
Orissa Keane
Fibrous Rhythm
Jane Wallace
Unsettling Cartographies
David Garcia
Image After Imago
Ziggy Lever and Lucy Meyle
Spacious Atriums for a Modern Hine
Isla Martin
Hallway Fieldnotes
Erin Lee
Correspondence Game 2022-23
Caro-Kann, Advance Variation [B12]
Balamohan Shingade – Nkosi Nkululeko
How to dispose of your copy of Correspondence 2.1 responsibly...
Illustration by Min-Young Her
Distribution
These are the sites who will be holding stacks of Correspondence 2.1 for free distribution to the public (limited supply):
Ōtautahi
Fibre Gallery, Ōtautahi
Central Gallery
Christchurch Art Gallery
Paludal
Ilam School of Fine Arts


Ōtepoti
Blue Oyster Art Gallery
Dunedin Polytechnic School of Art
Te Whanganui-a-Tara
Enjoy Contemporary Art Space
The Dowse Art Museum
Massey University, Wellington CoCA Campus
Tāmaki Makaurau
Artspace Aotearoa
Corban Estate Arts Centre
Fresh Gallery
Elam School of Fine Arts
And...
RAMP, Kirikiriroa Hamilton
Pātaka Art + Museum, Porirua
The Suter Art Gallery, Whakatū Nelson

Book shops
Strange Goods, Tāmaki Makaurau
Scorpio Books, Ōtautahi
Good Books, Te Whanganui-a-Tara
Details
Correspondence Volume Two, Issue One
Published November 2022
ISSN 2744-7529 (Print)
ISSN 2744-7537 (Online)
ISSN 2744-7545 (Sound recording)
Edited by Orissas Keane
Designed by Jane Maloney, MK Press
Printed by Allied Press
1000 copies of a 32pp tabloid on 52gsm newsprint
Featuring new audio/print comissions by: Jane Wallace; David Garcia; Ziggy Lever and Lucy Meyle; Isla Martin; Erin Lee; Balamohan Shingade and Nkosi Nkululeko.
Correspondence 2.1 Full PDF (PDF)