Past event
29 May 2008
4pm
Vera Dika Talk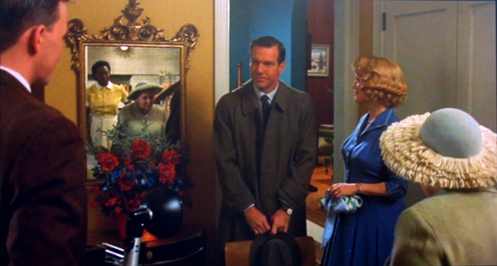 29 May 2008. Free entry.
Vera Dika on "Reconsidering the Nostalgia Film: FAR FROM HEAVEN, ALL THAT HEAVEN ALLOWS, and ALI: FEAR EATS THE SOUL"
The impulse to return to past images and styles has become a staple feature of filmmaking, but is practiced in different ways by various filmmakers. In this talk Vera Dika discusses Todd Haynes' Far From Heaven (2002), Douglas Sirk's All That Heaven Allows (1954), and Rainer Werner Fassbinder's Ali: Fear Eats The Soul (1974), comparing their methods in re-working the source material, and the effects created. These films are especially interesting for their treatment of pertinent social, historical, and aesthetic issues, and while often quite removed from our era, are still pressing today.
Vera Dika holds a Ph.D. in Cinema Studies from New York University and has taught at UCLA and USC. She is currently Assistant Professor of Film Studies at New Jersey City University. Specializing in American film, Dika is the author of two books, Recycled Culture in Contemporary Art and Film: the Uses of Nostalgia (Cambridge University Press, 2003) and Games of Terror: Halloween and the Films of the Stalker Cycle 1978-1983, (Fairleigh Dickenson University Press, 1991). She has written film criticism for Art in America, Artforum, and The Los Angeles Times, and other publications.
Dika's critical writings also appear in a number of anthologies. Her essay "The Representation of Ethnicity in The Godfather" is included in The Godfather Trilogy, (Cambridge University Press, 2001). Professor Dika was a founding editor of Millennium Film Journal, and is currently an Associate Member of the Columbia University Film Seminar.
On-going research includes transnational cultural exchanges, and cross media studies. In 2005 Professor Dika attended a NEH Summer Institute on "German and European Studies". From this study she wrote an essay on the East German Western entitled "An East German Indianerfilm: The Bear in Sheep's Clothing" published in Jump Cut. Dika has also co-curated a show at the American Museum of the Moving Image, "Beyond Wiseguys: Italian Americans and the Movies". She is presently writing her next book, The Role of the Cinematic in Downtown Film and Art, a study of Downtown practice in the late 1970s and 1980s and its distinctive use of film, as medium and as an inspiration.
Vera Dika's talk in Christchurch is presented in association with Te Puna Toi (Department of Theatre and Film Studies, University of Canterbury).
Vera Dika is visiting New Zealand thanks to the ARTSPACE International Visitors Programme. She will be speaking in Auckland, Dunedin and Christchurch.
We're on Facebook