Past event
22 May 2007
5.30pm
Artist Talk: Sriwhana Spong & Kate Newby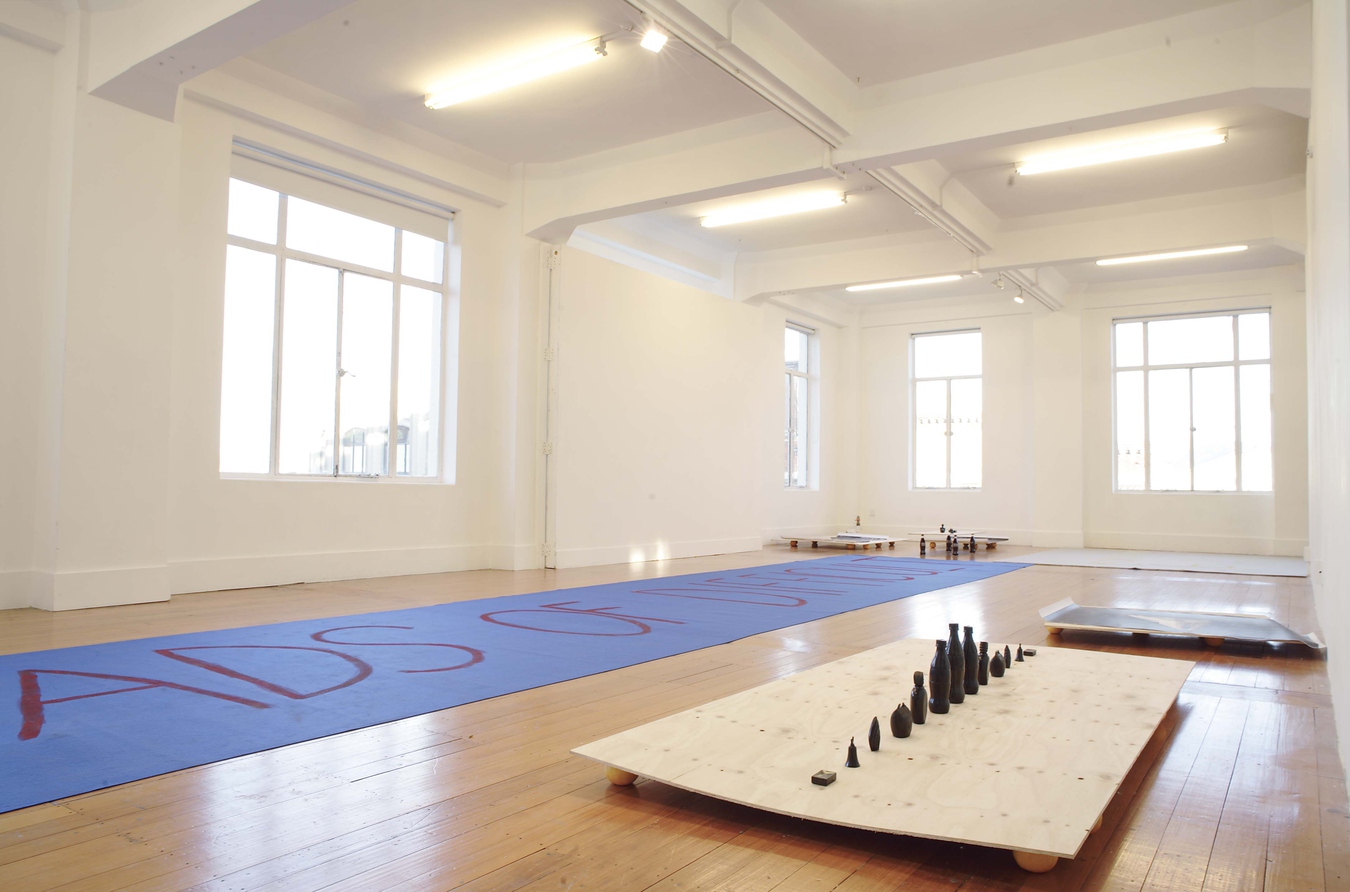 22 May 2007. Free entry.
TWONE is a collaborative exhibition by Auckland artists Sriwhana Spong and Kate Newby, where their divergent practices meet in the middle as twone. As the title suggests, there is a tension between the promise of twoness and the freedom of the singular that was the starting point for the collaboration.
Walking into the gallery our eyes are drawn to the floor, circumventing the typical experience of art on the walls, inviting us to ponder and explore the possibility and potential of the words and the forms with our eyes down - a contemplative positioning. Newby's sprawling carpets marked with throw-away statements and rough cast brick form in the garden below buttress Spong's delicately cast, highly seductive lacquer casts and furling black and white photographs, finely balanced atop of a makeshift table of plywood and oranges. Together the works perform like whispers in the room, offering multiple points of entry and multiple points of disconnection - but most importantly there is noise that we can tune into as we move about the space.
Newby's work leaks out of the gallery though. To the garden viewed from The Physics Room window and down the road where a flag of her making flies from a pole on top of the Real Groovy building on Tuam Street. She is stretching out, widening the reach, creating a whirlpool effect of absurd, bordering on useless, words for us to think about. She transforms meaningless things into points of reference, celebrations of the ugly, the throwaway, the difficult, the abject.
Sriwhana Spong graduated from Elam School of Fine Arts, Auckland in 2001. She has participated in group and solo exhibitions in New Zealand, Australia and Germany. Recent exhibitions include Turbulence: Auckland Triennale, Artspace, Auckland; Who's Afraid of the Big Bad Wolf?, Te Tuhi, Manukau; Cultural Futures, St. Paul St., Auckland; Playing Favourites, Enjoy Public Art Gallery, Wellington; Break Shift, Govett-Brewster Art Gallery, New Plymouth.
Graduating from Elam School of Fine Arts with a Post Graduate Diploma in Fine Arts, Kate Newby has exhibited in solo and group exhibitions in New Zealand and abroad. Most recently she exhibited On the Benefits of Building, Gambia Castle, Moment Making, Artspace, Auckland; a series of site-specific urban projects, Very Interesting, Very International, in public sites in Europe and America; The Silver Clouds, curated by Cuckoo, Melbourne; Don't Rain on my Parade, Special, Auckland; Remember New Zealand, 26th Sao Paulo Biennale, Sao Paulo, Brazil.
We're on Facebook