Past event
09 August 2020
2 – 3pm
High Street Histories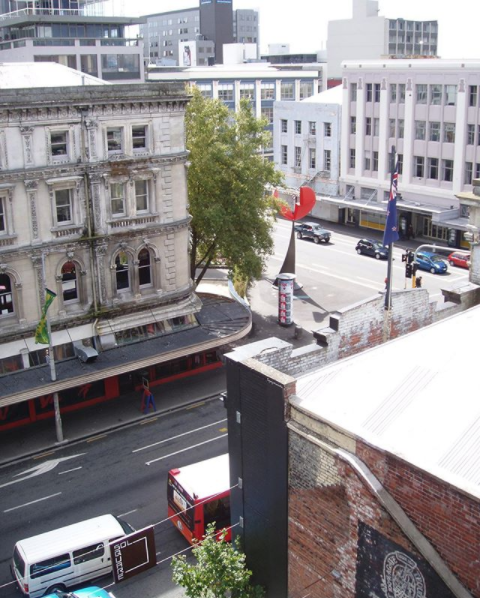 09 August 2020. Free entry.
High Street Histories
Sunday 9 August, 2 - 3pm
Meet beside Nucleus (corner High, Lichfield, and Manchester Streets)
With commentary from Louise Palmer (High Street Project), Helen Calder (64zero3), Grant Banbury (Campbell Grant Galleries), Lee Richardson (Hot Lunch) and an introduction by Audrey Baldwin.
Accompanying Kiosk: Directors' Commentary by Eddie Clemens, we warmly invite you to join us for a free walking tour exploring the old neighbourhood of the Kiosk.

The Kiosk was a permanent public art site for temporary exhibitions. Situated on the busy pedestrian thoroughfare on the corner of High and Lichfield Streets, Kiosk provided a 24/7 venue for contemporary art.

Acting as an extension of The Physics Room at ground level, Kiosk was one of many spaces that made the area a vibrant hub for the arts community comprising public / artist-run spaces and dealer galleries.

This tour brings together artists, directors, and curators involved with past (and future) spaces to discuss the history and context of galleries in Ōtautahi, specifically in the High Street area. Join us to hear insights and origin stories, art historical facts and tidbits, as well as the highs and lows of setting up running and these spaces.

Meet at 2pm at the old Kiosk site beside Phil Price's Nucleus sculpture (corner of High, Lichfield, and Manchester Streets).

In the event that it is raining, meet inside C1 Espresso.
--
Click here to listen to a recording of the tour on Art, Not Science Episode 14
We're on Facebook