A partnership between the Eastern Southland Gallery and The Physics Room
Timely Additions
28 Sep — 01 Dec 2019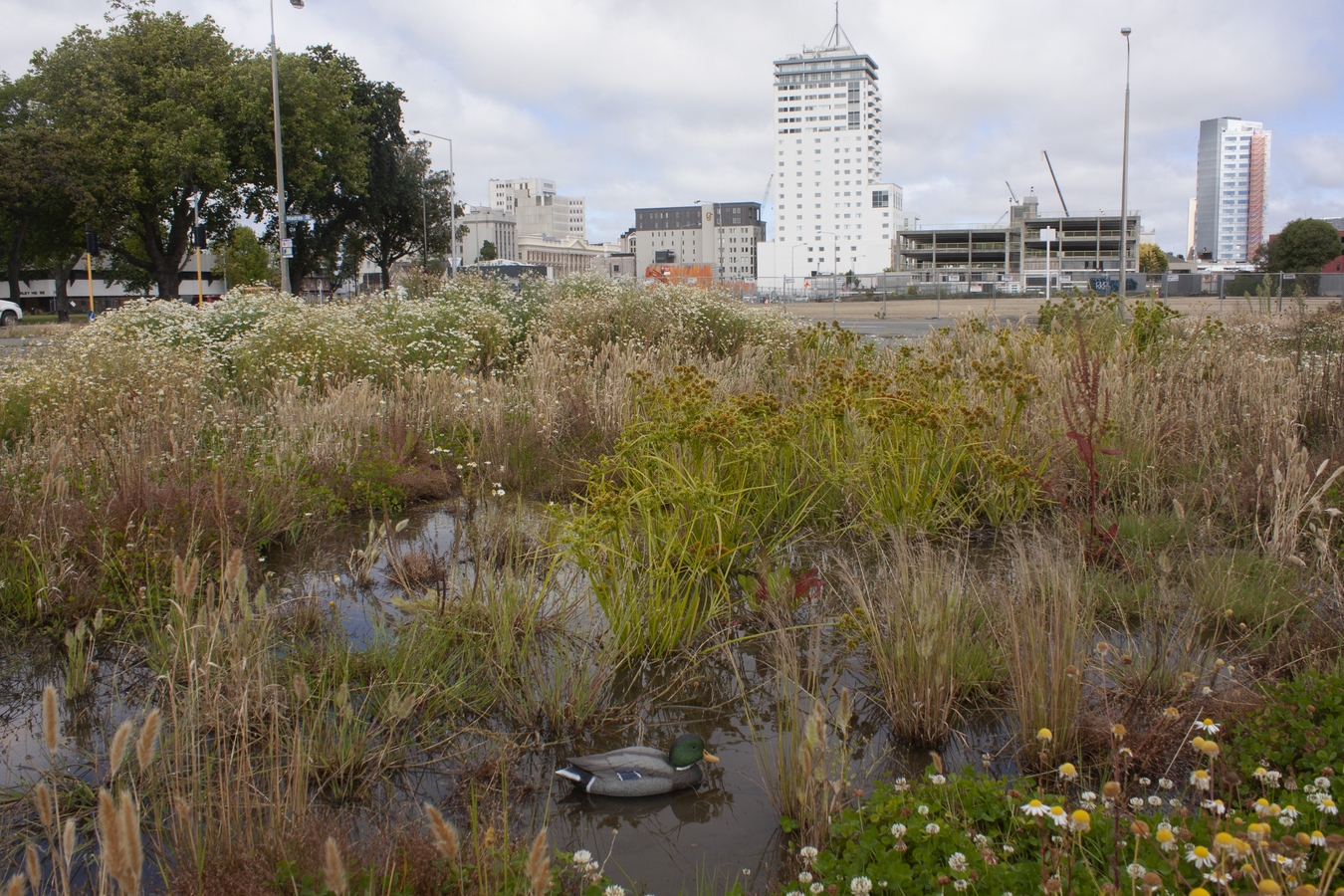 Audrey Baldwin, Daegan Wells, Gaby Montejo, Liv Worsnop, Lonnie Hutchinson, Nathan Pohio, Rob Hood, & Zina Swanson
Exhibition runs: 28 September – 1 December 2019
The phrase 'timely additions' comes from the Christchurch City Council's Artworks in Public Places Policy (2002), which states "As a guardian of the city's artistic and cultural heritage, the Council has a duty to stimulate timely additions to that heritage and provide for the monitoring and good management of its cultural assets." What might 'timely additions' mean when public spaces are altered so dramatically as they were following the earthquake sequences of 2010-11?
Timely Additions re-visits two early programmes organised by South Island Art Projects (S.I.A.P), Public Practices (1993) and The Body of the Land (1992), to examine the contemporary role of public art and its impact on place and place-making. S.I.A.P was an organisation formed in 1991 dedicated to activity, dialogue, and debate around the contemporary visual arts in New Zealand, with specific reference to the South Island; in 1996 the entity became The Physics Room Trust.
"Public Practices examined prevailing notions of audience, regionalism, and access to contemporary art. Taking the debate surrounding art in public spaces as a driving theme, Public Practices brought a regional focus to this debate, examining in particular questions of access and transparency, and the need to develop critical perspectives in public art practices."
Vivienne Stone, Introduction from Public Practices.
"What are the qualities that give a place meaning? What makes a place special, a landscape important, valuable, unique? What makes a particular place worth caring about?
Ronda Cooper, The Why of Where, From The Body of the Land.
The artists selected represent a range of approaches to engaging with public space in Ōtautahi over the last eight years. Timely Additions features documentation of these projects, as well as maquettes, remnants from performances, artefacts, research materials, and work that questions the material and temporal properties of what could be considered documentation. Through the inclusion of commissioned permanent and semi-permanent works, as well as temporary interventions organised by artist collectives and individuals, Timely Additions suggests that the 'what' and the 'how' of public art are inextricably linked.
The exhibition does not seek to capture all public art activity that has occurred post-quake (entire books are dedicated to this topic), rather it seeks to explore the agency of artists to re-imagine artistic and cultural heritage in relation to the systems that control their production. Collection items from the Eastern Southland Gallery that depict the pre-quake environment of Ōtautahi will be exhibited alongside the work of contemporary artists.
We would like to acknowledge the original commissioners, organisers, funders, and facilitators of the public work including The Social Artist Collective, Christchurch City Council, SCAPE Public Art, Festival of Transitional Architecture, the Ministry of Justice, Ngāi Tahu, Matapopore, and Life in Vacant Spaces.
Timely Additions is a continuation of The Physics Room's itinerant programme partnering with public galleries across Te Waipounamu, the South Island to create collaborative exhibitions. This exhibition is a partnership between the Eastern Southland Gallery, Gore and The Physics Room.
--
Audrey Baldwin is a Zimbabwean born, Ōtautahi based performance artist, curator, and event producer. She graduated from Ilam School of Fine Arts, Canterbury University in 2009 and has shown in galleries nationally as well as in Japan, India, Zimbabwe, Australia, and The Netherlands. Her work centres around the body as a site of power struggle and contention. Everyday actions, routines, and histories are key fodder for reframing in an absurd or ritualistic manner which aims to destabilise entrenched ideologies and stimulate questions about the status quo.
Daegan Wells' exhibition and projects include Start with a Vase (curated by Sebastian Clarke) Hastings City Gallery, Hastings (2019); Catch (curated by Becky Richards) Tinning Street Presents, Melbourne (2019); Hut for a Sensuous Goldminer, with Sophie Bannan, Meanwhile Gallery, Wellington (2018); A Gathering Distrust, Ilam Campus Gallery, Christchurch (2018); The Tomorrow People (curated by Christina Barton) Adam Art Gallery Te Pataka Toi, Wellington (2017); Private Lodgings, Blue Oyster Gallery, Dunedin (2016); Persistency (curated by Melonie Oliver) The Physics Room, Christchurch (2014).
Gaby Montejo approaches art through photo, music, interviews, and temporary installation often with performative actions. Gaby's work explores democracy and hierarchy in a way where the finished work is often consumed or destroyed during the process of making. Whilst exhibiting internationally, Gaby stays pivotal in the social initiatives and collaborative interventions of Christchurch and is a key member of the collective The Social. Born to Cuban parents, Gaby attended art school in Australia and America and moved to Christchurch in 2006. Recent exhibitions and works include: No Exit, Tinning St Gallery, Melbourne (2019); V+ for Feasta, Christchurch (2018); How To Drink Conflicting Water, Istanbul Performance Art (2018); Everyday Lines, Hastings City Art Gallery (2017); Mayfield Residence, Ashburton Art Gallery (2017); Shared Lines- Wellington (2017); and Honeymoon Latte For Precarious Nature, CoCA (2016).
Liv Worsnop completed a Bachelor in Fine Arts at Ilam School of Fine Arts, Canterbury University in 2012. A deep reverence for this Earth and our relationship with it found her working within the building-less lots of post-quake Christchurch. Under the title Plant Gang, she has implemented a number of inner city projects, including illustrated weed catalogues, a Zen garden, a sage field, site clean-ups and guerrilla gardens. Concurrent to Worsnop's site specific work, she has sustained a studio practice. Using reclaimed soft fabrics and nature photography books, she collages images that explore and celebrate the infinite and indivisible connectedness that ripples through all of life.
Lonnie Hutchinson completed her Bachelor of Design from Unitec in 1997, which was later followed by her Master of Design. As well as a prolific exhibiting career both nationally and internationally, Lonnie has been awarded a number of international residencies and has made work for numerous large scale public commissions. In 2015 Lonnie was awarded the Creative New Zealand Pasifika Contemporary Artist Award. Lonnie's work also belongs in a number of international private and public collections including the Auckland Art Gallery, Christchurch Art Gallery, Banff, Canada, The Dowse Art Museum, New Zealand High Commission, Washington, Massey University, and David Teplitsky Collection, Hong Kong.
Nathan Pohio
Iwi: Waitaha, Kati Mamoe, Kai Tahu
Hapū: Ngai Tūāhuriri, Kāti Huirapa, Ngati Wheke, Ngāti Irakehu, Ngai Ruahikihiki.
Nathan is an artist and assistant curator at Christchurch Art Gallery Te Puna o Waiwhetū, in 2017 Nathan represented Aotearoa New Zealand at Documenta14. As an artist Nathan calls upon Kai Tahutanga as the base from which to express something of the contemporary Māori experience including colonial objectives and histories. As a curator Nathan follows principals of Tikanga Māori and Kai Tahutanga to bring a Māori perspective to the exhibition and public programs at Christchurch Art Gallery Te Puna o Waiwhetū. Nathan is Chairperson for The Physics Room, a contemporary art space and a founding member of Paemanu, a collective of Kai Tahu contemporary artists.
Rob Hood lives and works in Christchurch, New Zealand. He graduated with a BFA in Sculpture (1999) and an MFA (2011) from Ilam School of Fine Arts, Canterbury University. Exhibitions include: (Un)conditional I, The Physics Room, NZ; (Un)conditional II, Suter Art Gallery, Nelson, NZ; Feeling Nature, Feeling Free, Jonathan Smart Gallery, NZ, 2016; Precarious Balance, COCA, NZ; Tricksters, Christchurch Art Gallery, NZ, 2012; Prospect Contemporary Art Now, Wellington City Art Gallery, 2011; From a City Forsaken by its Gods, First Draft Gallery, Sydney, 2011; Last Ride in a Hot Air Balloon, Auckland Triennial, Auckland Art Gallery, 2010. Hood was the Olivia Spencer Bower fellow in 2007. His work is held in the collections of Auckland Art Gallery Toi o Tāmaki, Christchurch Art Gallery Te Puna o Waiwhetū, and the University of Canterbury.
Zina Swanson graduated from Ilam School of Fine Arts, Canterbury University with a Bachelor of Fine Arts in sculpture. She has exhibited extensively over the past decade, including at City Gallery, Wellington; The Dowse, Lower Hutt; Dunedin Public Art Gallery and The Hocken Uare Taoka o Hakena, Dunedin; Christchurch Art Gallery Te Puna o Waiwhetu; the Physics Room and Jonathan Smart Gallery (both Christchurch). In 2013, she was the Frances Hodgkins Fellow, Dunedin and in 2014 she took up a residency at apexart, New York. Swanson was the inaugural recipient of The Grace Butler Residency, Christchurch in 2018