Past event
27 July 2019
1 – 6pm
Spontaneous Intentionality: A Performance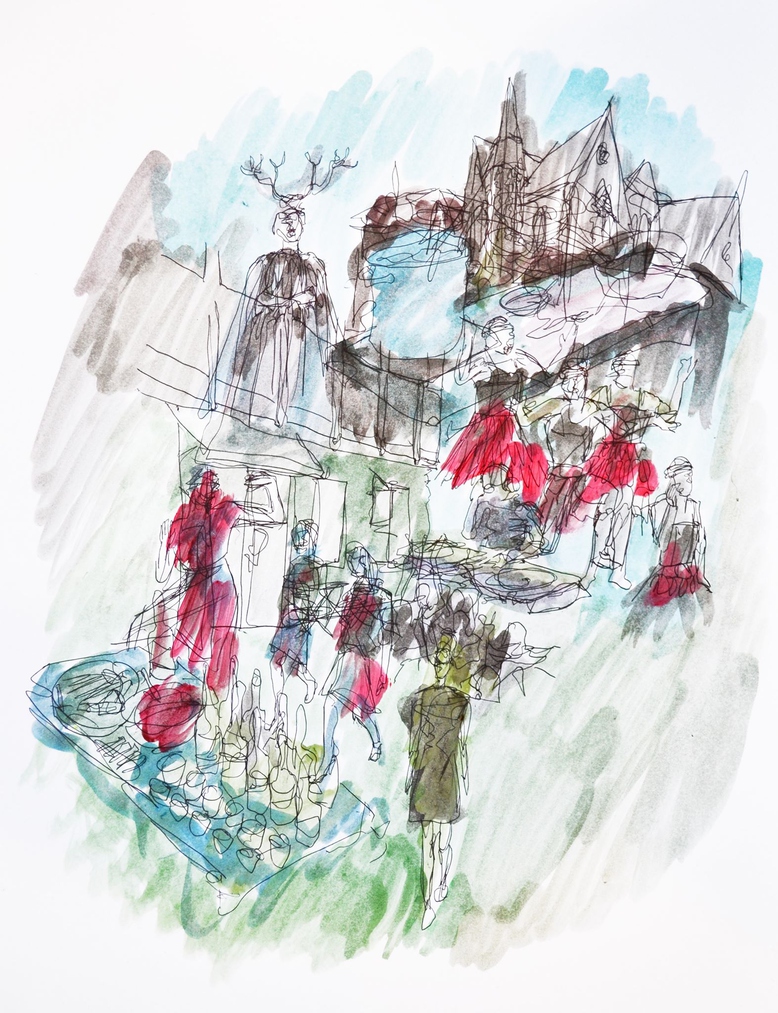 27 July 2019. Free entry.
Spontaneous Intentionality: A Performance
Tuafale Tanoa'i and friends
At the old Cheesemongers in The Arts Centre Te Matatiki Toi Ora

Please join us for an afternoon of music, fashion, poetry, and food organised by Tuafale Tanoa'i. This event brings a number of the communities Tanoa'i works alongside under one roof for a party that celebrates creativity, community and signals the end of her residency at the University of Canterbury Macmillan Brown Centre for Pacific Studies.
1pm – 1:30pm: Singers Esmay Goodman, Jack Milner-George, and Libby Higson will perform an improvised, vocal piece in costumes made by Steven Junil Park of 6x4. An extra rack of costumes will be available for people to try on and party in!

2:00 – 2:30pm: Poetry from Tusiata Avia

3:00 – 3:45pm: Jeanine Clarkin presents a selection of designs from her street wear label in a catwalk show.

4:00 – 6:00pm: Tuafale Tanoa'i AKA DJ Linda T will bring the party for the rest of the afternoon and into the evening with tracks that will get you on the dance floor. During the afternoon guests are encouraged to participate in a DJ challenge with Linda T. by playing alternate tracks to crank up the atmosphere and pack the dance floor!
Food and non-alcoholic beverages will be served at no cost throughout the afternoon. All welcome, attendance is free!
--
Tusiata Avia is a poet, performer, and children's book writer who was born in Christchurch, New Zealand. She earned a BA from University of Canterbury and has lived in Samoa and greater Australia. Avia is the author of Fale Aitu / Spirit House (2016), Bloodclot (2009), and Wild Dogs Under My Skirt (2004). Her poetry weaves mythology with personal narratives and examines her Samoan and Palagi background. Avia has been an artist-in-residence at the Macmillan Brown Centre for Pacific Studies and was appointed to an Ursula Bethell Residency in Creative Writing at the University of Cambridge. She has also held the Fulbright-Creative New Zealand Pacific Writers' Residency at the University of Hawai'i and won a Janet Frame Literary Trust Award.
Jeanine Clarkin established her Māori street wear label in 1994, blending Māori art and design for a new generation and projecting Māori fashion into the new millennium. Clarkin has worked as a costume designer for dance and theatre, a fashion show producer and creative director, and more recently as a curator for art exhibitions and events. The collections springs from the conceptual body of the Wharenui, where tinana (body), wairua (spirit) and mauri (life force) are held together in balance. Incorporated patterns drawn from tukutuku, continuing the traditional women's fibre art of the Wharenui, as well as developing her interest in colonization and the exchanges of Māori lands for blankets. The resulting garments are contemporary high fashion statements, founded in matauranga Māori.
We're on Facebook