Past event
18 April 2009
6pm
Artist Talk: Young Sun Han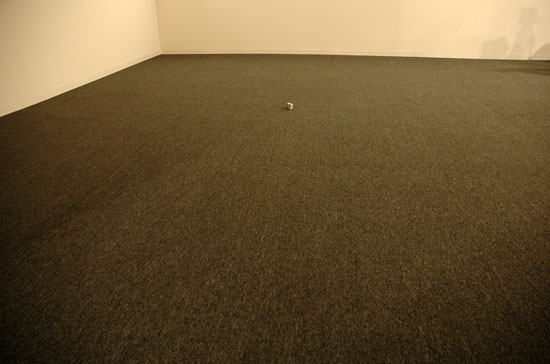 18 April 2009. Free entry.
During contemporary art's global boon, art fairs have served as the standard pageant for thousands of galleries to parade artworks in everything from convention centres, hotels, garages, warehouses, trucks, to tents. In October of 2008, director Kylie Sanderson and curator/artist Young Sun Han of City Art Rooms, Auckland travelled to Europe to survey various art fairs throughout London, Paris, and Berlin. Their research culminated in City Art Rooms' participation at the Bridge Art Fair, one of Art Forum Berlin's satellite fairs thanks to support from Air New Zealand and Red Bull.
Young Sun Han will present a talk and presentation about the myriad of approaches that galleries in Europe have devised in order to get attention. In major centres like London, dealers and artists recognise that visibility is life. This scenario presents a quandary for gallerists who compete to create the most memorable spectacle while balancing the desire to engage in critical ideas, and of course, sell, sell, sell! After all, art fairs are a substantive investment-the airfare, transport, marketing, and endless champagne trollies don't cover themselves.
These commercial agendas arguably impede a gallery's curatorial vision, but the heightened environment also presents a ripe opportunity to respond to this context and challenge traditional exhibitions. Young Sun Han will discuss these challenges and reveal the process of decision making that led to two projects featured by City Art Rooms consisting primarily of emerging New Zealand artists. He will also compare novel approaches by other galleries and examine the different philosophies and aims of the varied fairs themselves: Frieze, Zoo, FIAC, Scope, Art Forum, Preview, Bridge, and more. There's also the story of an altercation with Tracey Emin, who tried to steal his bag.
Young Sun Han is an artist and curator who hails from Chicago, USA. He trained at the School of the Art Institute of Chicago, Goldsmiths College of London and the Academy of Media Arts, Cologne in studio arts and art history. Exhibitions of his work have been held throughout the USA, Europe, New Zealand, and Australia. His courtship with commercial galleries began with coffee runs as a 17-year-old intern in Chicago, and since then, he has assisted with projects for the Chicago Art Fair, Cologne Art Fair, Nixon Art Associates, and the Kunstverein Moenchengladbach. Han is currently the curator of City Art Rooms, a hybrid dealer and project space in central Auckland.
We're on Facebook