Past event
01 June to 15 July 2008
Various Times
Tour Guides Wanted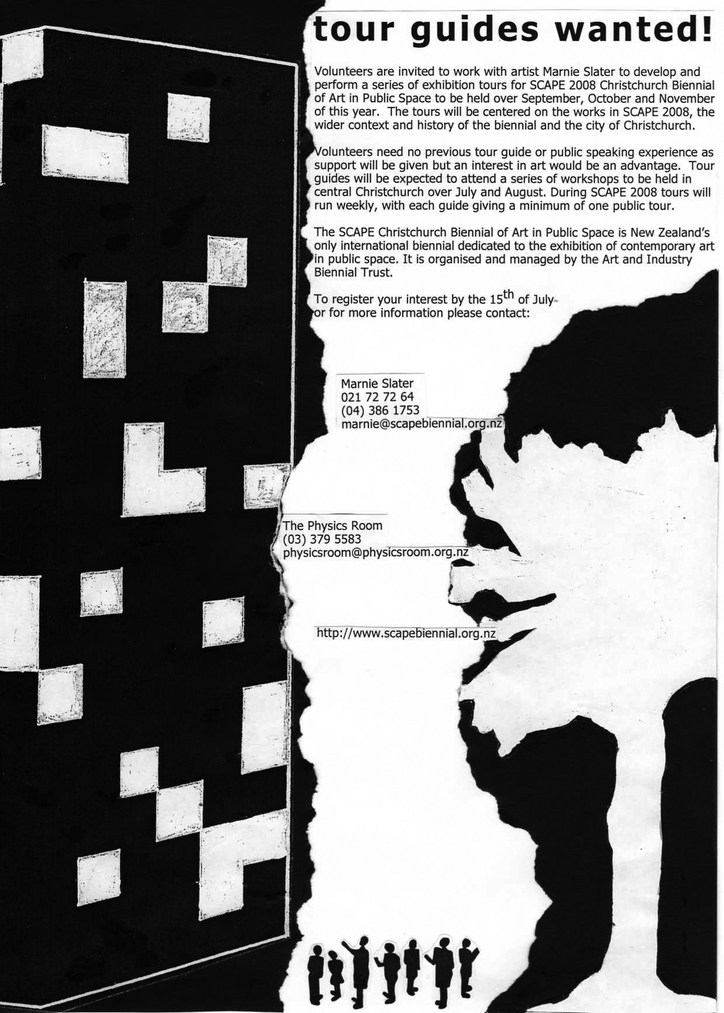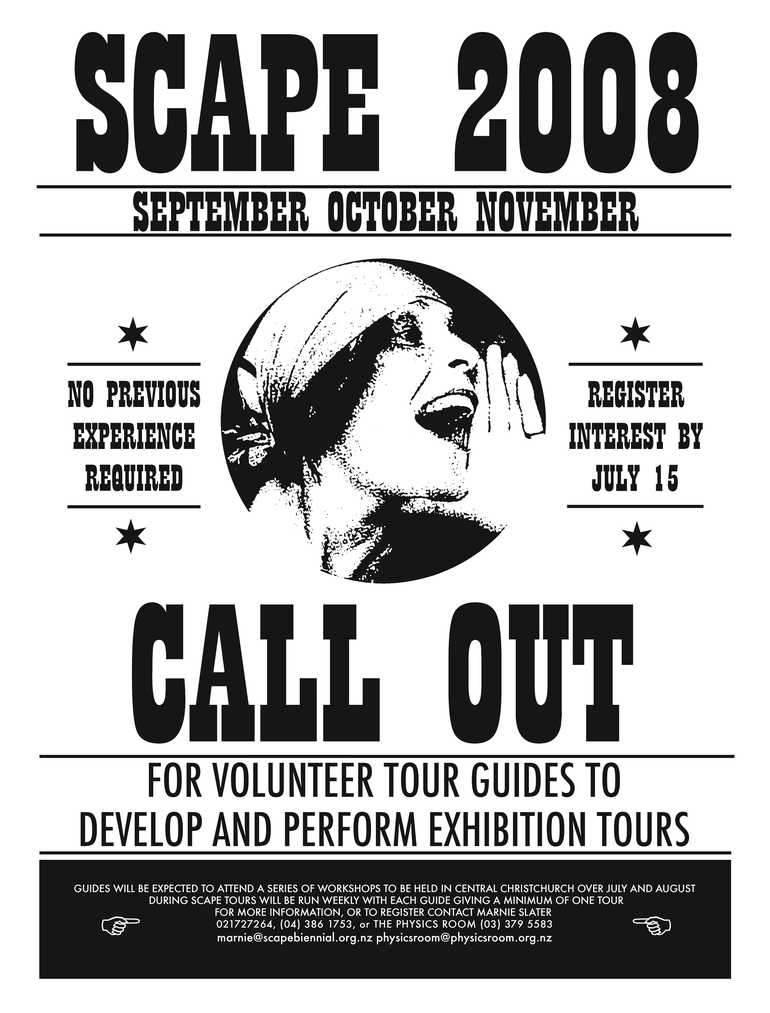 01 June to 15 July 2008. Free entry.
Tour Guides Wanted for Contemporary Art Exhibition
Volunteers are invited to work with Marnie Slater, a New Zealand artist, to develop and perform a series of exhibition tours for SCAPE 2008 Christchurch Biennial of Art in Public Space to be held over September, October and November of this year.
The tours will be centered on the works in SCAPE 2008, the wider context and history of the biennial and the city of Christchurch and will provide an opportunity for the articulation of diverse, personal, critical and potentially transgressive viewpoints. The tours will attempt to locate SCAPE within the social and political fabric of Christchurch. The tours will offer public audiences access to a wide range of voices through a process of structured wanderings or guided experiences, and will provide a broad scope of approaches to the projects and contexts of the SCAPE Biennale and its role within Christchurch city.
Volunteers need no previous tour guide or public speaking experience as support will be given but an interest in art would be an advantage. Tour guides will be expected to attend a series of workshops to be held in central Christchurch over July and August. During SCAPE 2008 tours will run weekly, with each guide giving a minimum of one public tour.
The SCAPE Christchurch Biennial of Art in Public Space is New Zealand's only international biennial dedicated to the exhibition of contemporary art in public space. It is organised and managed by the Art & Industry Biennial Trust.
SCAPE is the largest producer of new contemporary artwork in New Zealand - by both national and international artists. It plays a unique and important role as it is the only New Zealand biennial which focuses on commissioning new works of art, and has established a vital platform for both national and international artists to develop dynamic, lively and progressive artworks.
Marnie Slater's previous art projects have focused on the processes and contexts present within art gallery spaces. Through an exploration of the architectural, physical and cultural systems that are present within such spaces, Slater produces structural and sound based interventions that seek to challenge our predispositions within those locales. In relation to this project, Slater's goal is to extend her past interests in cultural systems and codes into the wider public sphere and the communities that exist and are supported there.
To register your interest by the 15th of July or for more information please contact:
Marnie Slater
021 72 72 64
(04) 386 1753
marnie@scapebiennial.org.nz
The Physics Room
(03) 379 5583
physicsroom@physicsroom.org.nz
http://www.scapebiennial.org.nz/
We're on Facebook