John Fairclough
Total_World_View
03 May — 28 May 2000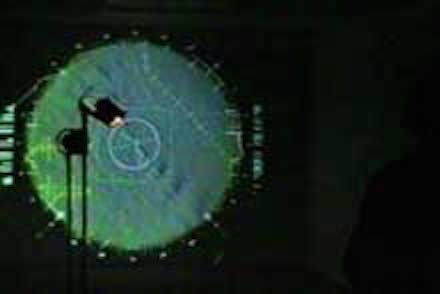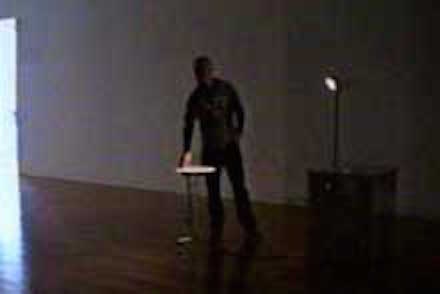 John Fairclough is one of New Zealand's most exciting and accomplished digital artists, whose 1998 exhibition at The Physics Room was one of the highlights of our programme. This time, Fairclough is presenting to Christchurch audiences an interactive computer work which requires viewer input to activate the piece. Total_World_View has toured to both Artspace and The Dunedin Public Art Gallery, as part of the exhibition Rapid in 1998.
In this work a data projector driven by a computer projects an interactive image onto the gallery wall, while a sound synthesizer generates an audio image from the visual data. Space is articulated using a system based on the way we explore forms habitually, by touch and feel. The interactive work provides a viewpoint into a landscape of dynamic phenomena, with something of the organic complexity, subtlety, instability, and fragility of a natural ecosystem. Travelling within this informational ecosystem, a range of behaviors may be recognized, from squabbles, tantrums, tenderness and intimidation, to joyful celebration.
As with many of Fairclough's works, Total_World_View reflects his interest in language and the process of image-making through a series of metalanguages. Through the experience of writing computer programs Fairclough has become accustomed to defining events as a set of instructions, in a way creating a language understood by both humans and machines. In Total_World_View the data is transposed into sound and image.
As the audience interacts with the work they can begin to recognise patterns and rules within the informational ecosystem of images and sound. Just as a child learns a language through observation and repetition, the audience progressively learns how to control the visual and aural patterns of Total_World_View. In this way one can manipulate the sounds and images and discover patterns in a system that at first appears to be one of abstract chaos.
Reviews, Essays & Articles
Mixed doubles
The Press, 2000 June 28, p. 42
Ussher, Robyn.
Exhibitions by Sarah Minney and John Fairclough at Physics Room; Lauren Winstone, Rebecca Waldron and Pip Robertson at High Street Project.
Total_World_View & strung Mickman vs Grigg
PRESTO, issue 25
Andrew Paul Wood