Past event
27 July 2007
5.30pm
Artist Talk: Jon Campbell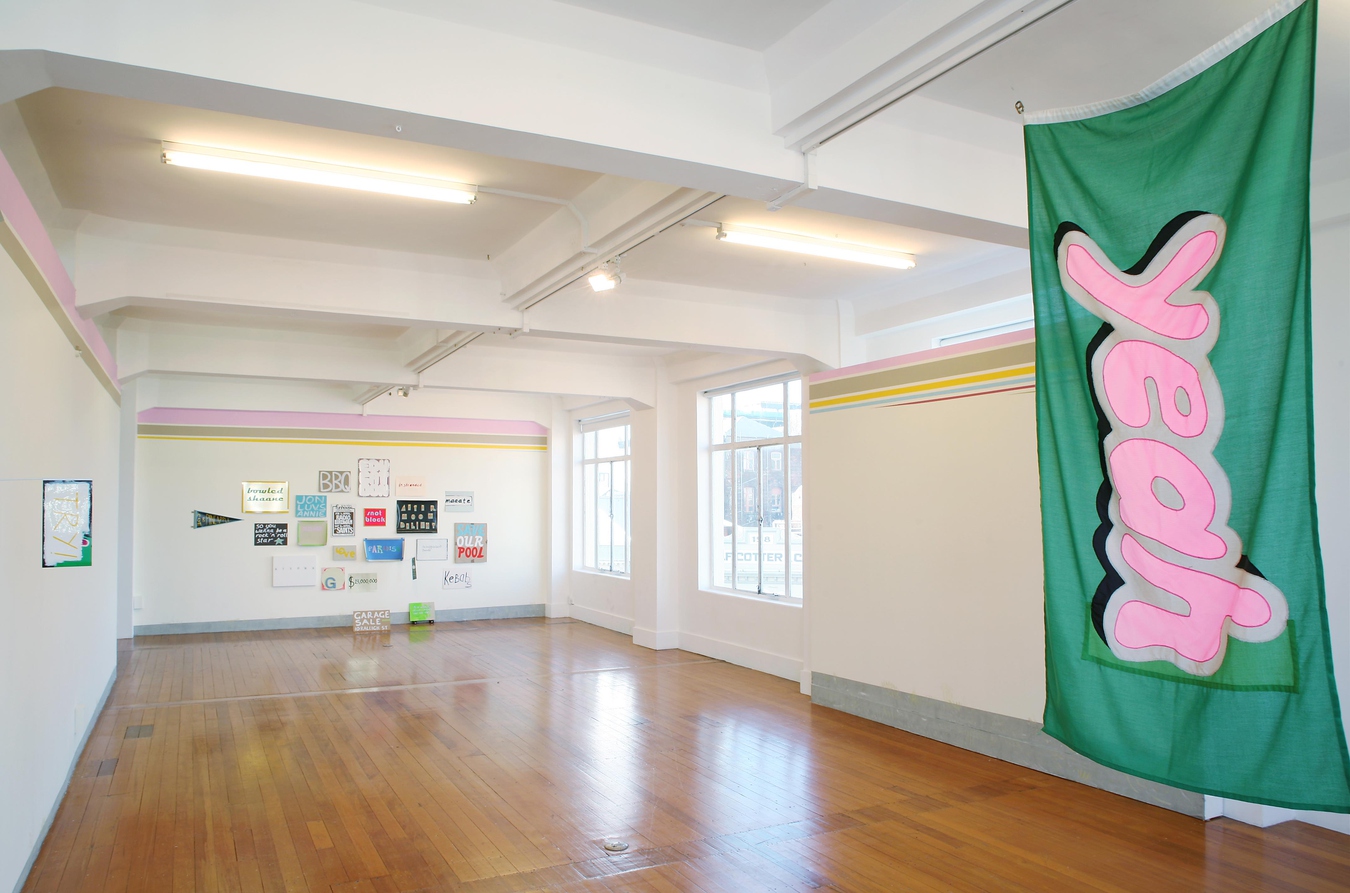 27 July 2007. Free entry.
Renowned for his pop-inspired, witty and compelling DIY suburban art, Jon Cambpell's work revolves around the simple act of sampling words and images from the everyday world around him and making meaning from them. As an artist and musician, music informs his art practice and vice-versa—and it's fair to say that a rock 'n' roll vibe emanates from his work. Campbell's work has a sense of humour and critical optimism; if it were a song perhaps it would be late-Beatles sampled by Hank Williams.
At The Physics Room Campbell presents a range of new and recent work that offers a sense of the breadth and energy of his practice. From wall paintings to canvas, text works to flags, his work is playfully indulgent in its everyday musings and backyard philosophising. Jon loves Annie is scrawled across one canvas like a love message carved into a high school text book, whereas in other works logos and signs are sampled and painted in the tradition of American pop-art but with a suburban Aussie undertone. The yeah flag, literally a flag emblazoned with the word 'yeah' in hot pink, was championed by A Constructed World through an online petition to be the new Australian flag. Cambpell's work always has this sense of agency, bound up with a boldly colourful and playful sense of humour.
Since graduating from Victorian College of the Arts, Melbourne, in 1985 with a Graduate Diploma in Painting, Campbell has exhibited widely in both group and solo shows at commercial galleries, public galleries, art schools, artist run spaces and cafes. He has been awarded several prizes and grants including, Greene St Studio, NYC (Australia Council), Development Grant (Australia Council), New Work grant (Arts Victoria), the Herald Sun Art Prize and the Keith and Elisabeth Murdoch Travelling Fellowship. Since the mid 1980s he has played in bands such as, The King Jerklews, The Monaros, The Colonial V-Knees and Adawo. He currently writes songs and performs with his band, Gloss Enamel. Jon Campbell is represented by Uplands Gallery, Melbourne, and Darren Knight Gallery, Sydney.
Don't miss the chance to see Jon Campbell's band Gloss Enamel perform a one-night only gig after the exhibition opening at The Loons bar, Lyttelton. This is a chance for art lovers to experience some art music!
We're on Facebook