Past event
28 February 2009
6 - 7pm
Trambience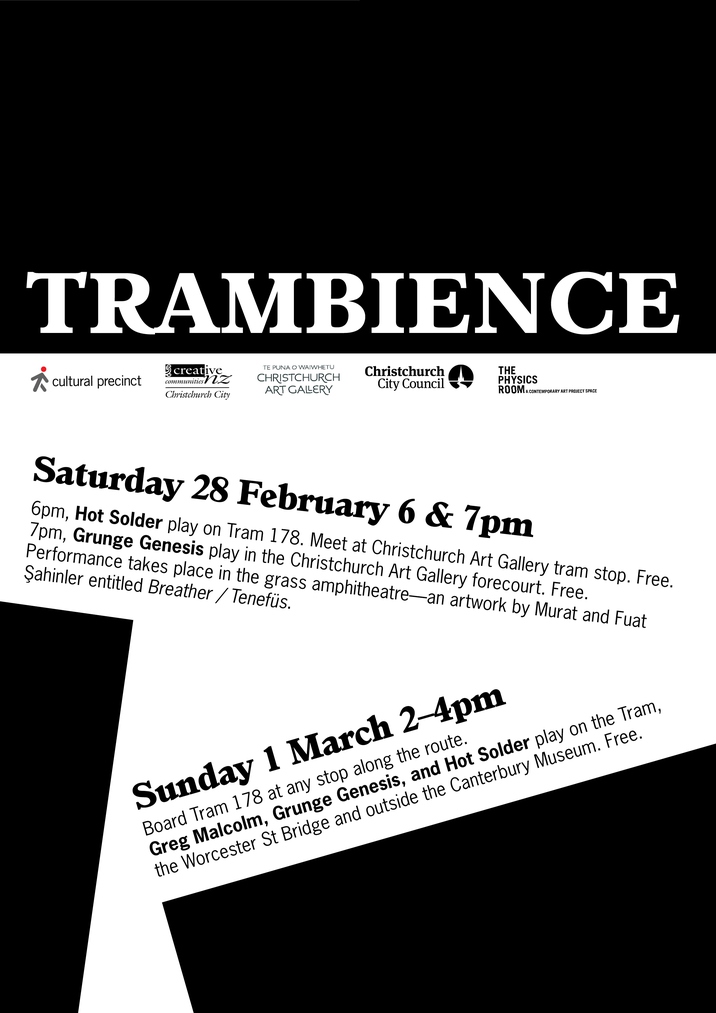 28 February 2009. Free entry.
Come for a free ride on the Christchurch Tram accompanied by the sounds of Hot Solder's homemade analogue synthesizers, Grunge Genesis' inspirational gangsta folk, and Greg Malcolm's environmental duets.
Trambience transforms a Christchurch Tram carriage into a small mobile music venue, in which the audience and performers trundle together through the city streets. From inside the tram musicians create an improvised soundtrack that blends with the sounds of the streets outside and the rumbling and rattling of the tram itself. Trambience is a celebration of the shared journeys of public transport. It transforms the familiar private rituals of listening to music on headphones or car stereos into a communal audio experience.
Trambience 2009 is supported by the Cultural Precinct, Creative Communities, The Physics Room and the Christchurch Art Gallery.
6pm, Hot Solder play on Tram 178. Meet at Christchurch Art Gallery tram stop. Free.
7pm, Grunge Genesis play in the Christchurch Art Gallery forecourt. Free. Performance takes place in the grass amphitheatre—an artwork by Murat and Fuat Şahinler entitled Breather / Tenefüs.
We're on Facebook