Correspondence 1.1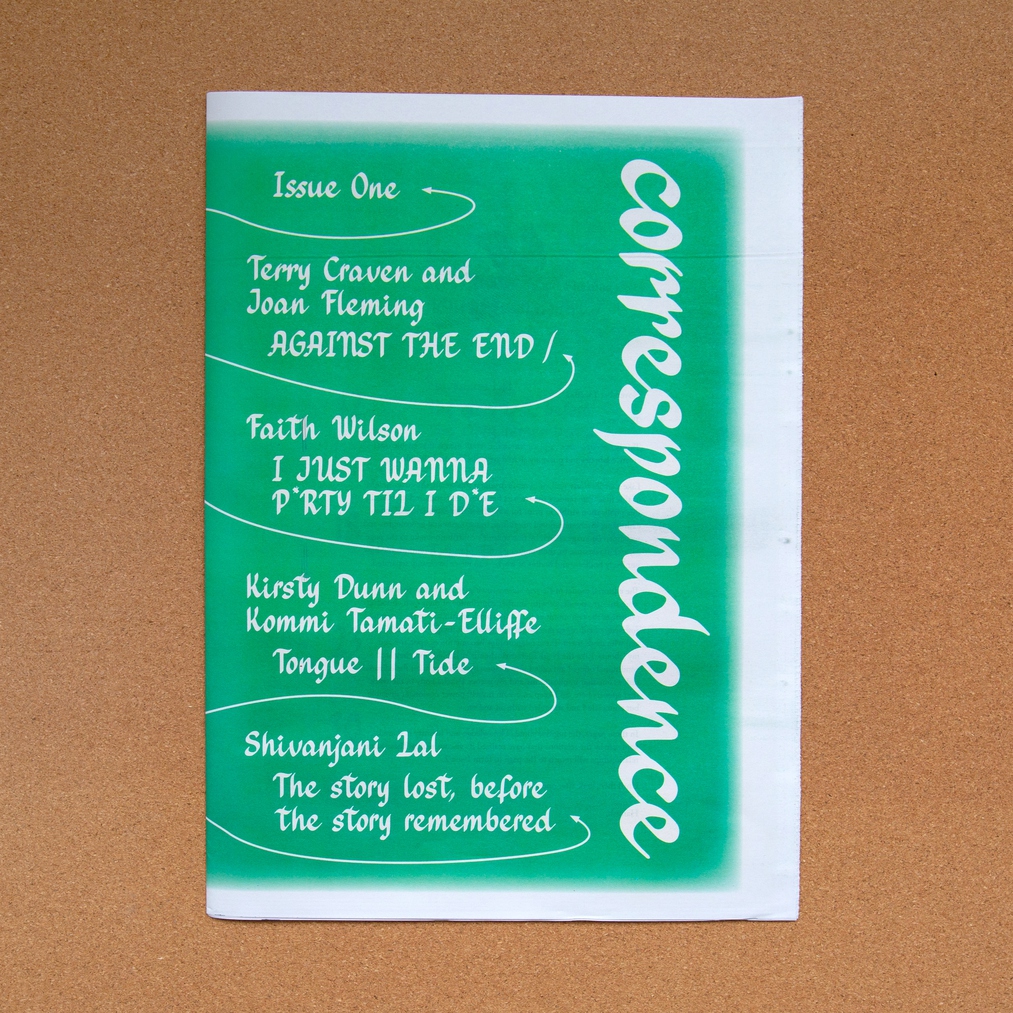 To recognise the fundamental role of relationships in contemporary publishing and artistic practice, support them, and make them audible, we have developed a new serial publication: Correspondence.
This free, biannual serial will publish pairs of audio/text/page-works, which are initiated as a form of correspondence. These may be standalone works by individuals or collectives that call out across issues, or more direct collaborations and messages between one-another. Correspondence calls forth an abundance of voices; an unpredictable chorus.
This chorus should include readers of all bodily experiences. Our work with accessibility advocates and members of the blind and low vision community has developed into a set of guidelines for contributors to use when recording their contributions as part of each audiobook edition. Seeking greater connections between the work we publish and the communities we inhabit, we will continue to make audiobooks a core part of our publishing work.
Correspondence volume 1 will feature work by Kirsty Dunn, Kommi Tamati-Elliffe, Joan Fleming, Terry Craven, Shivanjani Lal, Sancintya Mohini Simpson, Faith Wilson, and essa may ranapiri. These relationships have produced a viscous material—of language and imagery—which forms issue 1 of this volume. The experiences of mass extinction, intergenerational migration, transcontinental genealogies, and reclaimed language offered by the contributors to this issue take to the page as, and in response to, their ongoing artistic practices. These same relationships will return to form issue 2.
Alongside the free print, audiobook, and PDF, editions of the publication, designer and developer Emma Kevern has been working with our website Designers, Sons & Co to develop an accessible audiobook and epublication platform, which has now been incorporated into this page. As well as this brief introduction, PDF downloads, and info on how to get a free print copy, you can now click the links on the contents list below to browse the full digital contributions to Correspondence 1.2.
Collectively, we hope the work of Correspondence will offer not only lively works to a wide readership, but also attend to the relational spaces that are vital to all of our work.
You can download the full Issue 1 for free as:
— An Audiobook narrated by the contributors
— A PDF edition of the printed publication
— A EPUB for screen-readers and mobile devices