Correspondence 1.1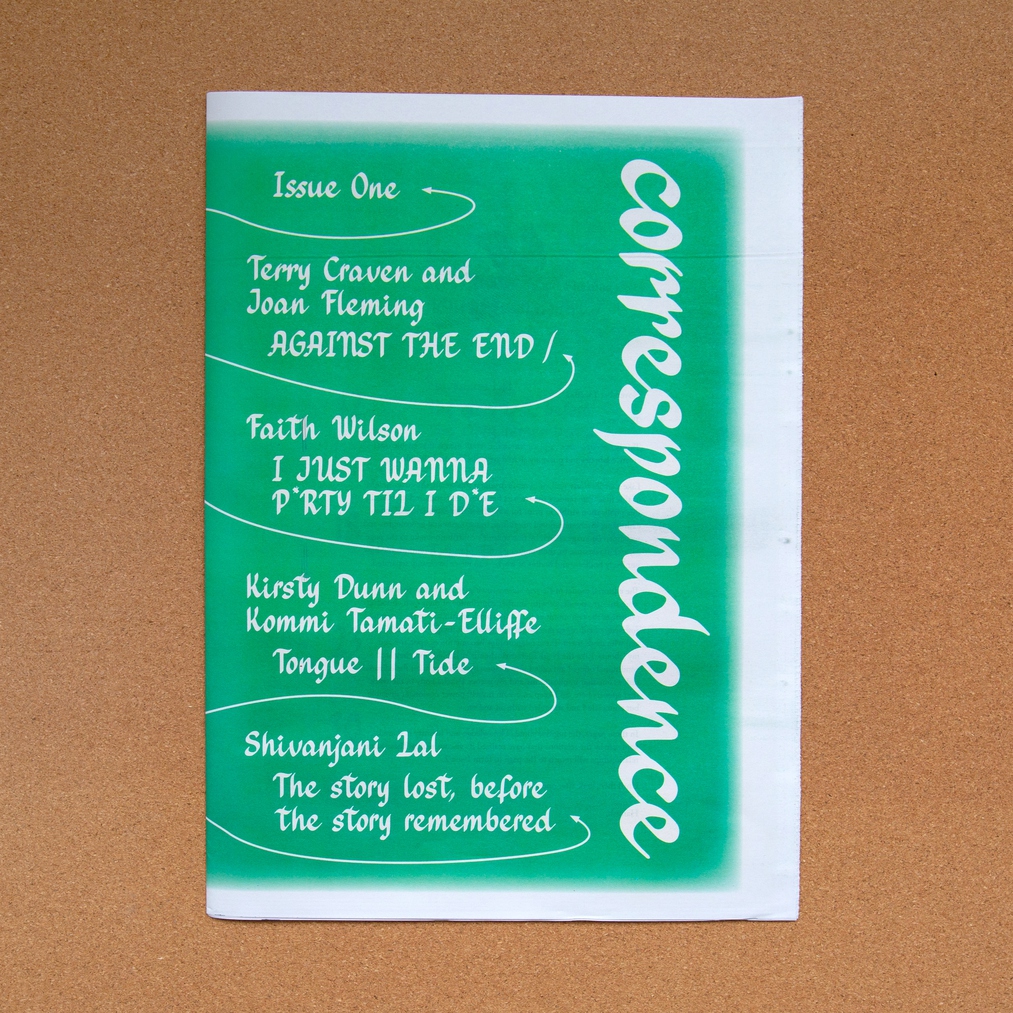 To recognise the fundamental role of relationships in contemporary publishing and artistic practice, support them, and make them audible, we have developed a new serial publication: Correspondence.
This free, biannual serial will publish pairs of audio/text/page-works, which are initiated as a form of correspondence. These may be standalone works by individuals or collectives that call out across issues, or more direct collaborations and messages between one-another. Correspondence calls forth an abundance of voices; an unpredictable chorus.
This chorus should include readers of all bodily experiences. Our work with accessibility advocates and members of the blind and low vision community has developed into a set of guidelines for contributors to use when recording their contributions as part of each audiobook edition. Seeking greater connections between the work we publish and the communities we inhabit, we will continue to make audiobooks a core part of our publishing work.
Correspondence volume 1 will feature work by Kirsty Dunn, Kommi Tamati-Elliffe, Joan Fleming, Terry Craven, Shivanjani Lal, Sancintya Mohini Simpson, Faith Wilson, and essa may ranapiri. These relationships have produced a viscous material—of language and imagery—which forms issue 1 of this volume. The experiences of mass extinction, intergenerational migration, transcontinental genealogies, and reclaimed language offered by the contributors to this issue take to the page as, and in response to, their ongoing artistic practices. These same relationships will return to form issue 2.
Alongside the free print, audiobook, PDF, and EPUB editions of the publication, designer and developer Emma Kevern is working to develop an accessible audiobook and epublication platform due for release upon issue 2 and the conclusion of the first volume of Correspondence. Collectively, we hope the work of Correspondence will offer not only lively works to a wide readership, but also attend to the relational spaces that are vital to all of our work.
Contents:
AGAINST THE END /
By Terry Craven and Joan Fleming


The story lost, before the story remembered
By Shivanjani Lal


I JUST WANNA P*RTY TIL I D*E
By Faith Wilson


Tongue || Tide
By Kirsty Dunn and Kommi Tamati-Elliffe


You can listen to, read, and download issue 1 for free as:
— An Audiobook narrated by the contributors
— A PDF edition of the printed publication
— A EPUB for screen-readers and mobile devices
You can also find free print copies of the publication at the below venues from 2022.
Strange Goods
Samoa House Library
Artspace Aotearoa
Te Uru Waitakere
Corban Estate Art Centre
Fresh Gallery Otara
Ramp Gallery WINTEC
Enjoy Contemporary Art Space
Pātaka Art+Museum
The Dowse Art Gallery
The Suter Art Gallery
Volume Books
Ilam School of Fine Arts
Centre of Contemporary Art Toi Moroki
Christchurch Art Gallery Te Puna o Waiwhetū
Blue Flower Texts
Paludal
Scorpio Books
Ride on Super Sound
Blue Oyster Art Project Space
Melbourne Art Library
Desperate Literature Madrid
Correspondence
Volume 1, Issue 1
November 2021
ISSN 2744-7529 (Print)
ISSN 2744-7537 (Online)
ISSN 2744-7545 (Sound recording)
Designed by Emma Kevern
Printed by Allied Press, Ōtepoti
Published by The Physics Room
Ōtautahi, Aotearoa
Contributors:
Terry Craven and Joan Fleming
Shivanjani Lal
Faith Wilson
Kirsty Dunn and Kommi Tamati-Elliffe
Full PDF Download (PDF)