HAMSTER Issue 4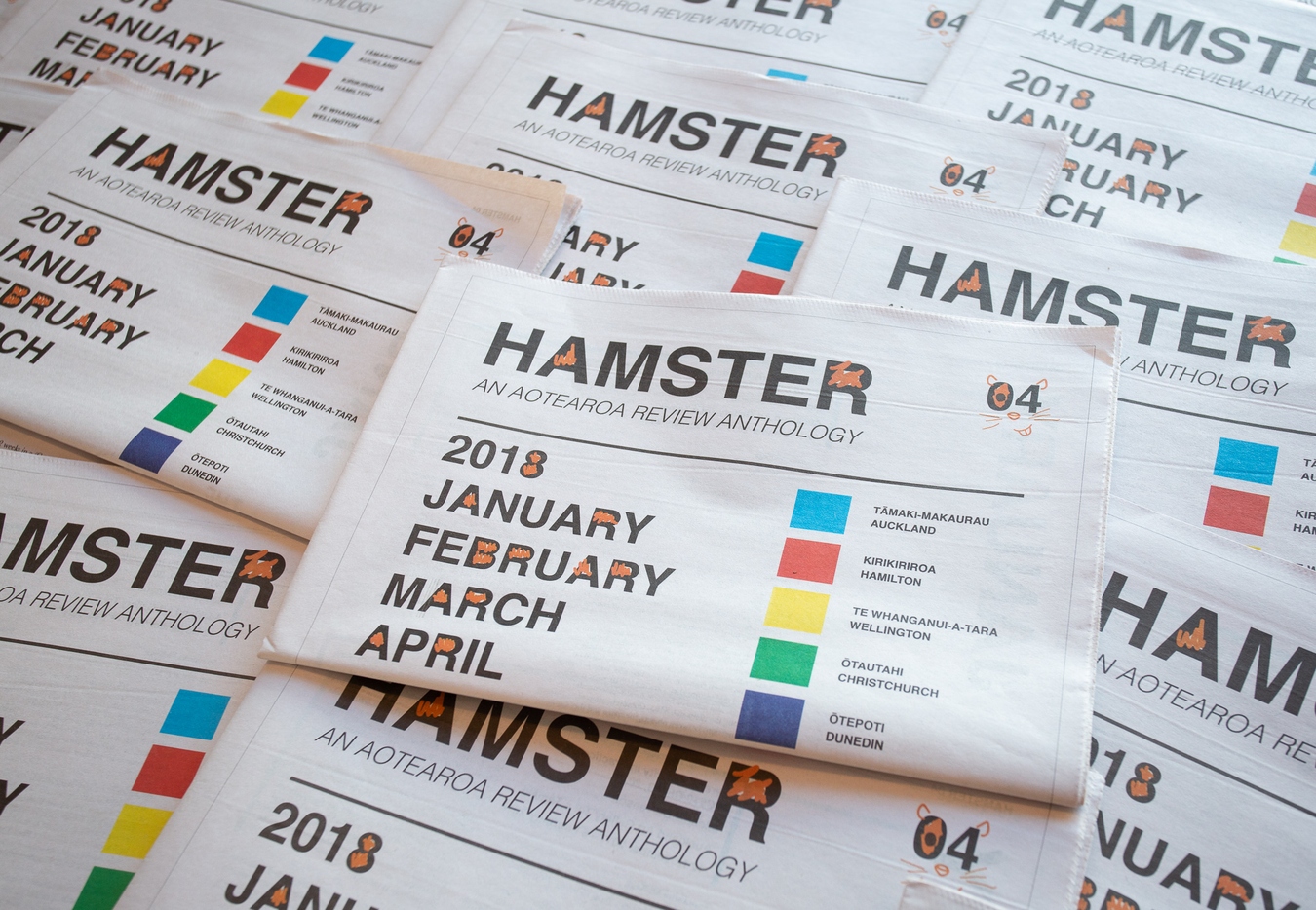 An Aotearoa Review Anthology
There are 52 weeks in a (Gregorian calendar) year. With 52 reviews, from contributors spread across Te Ika-a-Māui and Te Wai Pounamu, HAMSTER's Aotearoa Review Anthology Issue challenges the lack of representation of contemporary art in established mainstream media.
Though short—between 500-600 words—these reviews present nuanced, contextualised opinions on contemporary creative practices and institutional activity from writers active in the local contexts they comment on. There is no desire for objective judgement or distance here, only the constant interaction of friends and strangers, ideas and objects, divergent experiences, and shared practices.
Considering books and zines, visual art, dance, theatre, a symposium, comedy, performance, websites, vandalism, soul records and punk gigs, the writers in HAMSTER 4 speak to ideas and artists they relate to, and rail against. Readers can also browse the Anthology through the concise 'For Fans Of (FFO:)' line to find spaces and artists active in Aotearoa to look out for in 2019.
No more nibbling. We hope you find something to sink your chompers into this year.
HAMSTER 4 features contributions from:
Samantha McKegg, Bruce E. Phillips, Bojana Rimbovska, Fresh and Fruity, Sophie Bannan, Leafa Wilson / Olga Krause, Tamara Tulitua, Laura Borrowdale, Bridie Lonie, Vanessa Crofskey, Cassandra Tse, Hamish Petersen, Lynley Edmeades, Hope Wilson, Jordana Bragg, Danielle O'Halloran, Lydie Schmidt, Kathryn McCully, Faith Wilson, Dilohana Lekamge, Priscilla Howe, Gilbert May, Natasha Matila-Smith, Jamie Hanton, Simon Palenski, Waveney Russ, Rachel Ashby, Georgina Tarren-Sweeney, Rachel O'Neill, Andrea Bell, Andre Hopping, Brendan Jon Philip, Ellie Lee-Duncan, Ema Tavola, Kerry Ann Lee, Cora-Allan Wickliffe, Matariki Williams, Kosta Bogoievski, Genevieve Scanlan, Matilda Fraser, Bronte Perry, Khye Hitchcock, Robyn Maree Pickens, Jon Bywater, Māia Abraham, Salome Tanuvasa, Hanahiva Rose, Jessica Maclean, Jo Randerson, Ray Shipley, and Tia Pohatu.
HAMSTER 4 was designed by Jane Maloney of M/K Press, and printed by Allied Press, Ōtepoti.
The Editorial Group is Jamie Hanton, Hamish Petersen, and Hope Wilson, with support from Keren Oertly Ryan and Michelle Wang.
ISSN 2538-0087 (Print)
ISSN 2538-0095 (Online)
DISTRIBUTION:
Free copies of the Anthology can be picked up from the distribution centre nearest you. We encourage you to make a visit to your local distribution centre, say "Kia ora e hoa mā!" to your neighbours, and pick up a copy for yourself and friends.
The below distribution centres will have stock by Monday, May 20 2019:
Tāmaki Makaurau
Samoa House Library
Corban Estate Arts Centre
Māngere Arts Centre
Kirikiriroa
RAMP Gallery
Te Whanganui-a-tara
The Adam Art Gallery at Victoria University
PĀTAKA Art + Museum
The Dowse Art Museum
Whakatū
The Suter Art Gallery
Ōtautahi
The Physics Room
Ilam SOFA
Ōtepoti
Dunedin Public Art Gallery
Blue Oyster Art Project Space
Waihopai
Southern Institute of Technology
A further 1000 copies are being distributed to retail sites in Tāmaki Makaurau and Te Whanganui-a-tara thanks to Phantom Billstickers who have generously supported this issue.
The HAMSTER series is made possible with funding from Creative New Zealand and Chrtistcurch City Council Strengthening Communities Fund.
Download HAMSTER 4 (PDF)