Past event
18 March 2008
6pm
Artist Talk: Mischa Kuball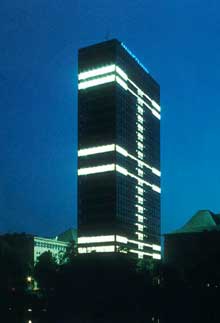 18 March 2008. Free entry.
Mischa Kuball is one of the most renowned German artist working site specifically and in public space. He currently teaches as Professor at the Academy of Media Arts in Cologne.
Kuball has worked extensively in both gallery and public space contexts for over two decades. He has utilized light extensively over this period, exploring its capacity to shape social and political discourse. During his time in Christchurch Kuball will speak about the participatory nature of many of his recent projects and interventions within the public domain.
Among the projects discussed will be Megasign I-VI, where Kuball transformed an office building at night, after the employees had left, into a light sculpture whose lighting design changed every week over a period of six weeks.
One other striking example of his practice is Public Square (Hamburg 2007): in which 500 participants in black dresses formed a rectangle and walked through the streets of the City of Hamburg, holding a banner with the phrase: "public sphere - every gesture in the city is politics". Constantly changing from a square to a rectangle and back, the project refers in Kuball's words to the "amorphousness of a tolerant society". But it also refers to a famous incident from 1986, the "Hamburg Cauldron", where more than 800 demonstrators were surrounded by police and closed in for more than 13 hours illegally.
Mischa Kuball's trip to New Zealand has been generously supported by the Goethe Institut.
We're on Facebook