Correspondence 1.2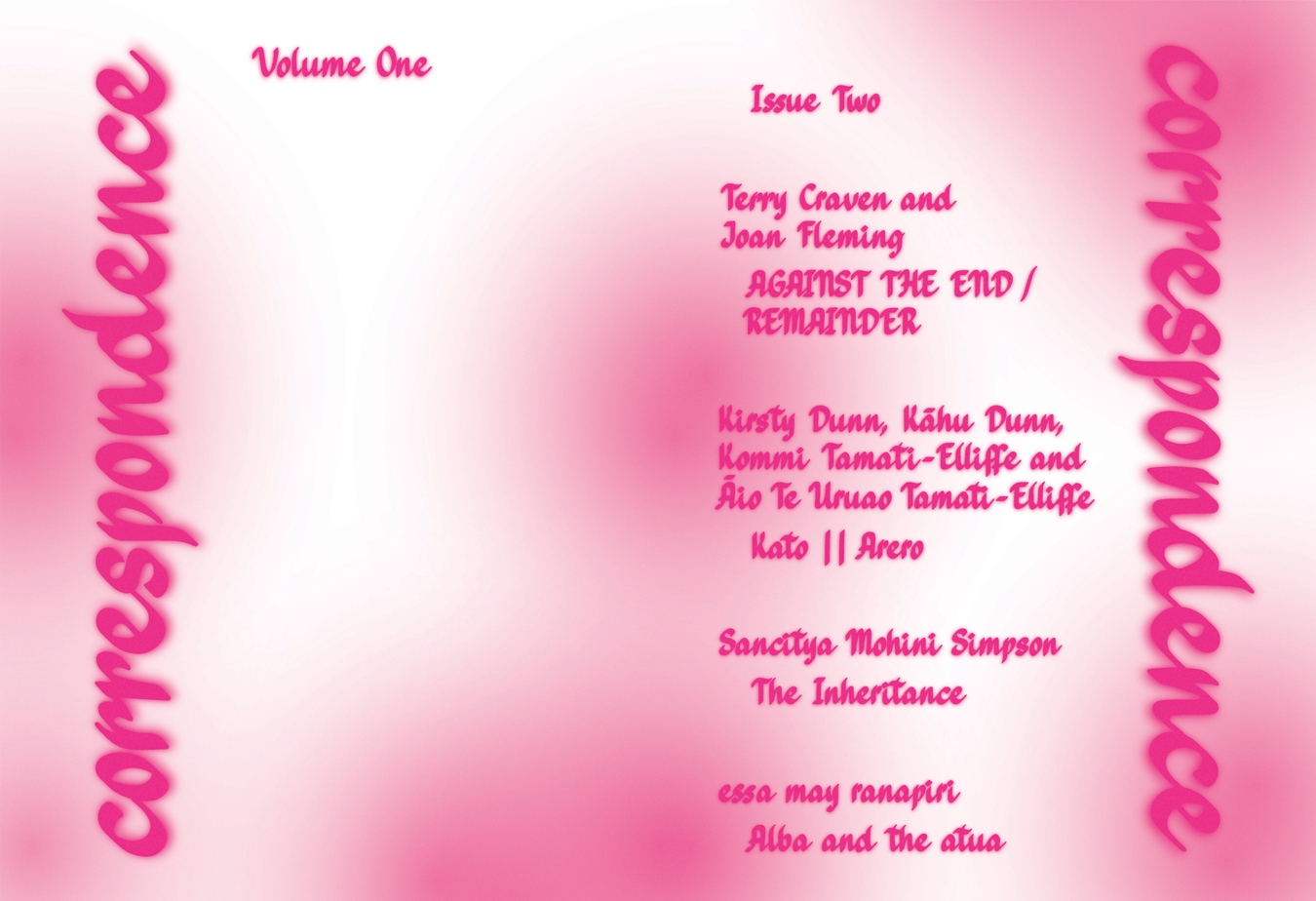 Correspondence 1.2 has arrived!
Correspondence is a biannual tabloid, publishing pairs of works for the page, web, and ear, as openings into artistic practices and relationships. In Issue Two, the contributors bring their bodies to bear upon language and other threads within the conversations that extend from Issue One.
Volume One, Issue Two, includes audio and print contributions from Terry Craven and Joan Fleming who continue their correspondence from Issue One; Kirsty Dunn, Kāhu Dunn, Kommi Tamati-Elliffe, and Āio Te Uruao Tamati-Elliffe who have expanded on the kōrero that was shared in the first issue; Sancintya Mohini Simpson, who has been corresponding with Issue One contributor Shivanjani Lal; and essa may ranapiri who corresponded with Faith Wilson, another contributor to Issue One. Sometimes deeply collaborative, and at others just distantly related, the relationships that hold this volume together are an indelible part of the work that has been made.
A new development to Correspondence and the Physics Room's publishing efforts is a new platform for digital publishing; this page! As well as this brief introduction, PDF downloads, and info on how to get a free print copy, you can now click the links on the contents list below to browse the full contributions to Correspondence 1.2. The HTML text adapts to your reading device, and includes the audio editions of each work embedded alongside the digital text and images with alt text for screen-readers. Following the release of Issue Two, you will also be able to read and listen to Correspondence 1.1 here.
Explore the collected work of Correspondence below!
Contents
Distribution
These are the sites who will be holding stacks of Correspondence 1.2 for free distribution to the public:
Artspace Aotearoa
Corban Estate Arts Centre
Fresh Gallery
RAMP, Hamilton
Enjoy Contemporary Art Space
Pātaka Art + Museum
The Dowse Art Museum
The Suter Art Gallery
Fibre Gallery, Ōtautahi
Central Gallery
Christchurch Art Gallery
Paludal
Blue Oyster Art Gallery
Ilam School of Fine Arts
Massey University, Wellington CoCA Campus
Elam School of Fine Arts
Dunedin Polytechnic School of Art
Strange Goods, Tamaki Makaurau
VOLUME books, Whakatū
Scorpio Books, Ōtautahi
Good Books, Te Whanganui-a-tara
Details
Correspondence Volume One, Issue Two
Published June 2022
ISSN 2744-7529 (Print)
ISSN 2744-7537 (Online)
ISSN 2744-7545 (Sound recording)
Edited by Hamish Petersen
Designed by Emma Kevern
Printed by Allied Press
1000 copies of a 32pp tabloid on 52gsm newsprint
Featuring new audio/print comissions by: Terry Craven and Joan Fleming; Kirsty Dunn, Kāhu Dunn, Kommi Tamati-Elliffe, and Āio Te Uruao Tamati-Elliffe; Sancintya Mohini Simpson; and essa may ranapiri.
Downloads
Download Correspondence 1.2 (PDF)
Editorial note by Hamish Petersen (PDF)
AGAINST THE END / REMAINDER by Terry Craven and Joan Fleming (PDF)
Kato || Arero by Kirsty Dunn Kāhu Dunn, Kommi Tamati-Elliffe, and Āio Te Uruao Tamati-Elliffe (PDF)
The Inheritance by Sancintya Mohini Simpson (PDF)
Alba and the atua by essa may ranapiri (PDF)
Biographies and Colophon (PDF)