Past event
15 December to 18 December 2022
Thu 5 – 9pm; Fri 11am –5pm; Sat – Sun 11am – 4pm
The 2022 Physics Room Annual Fundraiser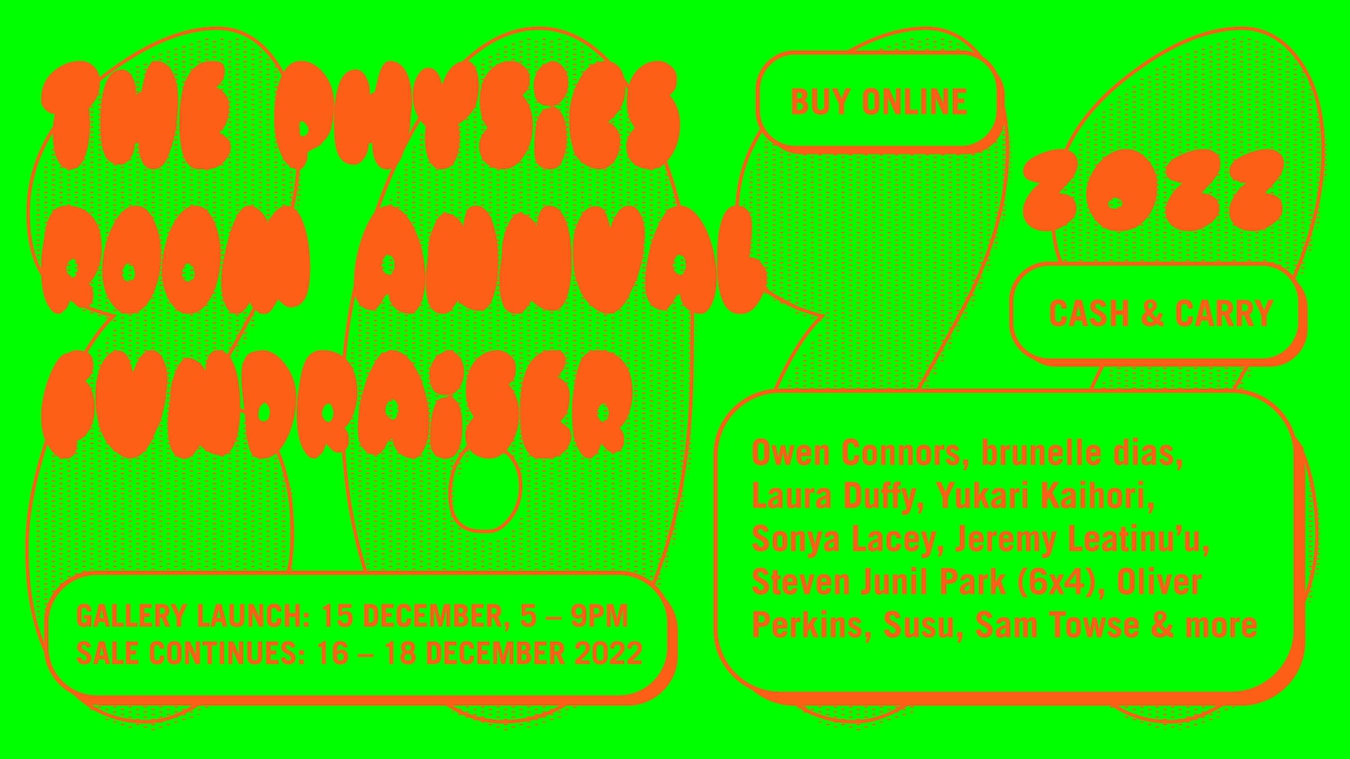 15 December to 18 December 2022. Free entry.
Owen Connors, brunelle dias, Laura Duffy, Yukari Kaihori, Sonya Lacey, Jeremy Leatinu'u, Steven Junil Park (6x4), Oliver Perkins, Susu, Sam Towse & more
Gallery launch: 5pm Thursday 15 December
Online shop launch: 5pm Thursday 15 December
Sales continue: 16 – 18 December / until sold
Onsite: 301 Montreal Street, The Arts Centre Registry Building

The Physics Room Annual Fundraiser is back, with a special exhibition of over 50 original and limited-edition artworks by 10 new artists. This year's fundraiser includes work by artists from our 2022 exhibitions, giving visitors a rare opportunity to purchase a piece of their favourite Physics Room exhibition, as well as work by Physics Room alumni artists. All proceeds from this fundraiser will go directly towards the production of new work in our 2023 programme. All pieces will be available to purchase onsite and through our e-shop from 5pm, Thursday 15 December.
The 2022 fundraiser includes original paintings, collages and sculptures by Owen Connors, brunelle dias, Yukari Kaihori, Sonya Lacey, Oliver Perkins and Sam Towse. Alumni Perkins and Lacey have each generously donated a work for sale. The moon and the pavement artists Kaihori and Towse will have works available exclusively, alongside an oil painting by dias from our most recent exhibition, the way things are. Connors has also been commissioned to make a new painting, The Fortune Teller. Two incredible one-off garments by Steven Junil Park of 6x4 will also be created for this fundraiser. These are handmade, reusing billboard canvases from the Invasive weeds exhibition by Hana Pera Aoake, Wesley John Fourie and Taarn Scott.
In addition, we have commissioned a series of limited-edition works by Laura Duffy, Jeremy Leatinu'u and Susu. Leatinu'u has created four hand-printed, silver gelatin editions from his 2022 TPR exhibition, Te Whakawhitinga. Susu has created a resin edition based on his video Remember to Dive 回溯潛水, 2022, from The moon and the pavement. Duffy, who was part of TPR's 2022 opening exhibition, For the feral splendour, has produced a series of prints from her video work Spawn.
A selection from our fundraising back catalogue will also be made available to purchase both online and in the gallery. The annual fundraiser includes works ranging in price, with the intention to provide an opportunity for our wider community to acquire original artworks at a more affordable price, as well as to support The Physics Room's programme in 2023. All the works made for this fundraiser were enabled through fees and production costs. Please note there will be no pre-sales this year.
For pricing information and to receive a catalogue of available works (released on 8 December, a week prior to the launch), please email: amy@physicsroom.org.nz.
—
The Physics Room thanks Owen, brunelle, Laura, Yukari, Sonya, Jeremy, Steven, Oliver, Susu and Sam, as well as our fundraising artists from previous years for their generosity in supporting The Physics Room.
We would also like to thank The Crater Rim, Earnest Art Services, Ilam School of Fine Arts, and Three Boys Brewery for their support of our Annual Fundraiser.
We're on Facebook