Bombs Away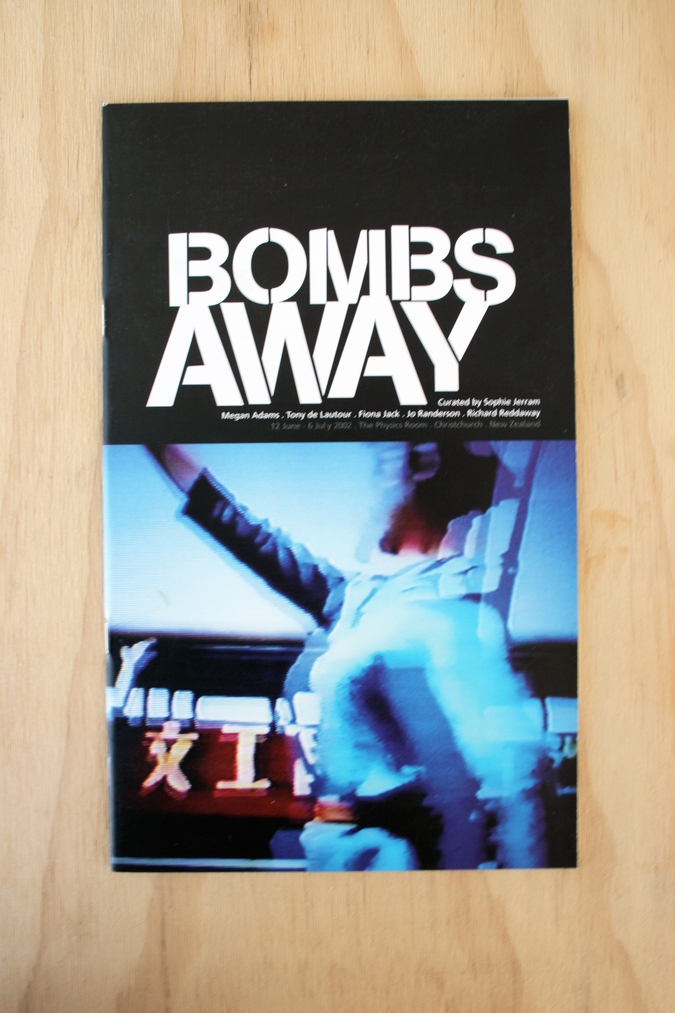 With a foreword by ex Prime-Minister David Lange and an in-depth essay from curator Sophie Jerram, Bombs Away the catalogue accompanies and expands on the questions and notions raised by Bombs Away the exhibition.
As she explains in her introduction, Wellington based curator Sophie Jerram came across five Government Atomic Testing films when visiting the Centre for Land Use Information in Los Angeles in 1998. The five films later became the source material for the Bombs Away exhibition, in which five New Zealand artists working across a range of disciplines were invited to create works in response to the films.
The catalogue documents the artworks produced for Bombs Away and also includes stills from the testing films, which were screened during the exhibition. With the support of the Peace and Disarmament Education Trust, the catalogue was launched at a public forum on 20th June 2002, featuring guest speakers Dr Kate Dewes (Christchurch Peace Foundation), Commander Robert Green (ex-British Navy) and environmental reporter Veronica Meduna. The forum, 'Constructing Defence: The Relationship between public opinion and nuclear ideology in New Zealand' and the exhibition itself coincided with the 15 year anniversary of legislation being passed to make New Zealand a nuclear-free country (Nuclear-Free Zone, Disarmament and Arms Control Act 1987, was passed on 8 June).
The catalogue was distributed free to all high schools in the Christchurch region, for use within the art and social studies departments.
Purchase from our online shop via the link on the right hand side of this page (or below on mobile). Postage is available at the buyer's expense. You can also buy this and a range of other art books and periodicals with cash or bank transfer from our gallery.

Bombs Away (2002)
Published by The Physics Room
Text by Sophie Jerram and David Lange
ISBN: 0-9582359-2-9
16 pages
180 x 296 mm