Past event
03 August 2002
6pm
Toshimaru Nakamura & Tetuzi Akiyama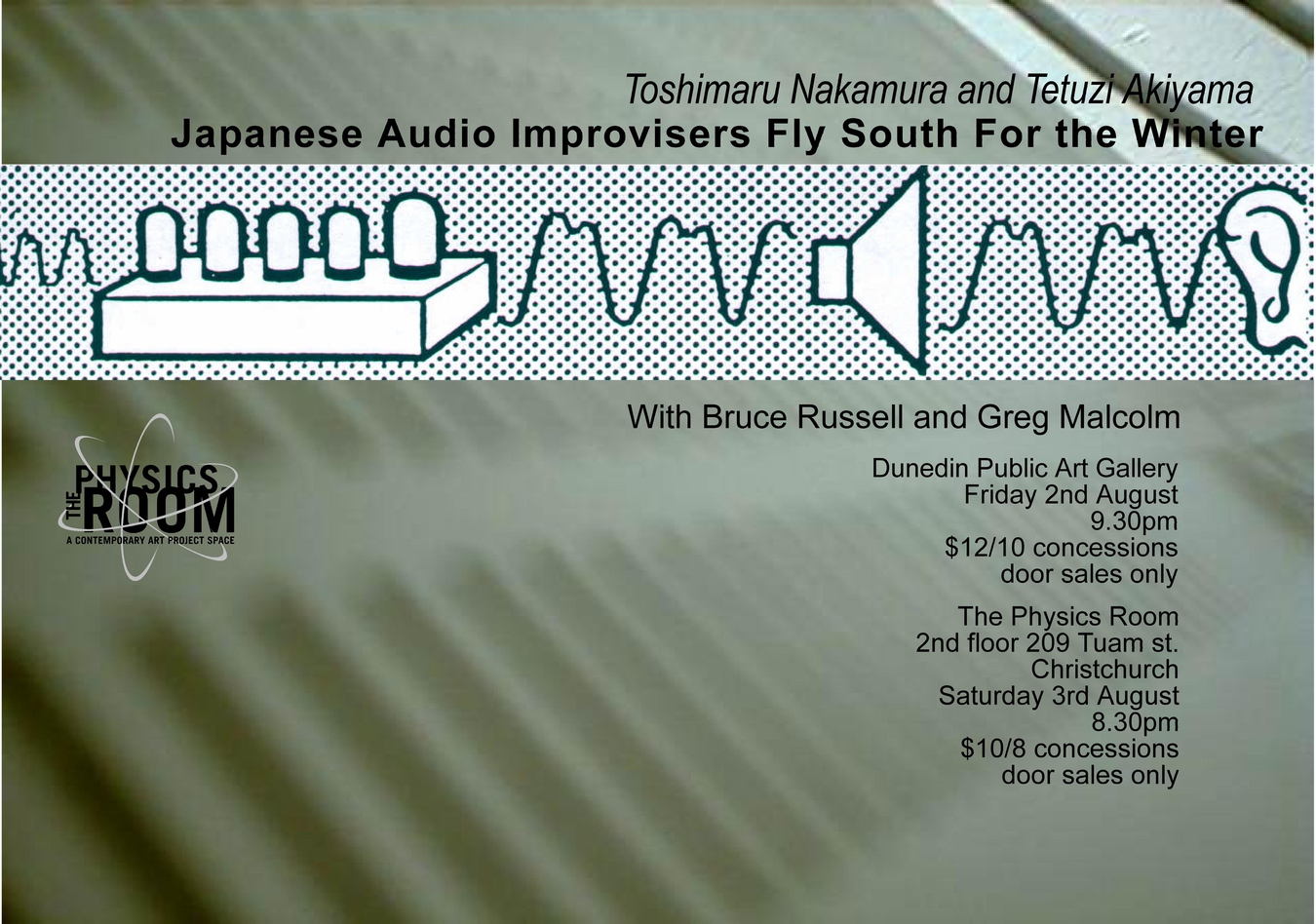 03 August 2002. Free entry.
South Island Tour by Toshimaru Nakamura and Tetuzi Akiyama
They also perform in Auckland and Wellington at a series of dates from 26th - 31st July. Support at the South Island dates will be provided by Bruce Russell and Greg Malcolm, established local improvisers.
Toshimaru Nakamura and Tetuzi Akiyama are two of the leading lights of the "new wave" of Japanese improvisers advancing their cause under the collective banner of "Onkyo", which can loosely be interpreted to mean "less is more". They perform together regularly at home, as well as in Europe. They have also collaborated with artists as diverse as Taku Sugimoto, Otomo Yoshihide, Keith Rowe, Gunter Muller, and Jerome Noetinger. Tetuzi is best known as a guitarist, having released albums solo as well as in groups with Taku Sugimoto and others mentioned above. His style is loosely blues-based, but stripped back to a very minimal and deconstructed base of isolated sonic elements. "Toshi", as he is universally known, while starting as a guitarist, has evolved a unique style of sound performance based on the use of a small sound desk with no signal inputs. Instead this "no-input mixing board" as he calls it, is set up to loop outputs to inputs, running in outboard effects to produce a delicately constructed web of feedback tones and other "accidental" sonic raw materials. Much of the running in international improvisation is being made by Japanese artists, witness 2001"s highly successful "Japanorama" CD 'Meeting at Off-Site vol 1', on Reset [2002].
Hosting a visit by these artists in New Zealand will be a rare and very significant opportunity for NZ audiences to be exposed to cutting-edge sound work in this field. Given the number of creative artists engaged in this type of practice in the South Island (witness the 2000 Lines of Flight Festival, to be repeated this year), such a tour has both an established audience and a body of local artists poised to absorb the experience of witnessing these performances.
Further info at http://www.japanimprov.com/
We're on Facebook