Co-ordinated by Terry Urbahn
The Karaokes
14 Mar — 12 Apr 1998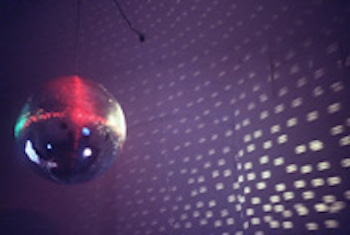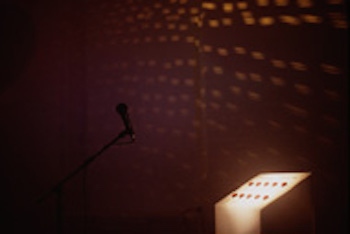 With his new project The Karaokes, New Zealand's king of low-brow art Terry Urbahn sets the stage for a head-on collission between art, music and performance.
Commmissioning ten artists to produce videos especially for the project, Urbahn has succeeded in transforming the white cube of the gallery space into a homage to the Karaoke bar, complete with disco lights and a mirror ball.
Dragging video art from the realm of high-brow installation and into the flashing lights of the suburban nightclub, The Karaokes is a project that is both accessible and challenging. Take for instance Narumi Nobuhira's contribution, an out-take from his infamous Dog-Cam Project. Narumi's video gives us a dog's-eye-view of Tokyo's red light district, a journey through the artist's home town that is at once compelling and unsettling. With no music or lyrics to set the scene, Dog-Cam Project redefines our conventional understanding of the music video, prompting us to wonder if subtle ultrasound is at work in Narumi's creation - a karaoke for canine ears only?
Like web-surfing and channel-hopping, Karaoke has emerged as a way for the contemporary individual to insert themselves into the flow of image and data that increasingly structures and defines our day-to-day existence. For the weekend warrior, what better way to grab their 15 minutes of fame before it passes them by?
Says Urbahn of the Karaoke phenomenon: "Kara comes from Karappo meaning 'empty,' and oke is the abbreviation of okestura, or 'orchestra.' Holding a microphone and singing along to the accompaniment of an 'orchestra' you can feel like a professional singer."
And Urbahn insists on the important role that both entertainment and interactivity play in The Karaokes, a process of introducing popular culture to the officially sanctioned environment of the gallery. Without it's audience, The Karaokes remains an incomplete project. Eschewing the conventionally passive relationship between an artwork and it's audience, the videos on offer in this installation invite their viewers to indulge in a few moments of uninhibited exhibitionism.
Reviews, Essays & Articles
A visual punch
The Press, 1998 Apr. 1, p. 17
Ussher, Robyn.
Health, Happiness and Housing, by Ava Seymour; The Karaokes, by Terry Urbahn.