Past event
29 September 2012
1-5pm, 8pm-12am
Lines of Flight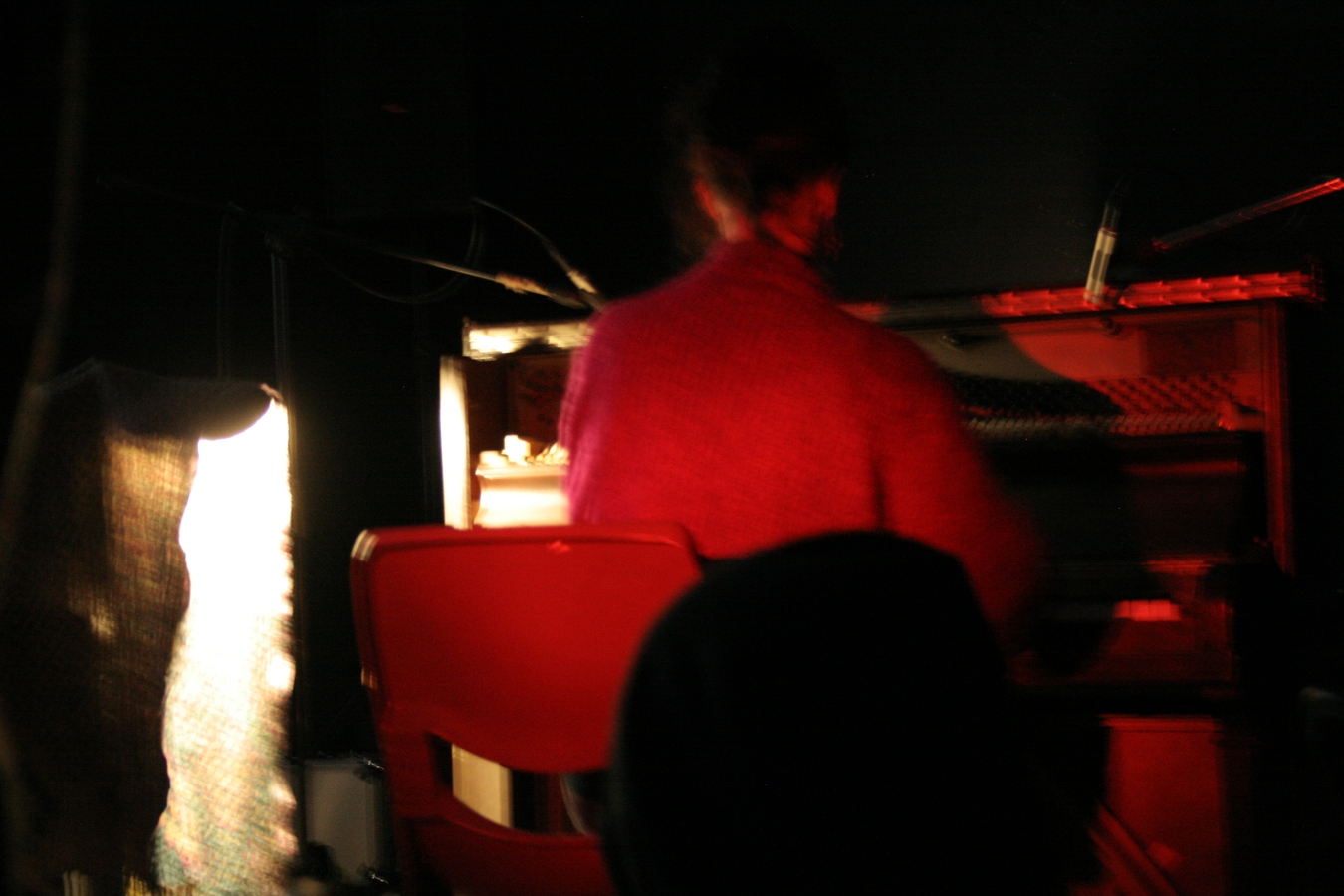 29 September 2012. $10 entry.
1pm - 5pm
Stanier Black-Five
Adam Willetts
Hermione Johnson
Eye
8pm - 12pm
Bruce Russell and Peter Wright
Rachel Shearer
Omit
The Stumps
$10 per show, or $15 for both
The Physics Room is pleased to present the 2012 'Lines of Flight' festival curated by Peter Stapleton and Peter Porteous. This will be the first time Lines of Flight will be held outside of Dunedin -a significant moment for both The Physics Room and the festival. The program will be held in two parts on Saturday the 29th of September at The Physics Room Sandyford Street and includes artists with long histories of engagement within contemporary sound practise and the Lines of Flight festival itself.

At the beginning of the evening session, The Physics Room have invited Bruce Russell to lead a toast to the recently published 'Erewhon Calling'. We would be pleased if you could join us for this moment of celebration and raise a glass to this achievement, and to the work and lives of the artists it documents.

'Erewhon Calling' will also be available for purchase at the event

Following on from the festival a series of archival films from previous 'Lines of Flight' festivals will be installed in the The Physics Room at Sandyford Street, between the 2nd and 14th of October, and will feature the work of artists Campbell Kneale, Rachel Shearer, Nathan Thompson and Kim Pieters.

Adam Willetts
Christchurch electronic musician Adam Willetts uses homemade analogue synthesizers to perform abstract, psychedelic, pop music. He creates richly immersive work with a propulsive sense of momentum, deftly balancing the joyfully lyrical with the ferociously dense.
adamwilletts.bandcamp.com

Bruce Russell
Bruce Russell has spent the last 20 years refining a musical practice based in the rock tradition which owes much to more esoteric disciplines such as sound art, free 'noise' improvisation and electro-acoustic composition. He is known both for his own work and as part of the Dead C. and A Handful of Dust. He has also curated the influential record labels Xpressway and Corpus Hermeticum, and published a book of essays, Left-handed blows: writing on sound 1993-2009 (Clouds, Auckland, 2010). He began his career in sound in Dunedin in 1984, shaving an amplified guitar with an electric razor. From 1987 he began to play with the Dead C., who continue to this day, and in 1990 he began recording a series of albums with the totally improvised noise group A Handful of Dust, along with Alastair Galbraith. In the meantime Bruce has also found time to perform and record as a solo artist in his own right, with his performances focusing on the integration of instrumental improvisation with electro-acoustic elements.
Eye
Eye are a Dunedin rock/electronic group featuring Peter Porteous (Lapdog, Electricity, Empirical), Peter Stapleton (Rain, Flies Inside the Sun, Sleep, A Handful of Dust, Terminals) and Jon Chapman (Double Leopards, Rory Storm & the Invaders). They formed in late 2003, as a trio of Porteous, Stapleton and Nathan Thompson (Sleep, Sandoz Lab Technicians) and for a time included turntablist Ryan Cockburn. Eye perform what UK music writer David Keenan has termed "haunted electro-séances," their music an improvised combination of disparate elements, with the standard rock guitar/drums instrumentation augmented by both analogue and digital electronics, field recordings, and Tibetan bells.

Hermione Johnson
Hermione Johnson is a pianist and composer living in Wellington. She graduated from Auckland University in 1998 with a Performance Piano Degree, and completed her Masters in Composition in 2011at the New Zealand School of Music. As a pianist she has played with many seminal musicians from New Zealand and overseas. She has toured Europe and Australia, and performed at the Now Now Festival in Sydney, and the Fredstock and iiii Festivals in Wellington. As a composer her works have been performed as part of the Asia Pacific Music Festival, The Caprice Arts Trust Series, and at the Adam Art Gallery's Designs for Living exhibition. She has had works performed by the New Zealand Symphony Orchestra, writing music for the stage and for film, as well as for many local soloists and ensembles.
Omit
Blenheim electronic musician Clinton Williams has been on a highly personal journey into sound since the late 1980s. Starting from scratch, using modified electric motors as his sole sound source, he has built up a home studio and battery of hand-made and salvaged electronic sound sources, with which to pursue his researches into the human psyche. Working in complete isolation for several years, before making contact with a few like-minded souls in other parts of the world, he has released a mass of cassettes, lathe-cut polycarbonate records, and CDs on NZ and overseas labels. He has also collaborated with Bruce Russell as Dust/Omit, and Paul Toohey as Omit/K Group.
www.discogs.com/artist/Omit

Peter Wright
Peter Wright has invested a significant chunk of the last 20 years investigating ways of deconstructing the guitar, presenting re-imagined abstract audio fields, loosening the shackles by which the instrument is traditionally constrained. Over the last decade he has developed into one of New Zealand's most prolific recording artists, releasing 8 CDs (including two double and one triple disc set) and a host of limited edition CDRs and records on labels across the world including Install, Dirty Knobby, Celebrate PSI Phenomenon, Pseudo-Arcana, Last Visible Dog, Archive, Students of Decay, Digitalis.
distantbombs.blogspot.co.nz
Rachel Shearer
Rachel Shearer has released a series of projects and performed live under the moniker Lovely Midget since 1997 with a 10" vinyl release on US label 'Ecstatic Peace', a CD on NZ label Corpus Hermeticum in 2000,a 2003 CD release with US label Family Vineyard. Earlier experience in the late 80's/early 90's saw releases on NZ label Xpressway as part of the group Angelhead and Flying Nun and Siltbreeze releases with all girl avant-goth-rock group Queen Meanie Puss. Rachel combines her musical experiments with a variety of sound practices - creating sound installations, composing music for film and working as a sound designer/sound editor.

Stanier Black-Five
Stanier Black-Five is a Christchurch-based sound artist and writer, who for the last 15 years has been actively involved with experimental music and sound art in the UK, Europe and New Zealand. Her audio work is largely based on the manipulation of her own environmental recordings, as well as found sounds, which she uses to create dense soundscapes that use sources such as mesmerising aircraft drones to the pounding rhythms of trains and more recently the sounds of the earthquakes that have shaken her city.
stanierblackfive.com

The Stumps
The Stumps are comprised of Antony Milton (A.M., Mrtyu!, The Nether Dawn) gtr/vox/ethnomusicological field recordings, James Kirk (Sandoz Lab Technicians, King Loser, The Dead C, Gate, Black Boned Angel) drums/gtr/beard and Stephen Clover (Seht) bass/synth/fighting talk. Live they provide an exciting and often overwhelming listening experience that can burn out your eardrums and douse the flames in hot wax, but fear not, within these methodic blasts are moments of icy calm and underneath all this chaos is a relaxed thread, still keeping some semblance of order intact.
myspace.com/stumpsthe
We're on Facebook