HAMSTER Issue 5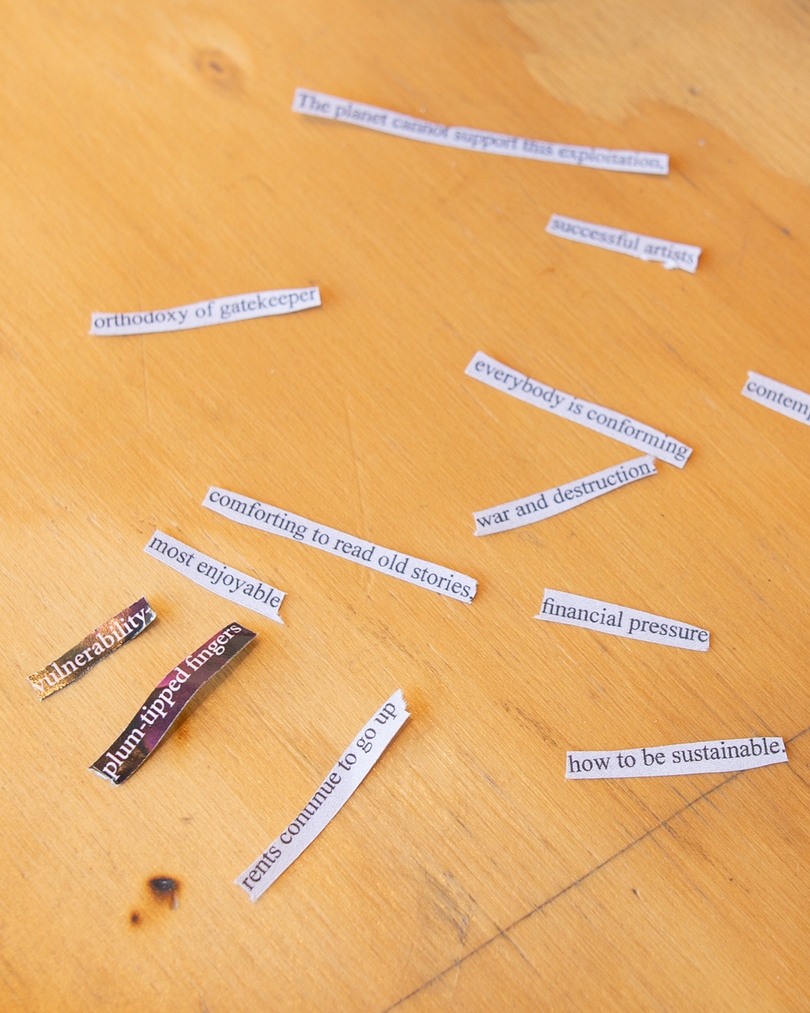 Tēnā koe.
HAMSTER 5 is shaping up and calls your bodies to join ours as the writing takes form.
This issue of HAMSTER Magazine takes the form of an expanded publication incorporating residencies, writers, collaborations, performances, and the texts that emerge from these collisions of bodies to flesh out the politics and potentials of relationships in writing. We are annunciating these relationships, and making visible the performed and contingent ways in which ideas and writing are achieved in relational space.
Contributors are beginning to gather around this issue to work from where they are, and as residents with us here:
Writing is taking place across Aotearoa and over the moana, connecting kōrero about relationships, body politics, cognition, and intimacy by our contributors: Jennifer Katherine Shields, Lynley Edmeades, Robin Murphy, and Gemma Banks.
Jennifer ran a conversational workshop towards the development of their contribution last weekend and it spurred a deep, careful, and joyful afternoon of kōrero and poetic making. The texts that emerge from that space will join literary and cross-disciplinary essays, and poetic writing from Lynley, Robin and Gemma.
Writing will also develop as three weekend residencies take place over September and October with Vanessa Crofskey, Pūkauri Productions, and Brooke Stamp in Ōtautahi. Expect shadows, dancing, technology on the streets, and people to meet.
Brooke will be here from October 12-13 working alongside local collaborators, while Pūkauri Productions and Vanessa Crofskey will work on their projects over September 21-22. While here, Vanessa will run a workshop attempting to model virtual modes of communicating in physical space, which you can learn more about and register for here.
In the meantime, an unidentified character invites you to flick/shoot/slip/slap/blast off an email to Inbox Anxiety:
"Do you have something you'd like to fire off an email about? A burning in your chest?
You are invited to send love letters, anonymous confessions, inappropriate spam, work hate mail, and misc. objects to: hamster@physicsroom.org.nz .
You are also welcome to engage via newsletter. Sign up here.
Looking forward to staying in touch,"
We'd love you to be with us as this writing takes form from our collective work, so please join us at a workshop, or keep your ear to the ground for details of performances with Vanessa Crofskey, Pūkauri Productions, and Brooke Stamp during their residencies.
Also, keep your eyes peeled for the printed impressions of these bodily actions and interactions as HAMSTER Magazine Issue 5 towards the end of this year.
Ka kite anō.
As the writing takes form:
Vanessa Crofskey - Inbox Anxiety

An Open Workshop, 12pm Saturday September 21 @ The Physics Room Gallery.

We live in an era of breakdown selfies and live-streamed performances. It's suffocating to be so close to one another, and yet feel so tangibly far away. Green dots flickering in and out of focus, searching for a way out of loneliness.

Live performance is similar to digital space in its tension between intimacy and isolation. Being online is a hyper-social and anti-social activity. How can we use IRL contact to understand URL disconnection? How can we forge strong connections in cyber space to rally against the world's major attachment issues.

Join artist Vanessa Crofskey in an attempt to recreate the matrix, modelling virtual modes of communicating in physical space. You are invited to contribute to a space of curiosity and play.
A Public Performance, on City Centre Streets, Sunday September 22.
Near the Gallery on Sunday September 22, expect attempts at public intimacy, private communication, and emails.
Pūkauri Productions, Tupono: A Working Performance
8pm, September 22 @ The Maker Workshop, The Arts Centre Te Matatiki Toi Ora.
Please join us for a special working performance by HAMSTER 5 residents, Pūkauri Productions. Consisting of Kim Garrett, Sheree Waitoa, and Kihere Aumua-Jahnke and their collaborators, Pūkauri will share glimpses of a new work for theatre, based on the waiata of Sheree Waitoa. Free entry to the Maker Workshop via Hereford Street, on the corner of Rolleston Avenue.
Brooke Stamp, The line is a Labyrinth: a Public Performance
4:30pm, October 13 @ The Maker Workshop, The Arts Centre Te Matatiki Toi Ora.
Brooke writes,
"Using the poetic motivation of "The Line is a Labyrinth", we will explore movement practices that draw from embedded/embodied lineages, psycho-physical impulses, and apparitions that meet movement with memory, and impulse with language (sounded, physical, discourse). The residency invites local artists Mikaela Marshall and Charlotte Filipov into an active meditation on bodies and languages that build and haunt our residency infrastructure. We will develop a score that will culminate in a public performance, based on collaborative dialogue and strategies for tracing / transcribing / documenting echoes of spatial dynamics, language and movement, and the psychic loops emerging between them."
Please join us this Sunday for a glimpse of the collaborative work from the weekend, which will re-appear in the printed HAMSTER 5 at the end of 2019.
Thank you to The Arts Centre Te Matatiki Toi Ora for their assistance with the HAMSTER 5 Residency Programme.