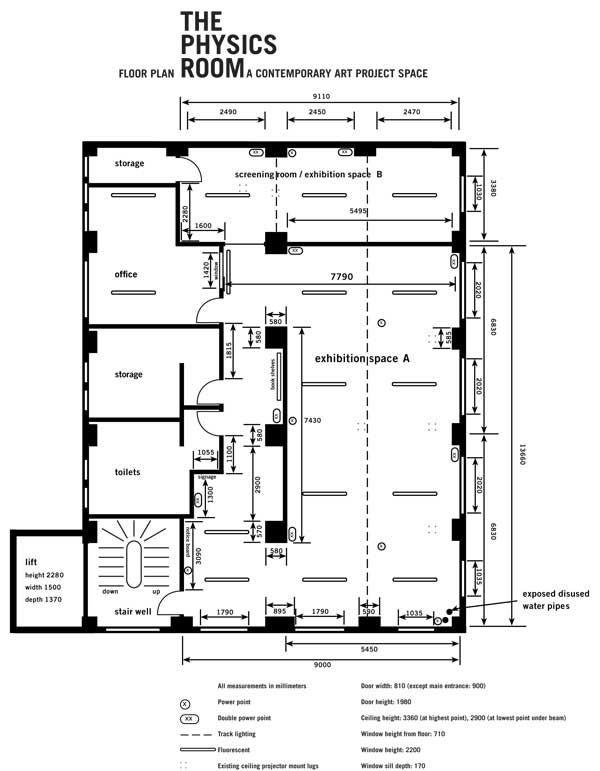 The floor plan above shows The Physics Room's gallery space at 209 Tuam Street, Christchurch. All measurements are in millimetres. Click here to view the floor plan as a PDF.
Structure
All external walls and supporting columns are constructed of concrete. Internal walls are constructed from wooden frames, lined with gib plasterboard. A slip wall constructed of MDF is installed along the external wall of exhibition space B (and the section of this wall closest to the storage room pivots to access power meters). The floor is varnished hardwood, except in the bathrooms, where it is tiles and concrete. The ceiling and ceiling beams are constructed from concrete (detailed ceiling measurements are available on request). The walls and ceiling are painted white.
Lighting
All bays are lit by double fluorescent tubes, except the two bays directly in front of the bathrooms. A three circuit track lighting system runs the length of exhibition space A and twice width ways in exhibition space B. We currently have 10 floodlights and 18 spotlights that can be fitted to this system. The track lighting system can also be used as a power source to a limited degree.
Access
The gallery space is on the second floor of the building and access is via the stair well or lift.
Windows
Windows overlook Tuam Street and High Street. All window frames are made from brass, painted
flat white. For more detailed measurements please contact The Physics Room.
Noise levels
As we share the premises with several other businesses it is important to be mindful of their need
for quiet during normal work hours (9am - 5pm weekdays). Please confine all heavy installation (such as drilling, hammering etc.) to outside this time. If at any stage this is not possible, please check with gallery staff first.
Blackout
Exhibition space B is able to be fully blacked out. Exhibition space A is more open plan; we do have blinds fitted to each window but a complete blackout is not possible in this space.
Equipment
The Physics Room has basic installation equipment, including a concrete drill and basic carpentry
tools, however anything more specialised will need to be supplied by the artist. We also have available DVD players, VCR players, television monitors, data projectors, and an assortment of speakers, amps, and other sound equipment. We also have an assortment of plinths. Please ask for a full list of equipment and specifications. As other shows may run simultaneously with your show, use of these items must be negotiated with gallery staff. Specialised or particular equipment needs may have to be sourced by the artist, please notify the gallery as soon as possible of any such requirements.