Totemism is a religio-social institution, which is alien to our present feelings; it has long been abandoned and replaced by new forms. In the religions, morals and customs of the civilised races of today it has left only slight traces and even in those races where it is still retained it has had to undergo great changes.

Sigmund Freud, Totem & Taboo, 1927

Jim began collecting tattoos in his early teens. His first tattoos were hand made with a needle and Indian Ink, and the resulting lines were fairly thick. He began doodling as much out of boredom as design. He concentrated on his forearms and hands creating blue spider webs and marking names. The son of a merchant mariner, he'd always been warned against ever getting a tattoo. Previously, Jim explains, tattoos had always been either for soldiers or sailors, while in the seventies it was gaining popularity amongst the young and rebellious, becoming firmly entrenched as part of the biker lifestyle. Getting a tattoo could be viewed as breaking a social taboo set by `civilised' society, hence the appeal of tattooing as method of asserting one's own individuality and gaining autonomy. In Jim's case the act was classically Oedipal -- in defiance of the father he engraved "Mum" into his skin.

Digs, one of Christchurch's most prominent tattooists, also taught himself his art by experimenting with home tattooing as a teenager. He used a needle and cotton. Unfortunately for the skin anthropologists, he has covered over most of these early tats with fresh `wallpaper'. The results of home tattooing he says, could be fine. " It's all matter of pointillism, however, the pressure used is quite different." In classic old school style he too was drawn to marking important names including "Mum and Dad" on his right knee. This practice of creating badges of important family members continued with a recent addition of his son's portrait in an extremely fine black tone piece on his chest. In making the child a badge, he becomes a totemic symbol and is therefore accorded a variety of taboo protections. One of the primary aims of the taboo system is, after all, the protection of young children. The tattoo has gained a psychic mana beyond its own existence that serves the purpose of guardianship. Digs has made his body a tribal totem created through hereditary and personal group affiliations.

At fifteen Jim and his best friend Neil both got their first professional work done at McSweeny's, Christchurch's only tattoo parlour in the early seventies. They had been drinking for a couple of hours and picked design off the wall for a laugh. The tattoos were more affordable then, Jim paid just two dollars for his boxing chicken. Neil remembers McSweeny as an old alcoholic peering through a cloud of smoke. "He got about halfway then he realised `fuck I'm using the wrong needle'", Neil jests. The colour needle gave Neil's knife, his second tat, a fat outline. The vegetable ink colours have stayed surprisingly vivid in comparison to results I've seen from today's colour inks. Jim also got a knife at the same time. No doubt the committed psychoanalyst would peg this as a declaration of (tribal or subcultural) fraternity.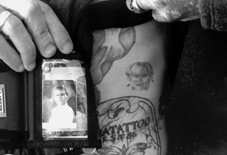 Digs also got his first professional work from McSweeny. Underage, he hired a friend's birth certificate, which cost him more than the tattoo. He remembers the way McSweeny just called "next" and kept on using the same equipment he'd used all day. "Hygiene was non-existent. He just kept filling up the same well -- you could almost see the red in it. Needles are only good for a very short amount of time. The colours deteriorate, the needle becomes barbed and you get really bad scabbing. The more scabbing the more ink you lose." Digs notes though that the basic gun design he settled on has barely changed since S. F. Reilly invented it in 1891.

Jim continued to collect tattoos till both arms were sleeved top to bottom. He has work by many of the shops established after McSweeny -- Terry of Terry Tattoo, early work by Steve Johnston (probably Christchurch's most awarded tattooist) of Tattoos Down Under, and Johnny Man. It was Johnny Man who produced Jim's final piece, an incomplete Chinese dragon that took three sessions under the needle. Johnny had a reputation as a bit of a cowboy who operated from a shop on Oxford Terrace but spent most of his time at the boozer. He was usually out of it when he worked. For Jim there was usually no more reason for getting tattooed than having a bit of spare cash. Ultimately it was the rising price that put him off further work. It made it less of a cheap laugh.

Neil's last tat was created as a momento of his brief stint as a guest of her majesty in the early eighties. He had another prisoner draw on the design, a compilation of images from Easyrider magazines. The design was topped off by the classic biker motto F.T.W. (fuck the world). The classic phrase serves a totem of disaffection with "civilisation", as he put it, "cause I was very fucked off". He then had to wait his turn. He was ushered into a room where there was a lookout on the door watching for screws. Tattooing was and still is against prison regulations. Hygiene consisted of a match under the needle. The needle used on Neil's arm was extra long by about 2cm, dragging the outline he described as "a bit nippy". The blood was pouring down from the top, whereas a professional would have worked his way up. The design started to get washed off by the blood and he had to have it redrawn. Neil was not happy at the tattooist taking some artistic license, adding an upside down anarchy "A" to the design. The full job cost one joint. His arm was yellow and bruised for a week. The machine was scratch built from a toothbrush with the bristles removed attached to a tapedeck motor and wired into the light socket. Everyone knew when it was in use "cause it interfered with the telly". Improvised machine designs are highly varied -- Digs showed me a bangy number assembled from a toy stock car motor. According to Pene, a gladwrap tube of six D batteries is normally the best way of getting a steady power supply that does not surge or vary the needle speed.

Pene, currently "vacationing in the South Island courtesy of the government" is a painter and master carver having exhibited in Dunedin and Christchurch, as well as producing commissions for the government. He was also a professional tattooist. His most noticeable tattoo is the superb 3D black ink Chinese dragon boldly staring out from his neck, done in Mount Eden in the eighties. While a lookout was posted for the bosses, a piece was created that is indistinguishable from a professional job. The subject is a Taniwha, a symbol of Pene's iwi's mountain. Tattoos about land were very important to Pene as a teenage inmate, as tattoos, unlike land, can never be taken from you. His New Zealand plaque on his foot forms a heraldic badge flanked by a biker-style helmeted skull and swastika flag. The tats' lines are wide and the ink grey. Pene explained that a lot of the time in jail real ink (Indian or biro) is impossible to come by. Inmates substitute "boob ink" manufactured from squeezing black shoe polish through cloth; if hard pressed then paint products are used. These inks are particularly prone to fading. Co-incidentally, Digs said that the plaque is becoming less popular as a way of claim location or identities. New Zealand is usually represented by symbols like the Silver Fern or Kiwi-made logo. Such images are legitimised by the likes of Olympic swimmers getting tattooed to commemorate the event.

Tattoos in jail tend to be muscular images such as Doberman dogs, or the number thirteen for its `evil' symbolism. All the gangs and jails have different symbols. Rock College (Mt. Eden) is the dove; Waikeria is an inmate modelled off the cartoon Clutch Cargo. Other jails have their specific symbols: black panthers, ball and chain connected to a dog, sharks, ace of spades with bars and prisoners' hands inside... Tattooing for prisoners, Pene declared, was like tagging is now for teenagers, "When I see an old guy reveal his tattoos I know his history, where he's been. "It's like a map of a life". What Pene witnessed as a map of life is a compilation of symbolic names. J. Pikler, who influenced Freud, saw that totems were in fact an act of permanent naming. He wrote "totemism arises not from a religious, but a prosaic everyday need of mankind". Prison tattoos provide a personal language for prisoners to create individual identities, differentiate groups and preserve what is valued. This is an innate necessity of the human psyche.

Prison houses those who have broken society's prohibitions, so it seems logical for the inmates to breach the taboos of that repressive society. Prisoners reject the outside world by tattooing those exposed areas considered taboo for marking by conservative white society, specifically the hands, neck and face. The act of wearing boob gloves inherently means the individual has disassociated his/herself from one society and accepted a new one with its associated totems and taboos.

Pene stopped short of getting a moko, and now says he regrets his ink work. Realistically, tats are forever, as current removal practices only create scarification. Lots of the work Digs and his crew take on are cover-ups. "We make people feel better about themselves", Digs told me. "Lots of work we see is badly executed. A good tattoo is art, a bad one's just embarrassing". There are limits to what can be covered up, depending on how dark the original was put in. The cover up is not a new phenomenon at all, some of Jim's best old school work, like the flower on his hand, covers over old girlfriends' names. I'd have a couple of girlfriends' names then I'd get a new root. The next morning she'd ask, well who's this then? I guess I was pretty lucky they were small enough to go over!"

Louise, a flash artist (tattoo designer), trades her pictures for tattoos. She is currently collecting a large piece on her back referring to what Louise defines as the three aspects of women: youth/nature/fertility, the warrior, and old age/death. These are drawn from Celtic mythology and Louise's proud Danish heritage. The first section is a warrior maiden in black tones by S. S. of the Maggogs (hardcore bikers from Taranaki) with further background by Ross of Skinshow. The tattoo is currently evolving to include aspects of Louise's new role as a mother and to reaffirm her interests in nature. In choosing a tattoo that relates both to the meaning of her name and the symbolism of an ancient tribal heritage, Louise identifies with spiritual traditions such as palmistry, tarot and divination that fall outside the traditions of modern patriarchal society.

Much of Louise's flash work is aimed at feminine pieces, such as flowers, nymphs and fish. "Women", she says "have always tended to get the leftovers, as far as designs on the wall go". She sees people tending to stereotype women with tattoos with a biker mole tag or as an old boy at the rest home where Louise works once said "In my day only the ladies of night had those".

Attitudes to tattoos are changing though, Louise believes, especially with people's interest in spirituality on the rise. Louise's designs include Ancient Egyptian gods, Celtic heritage pieces and tarot designs. "Skulls and demons appeal to a pretty limited crowd these days". These designs could be perceived as an attempt to retrace heritages. Indeed, tattooing has never been more popular. Digs is constantly looking for fresh talent. He is, however, highly critical of the popularity of neo-tribalist designs (modern tribal tattoos from no distinct tradition). He believes the designs will date and simply finds black boring to work with. "For a tattooist there's little skill in it." But he is interested in the common, almost universal shapes of tribal tattoos. He notes that the Celts, Maori and Japanese all use very similar repeating spiral iconography and precise linear detail.

MacLennan, a nineteenth century anthropologist, believed tattooing was the origin of all totemism. Contemporary tattoo is surely about elements of totemism being reabsorbed back into our "civilised" society. Or perhaps they never went away.

Cheers to Louise, Pene, Neil, Jim, Digs and Kerry.
Photograph by Dan Arps