The Feraliminal Lycanthropizer is a low frequency thanato-auric wave generator. Known for its use by the Nazis and for its animalizing effects on human subjects tested within measurable vibratory proximity, the machine electrically generates two subsonic sinewaves -- one 3hz, the other 9hz. Together, these two frequencies (one acting as carrier, the other as program) generate a lower third, .56hz.

In addition to these sinewave generators, the machine contains four tape loops of unduplicable lengths, each containing textual material. Two of these loops operate below the threshold of decipherability (one forward, the other backward), and two operate far beyond the opposite threshold (also one forward, the other backward). The effect of the subsonic sinewaves on the sound of these human voice recordings is one of organic ululation.

But this aurotic environment, with its sensual, undeniably aphrodisiac effect on subjects, is peripheral to the machine's essential function: to trigger states of urgency and fearlessness, and to disarmour the intimate charms of the violent child within. While the 9hz, 3hz and .56hz wavelengths together signal a state of high-level ferocity and austerity in subjects within approximately four yards, the Trithemean incantations richly pervading the machine's aural output produce feelings of `aboveness' and unbridled `openess'.

The combination of drastically contrasting emotional trigger mechanisms results in an often profound behavioral enhancement which occurs strikingly soon (within moments) after the user enters and remains in the auricular field of the machine. This patently Plecidic enhancement is described in a study by the inventor Bill Jenkins as "Sensitive Disturbance", an "atomic catharsis of nucleopatriphobic anxieties and freeze-locking, thanatotic armor." [1]

Documented experiments include cases in which subjects previously unacquainted with one another are found freely sharing inner thoughts, secrets and/or vulnerable feelings, in several cases to the point of impetuously shedding the veil of clothing. Others involve extraordinary strength and detailed focus of will. For example, a dilettante Catalonian national using the machine daily over a period of five or six weeks eventually managed to ingratiate himself with Adolf Hitler, persuade his quarry to adopt the swastika as high totem and emblem of the burgeoning National Socialist Conference, and justify his swift departure from Aryan allies by returning to Germany in 1942 to present Hitler with the inestimable graces of the Dalai Lama.

It is sad that the most widely known experiment (in which six younger subjects turned their newfound fearless attentions toward death, and purportedly unleashed their physical strength and determination upon each other in a congress of erotic strangulation [2]) has cast a dark cloud over the otherwise useful tool, erroneously compelling otherwise intelligent persons -- from both scientific and artistic circles -- to avoid the machine altogether. After decades behind locked doors, the Feraliminal Lycanthropizer, protected by the Plecid Foundation and the William Jenkins Estate under the executorship of Bill Jenkins, Jr., is now again entering a phase of widespread experimentation.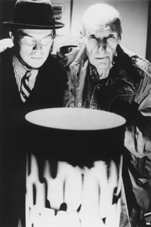 In 1978, Bill Jenkins, Jr., Magister General of the Plecid Foundation in New York, of which his venerable father had held the title of Magus Eugenaestheticus, extended a global invitation to those individuals ready to experience primal, holistic, sensitive transmogrification by spending a few moments in his father's laboratory alone with the machine. The results were very pleasing to young Jenkins: out of 108 voluntary subjects culled from throughout the world, fifty-six agreed to submit to Jenkins' apprenticeship program; within nine years, twelve of them developed into skilled craftsmen capable of producing machines of sufficient quality to genuinely spark a dawn of primeval wisdom by the turn of the millenium.

Dr. Robert Hutchins, late professor of Chemistry at the University of Michigan recorded, in a laboratory journal of 1921, instances in which the machine was brought to his home and operated at light social gatherings `incognito'. Hutchins' interest does appear to have been somewhat questionable in that the journal gives inordinate space to delirious accounts of sexual misconduct, juxtaposed with vague attempts at scientific explanation. However, the entries [3] clearly prove that the Feraliminal Lycanthropizer had quickly made inroads into academic circles long before its Nazi usage. Following is an excerpt:

Present at this time are Mr. and Mrs. Cedric Wellington, Miss Elizabeth McFadden and Miss Betame, whose surname I cannot remember. The group has been in the presence of the machine, set at 5.6dbs, for approximately two-and-a-half hours, two of which have been spent in an undeniably animalistic state.

Within half and hour of her arrival, Miss McFadden joined Mr. and Mrs. Wellington in an absolutely deplorable menage on the living room floor. Miss Betame appeared to be initially disoriented by this, but within five minutes had removed most of her clothing and begun fingering her exposed sex organ. After perhaps five or six minutes of these unbridled sexual pursuits, Miss Betame, apparently shameless on all fours, attempted to approach my body, on the opposite side of the room. In an attempt at cordiality, I proffered a brisk smile and left the room to prepare a new tray of refreshments for the guests.

Upon walking into the kitchen, I had to catch my breath. I had never witnessed this type of behavior and would have never expected it from members of my own peer group. I returned to the living room, set the hors d'oeuvre tray down on the end table next to the couch and seated myself on a chair facing the menage. Elizabeth, who had joined the others, glanced mysteriously in my direction and crawled across the room toward me. I panicked and was suddenly paralyzed. Aside from the effects of the Feraliminal Lycanthropizer, which were close to bringing me into submission, I felt distracted by Mrs. Wellington, who was howling while appearing to extend her entire left hand, clenched tightly, into Elizabeth's birth canal. The lady seemed to be struggling to say something, which I was then determined to decipher. I almost entered a kind of trance state.

Betame's hands were rapidly and hypnotically motioning to remove my shirt. I began to sweat and shake and again excused myself, this time to the lavatory, where I now complete this entry. Clearly, Jenkins' Feraliminal Lycanthropizer is a fundamental pivot between man and beast, and, if used with extreme discretion, may serve to emancipate overly fragmented personalities from the restrictive conditioning and mores which undoubtedly lie at the crux of all neurotic and psychotic disorders.

Mahabad Golriz, renowned Persian botanist, spent a substantial portion of his later years in Lausanne seeking subsidies from the Islamic Trust For Arts & Sciences for the establishment of a committee dedicated to the thorough investigation of the Feraliminal Lycanthropizer's effects on plant life. Golriz observes:

The Lycanthropizer sets into motion the process of subtle change at the innermost loci of the DNA molecule. In private studies, my associates and I have observed a 72% consistency in the drastic changes the machine imposes upon phenotypic expressions of the nokhod (pois chiche).

Walter Stevens, Assistant Director of Secret Operations, a primary artery of the National Security Council, has intimated to a former NSA agent that the Feraliminal Lycanthropizer was used extensively during and after the Vietnam War as a truth serum, helping to liberate essential information from American war criminals and distraught POWs. Although Stevens cannot be quoted directly, and naming our intermediary would be a breach of trust, we do hold in our possession public domain photographs explicitly documenting use of the Feraliminal Lycanthropizer at the scene of such an interrogation.


Reprinted from the "David Woodward Supreme Ruler of the Universe" website at http://www.davidwoodard.com/ with permission from David Woodward

Addendum from David Woodward:

I do own a Feraliminal Lycanthropizer, of course. I constructed my FL with the kind assistance of the inventor's idealistic son, Bill Jenkins, Jr. However, at the celebration of my 27th birthday, a willful guest artfully located the FL (which was already plugged in) and turned it on! The results were profoundly disturbing for all of the guests, and the machine remains in shambles, for my ex proceeded to pull the machine from the room and throw it out from the second storey window onto the cement courtyard below. Although I have every intention of repairing the damaged FL, I suppose I am still recovering from that incident.
[1] Journal of International Science, vol. V, no.s 6-9; serial reprint; New York, 1933-4.

[2] New York Times, May 20, 1970, p. C6.

[3] Psychoradionics: William Jenkins Contra Robert E. Hutchins (Adam Yean, ed.). Edinburgh: Magnum Opus Hermetic Sourceworks, 1947.