It was the boats that did it for me, not the wonderful vaporetti and motoscafi water busses, or the gracious stately gondolas, but the luxury yachts (laden with the implication of fine furniture, artworks and jewellery on board) that had cruised into town for the Biennale. I subsequently read in the New York Times that one of these fabulous tubs, belonging to a couple of Miami based philanthropists, has an on board collection that includes Miro and Duchamp . It was these glistening vessels that brought home to me the world of international art consumption at the Biennale.
So you can see it is a select affair, the three day preview of the Venice Biennale; more a case of who's yacht is in moored outside the Giardini today than which is the most radical artwork in town. Dealers, collectors, museum directors, trustees and curators sail between the hoards of art world press, gently fanning their deals under the shaded gardens and fine Venetian palazzi that house this enormous event.
Among the tans, designer sunglasses and couture finery, the 49th Venice Biennale opened to three days of press and private views. I am told that on those three days, the Vernissage, attracts 30,000 press, curators, dealers, buyers and anyone who can wrangle a ticket. Apparently in the 1600s Venice was home to 20,000 courtesans, many of whom dressed as men and whose comfort was sought after by gentlemen supposedly on their on a Grand Tour of Europe's classical civilisations - the climax of a wealthy Englishman's education. Think of Byron and many others who "travelled a whole month together to Venice for a night's lodging with an impudent woman".
The Biennale opened to the public on the 10th of June. The remaining five months will attract around 300,000, a hefty influx on a diminishing population estimated at less than 80,000. It is only a small percentage of the overall tourism Venice attracts. Yet despite fears of environmental disaster and an ageing population, the city endures, perhaps even thrives.
I spent four days in Venice weaving through the massed ranks of The Art World in a vain attempt to look at everything. It is not an exhibition of art, more an exhibition of the art world and market, a vast trade fair and networking event. Even though the Biennale continues until November the crucial part is the Vernissage serving up a cornucopia of exclusive feasts and select parties acting as publicity vehicles for the hosts. I know only too well that this is an important part of supporting the arts but it simply served to remind and depress me is that art is so easily absorbed into a market of collections, expensive luxuries and worthy causes.
The apparently lavish British party, for Mark Wallanger, hosted by the sponsor, achieved a sort of legendary select status by ferrying guests to an island, to colonise it for the night - ironic given Wallanger's work which acknowledges "the bizarrely anachronistic character of this international exhibition that is obliged to categorise and segregate by nationality". In his new video Threshold to the Kingdom, we see slow-motion footage of people spilling through the arrivals gate at London City Airport. They look tired yet relieved to have successfully negotiated customs, the sense of absolution is emphasised by the soundtrack, Allegri's Misere, a setting of the 51st psalm. This has particular significance now, when immigration policy is a much contested issue in Britain.
The international pavilions of the Biennale are housed in the Giardini, the leafy gardens on the eastern end of the Grand Canal, and in many palazzi and other buildings in Venice. The Padiglione Italia, in the Giardini, and the Arsenale, the city's ancient warren of warehouses dating back to the middle ages, houses the International Exhibition, showing over a hundred artists - both emerging and established.

Dante apparently visited the Arsenale twice, finding inspiration for his Inferno, as did Blake. The journey around the Arsenale feels as long, and possibly enervating, as Dante's descent to the abyss. When you feel you must be halfway there you realise it is just the beginning. I wished I'd had Virgil, as Dante did, to guide me on this confounding campaign.
Director Harald Szeemann chose Plateau of Mankind as this years title for the international exhibition. To his credit, the choice of artists are not determined by a set theme - Plateau of Mankind is an amorphous idea into which (almost) anything fits. Yet it is a difficult idea, "The Visual Arts Biennale as a Platform of Humanity" and Szeemann acknowledges this. In creating a title that tries to connect with the 1950s exhibition Family of Man, he realises that "the chances of all individuals constituting a family are not promising, despite faith in globalisation and the breaking down of walls". The 49th Biennale, he says, is offering a "connotation of freedom".
There is fine work, from artists such as Luc Tuymans and Robert Gober, Bill Viola, Cy Twombly, Yervant Gianikian and Angela Ricci Lucchi, that gets under the skin, exposing the sticky sickly details of mankind. Richard Serra's massive crushing spirals of rusted steel are a highlight of the Arsenale.It is however, impossible to write a comprehensive over view; the Biennale has expanded considerably in recent years including countries previously under represented.
The size is the failure and the success of the event. It delivers a huge range of inspiring work, generating discourse between practises, but obscures itself. Luis González Palma's haunted photographs, witness to the tragedy of Guatemala and A1 - 53167's photographs of fear and grim reality in Guatemala, struggle against cramped spaces but to show less would have rid them of their context. Stan Douglas' dual projection of a woman searching a deserted house, trailed by a ghostly impression of herself, like some ominous dream in which the unnamed terror hovers in the shadows, is let down by the opposite entrances to the space that turn it into a corridor.
Away from the Giardini in the New Zealand pavilion Jacqueline Fraser and Peter Robinson stage the combined project Bi-Polar, referring, the press information tells us "to ideas of duality and opposition". Fraser's A demure portrait of the artist strip searched, (a lavish array of fabrics and texts forming eleven portraits) interrogates the relationships and tensions between multiple cultural references. This is juxtaposed against Robinson's Divine Comedy which explores philosophical and scientific dichotomies, notions of 'being' and 'nothingness', through prints of computer code and beautiful glass and plastic models of the expanding universe and the Stealth bomber. Both installations grapple with the anxieties and contradictions of existence in contemporary culture. I felt the personal and public relevance of the work and the subtle references to Maori and European culture could have had an interesting resonance in Venice had the installations not been so cramped and crowded.
I wondered if curators and artists faced with the pressures of representing their country in Venice, and the attendant responsibility for the large public funds poured into the event, fell into the trap of overstating the point and showing too much work.
In this context the overtly elegant Nordic pavilion, hosted this year by Finland, was a foil to the sensory overload I felt I'd suffered in the Arsenale and several other pavilions. In this show, curated by architects, it was difficult to tell the separation between the building and the work; the gracious synergy between architecture, sound and light made it one of my favourite sites. There was a certain emphasis on Finland with a number of works by Finnish artists also showing in the Arsenale - of these Salla Tykkä's film Lasso and Charles Sandison's installation Living Room, were memorable. In Living Room words relentlessly travel around the walls, projected from a computer-generated programme that mimics human evolutionary and crowd behaviour.Sandison's success is in his restrained use of the technology so that viewers are simply aware of the behaviour of the text, not of `video' or computer'.
Other highlights included the creeping horror of Robert Gober's minimal installation in the American pavilion; Carsten Nikolai's sound wave cannon, the vibrations giving form to water in huge glass flasks; Nedko Solakov's ceaseless painting of a room from black to white and back; Hai Bo's recomposed photographs of the Cultural Revolution sealing the past and present for the future; in the Japanese Pavilion, Naoya Hatakeyama's photographs of a divine light in underground sewerage systems; Suzann Victor's Dusted by Rich Manouver, a set of swinging glass chandeliers that barely miss each other; and the Irish Pavilion with Grace Weir's Around Now and Forgetting. (Around Now, a meticulously installed dual-screen projection, shows one 360 degree view from inside a cloud and one view from outside it. This "vertiginous reverie" is conterposed against Forgetting, a small screen video and sound work subverting traditions of Renaissance perspective through illustrating a proposition of Einstein's Theory of Relativity.) In the Russian Pavilion, Leonid Sokov's Death in Venice:Shadows of Twentieth Century Sculpture reminded of the deceptions and illusions in an industry of culture. Finally, at the end of the long days, I enjoyed the art-free Manchester Pavilion, a bar in the Dorsoduro area (serving good sandwiches and a nice house red) that a group of artists from Manchester, England,including Pavel Büchler and Nick Crowe, had persuaded to call itself Manchester for the entire Biennale (no luxury yachts here).
There is little room here to write about these exhibits, yet the list of memorable exhibits unseen is more frustrating. Between the queues and the crowds this was my biennale of the missed exhibition. Where else could you `miss' a Gary Hill installation or the award winning work by Germany's Gregor Schneider and Canada's Janet Cardiff and George Bures Miller and important works such as Atelier Van Lieshouts' transport units, acting as mobile gynaecological clinics (designed for Woman on Waves, to be anchored in international waters allowing women from countries where abortion is illegal to terminate pregnancies), and Lucinda Devlin's photographs of the viewing booths in American Death Chambers?
I read in one countries press pack that it is important for countries and artists to be represented in Venice, for where else would you get 30,000 critics and an audience of over quarter of a million, but much as I enjoyed having the opportunity to see so much extraordinary work in one place, I am left wondering how much any of those visitors can absorb. Despite the presence of exemplary artists, intellectually rigorous and engaging work, any sense of art as an important social force is suffocated beneath its absorption into commodity and product. It is idealist and a little simplistic, and it is nothing new to say, but if we turn a blind eye to the importance of art, the status it should have, and allow it to slip into the realm of entertainment and consumption then we are complicit in its disappearance from playing an active role the social sphere.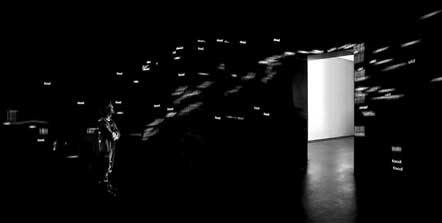 Alice Angus (alice@proboscis.org.uk) is a curator and writer based in the UK. She is currently working with Proboscis, an organisation researching and facilitating creative innovation. Information on Proboscis projects can be found on http://www.proboscis.org.uk
---
footnotes: