TM/MF
Thurston Moore/
Marco Fusinato
Australian Centre for Contemporary Art, Melbourne, September 2000
If Marco Fusinato had printed t-shirts for this exhibition, the two-venue tour programme on the back would have appeared brief but illustrious. Brief by music-world criterion but illustrious when gauged in art world terms, TM/MF swings in the balance of representing both. Indeed, printing t-shirts would have been just as appropriate as producing a catalogue that, incidentally, arrived in the form of a CD.
Touring from the Sarah Cottier Gallery (Sydney) to the Australian Centre for Contemporary Art (ACCA) (Melbourne), the exhibition featured Melbourne-based Fusinato and New York-based Thurston Moore of Sonic Youth in a double act, bringing together visual art and music.

TM/MF combined the video traces of ten improvised guitar tracks by Moore and ten red monochrome paintings by Fusinato. Performed and recorded in Moore's New York studio, the tracks were formed using various techniques to introduce chance and spontaneity, such as sliding a bottle along the strings, ramming the guitar against an amplifier, or kneading the strings with fingers and palms. Moore then sent the numbered video recordings to Fusinato, who responded by painting ten monochromes 'in time' to the ten 'songs'. Each painting was completed within the duration of each track and likewise the artist was videotaped in his studio. Using only one colour (his signature red), Fusinato completed the works using implements found in the studio, in the street or bought at bargain warehouses - among them, a plastic bag wrapped around the hand, a crushed coke can and a five-piece paint brush set strapped together with tape.
Fusinato proposed the idea for TM/MF to Moore in 1999. The two came to know one another through Freeway Sound, a record label Fusinato runs with Sydney-based artist John Nixon that focuses on experimental 'free noise' music. Both Fusinato and Moore are grounded in an improvised, DIY ethos that, during the late 1970s, became almost synonymous with the punk movement. This subcultural tendency saw the birth of fanzines, the self-produced record and underpinned radical artistic and attitudinal change in the field of popular music. As Fusinato maintains, "It all ties into that punk ethos that anyone could do it. It's totally, in a sense, anti-star or antiheroic".
While the anti-star motive is always likely to be self contradictory in the world of art, Moore's role in TM/MF is way beyond the expertise limited to three chords. Regarded as one of the forefathers of experimental noise guitar since the early 1980s, Moore's feedback-driven sounds have paved the way for a new wave of musicians to play their instruments unencumbered by traditional boundaries. Through Moore's associations, TM/MF is tinged with a heavy air of rock kudos, celebrity and internationalism. This is 'experienced experimentation'.
While both Fusinato and Moore are represented in TM/MF with or by autograph iconography (Fusinato, red monochromes and Moore, the electric guitar) the former's paintings must compete with the loud, physical sounds of the latter's performance. Fusinato's paintings do not just act as translations of the sound produced by Moore but as receptacles or representations of a desire to be it. The artist's consistent use of red paint across all ten panels acts like a seismograph or a 'ten-track' that picks up and records signals from Moore's performance, forming a visual play-list. As a transference of 'energy' from the aural to the visual, TM/MF is an extended and perverse exercise in Walter Pater's dictum, "All art aspires to the condition of music".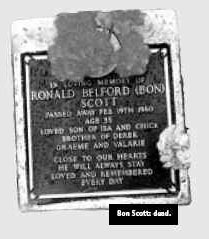 A possible visual allusion in the title of the exhibition to the Australian group AC/DC might imply homage to and mimicking of the tropes of rock so often played out by this band. Forming a linguistic likeness with a group whose lead singer died after choking on his own vomit, TM/MF taps into the associated dramas of a performative rock band.
But TM/FM takes rock and makes it sexless. The machismo of sweaty male rockers swearing and spitting at audiences, screaming manifestos and jamming their guitars into the floor or throwing them into the air is almost entirely absent from this exhibition. Moore looks somewhat aged and conservatively dressed as his boxer shorts peek over the top of his chinos. Indeed the collaboration for TM/MF occurred under limiting - even clinical - conditions, like a controlled experiment into the equivalence between art forms.
Kate Rhodes is a Melbourne-based curator and writer.