Ev Funes: The Dating Balloon Experiment, San Francisco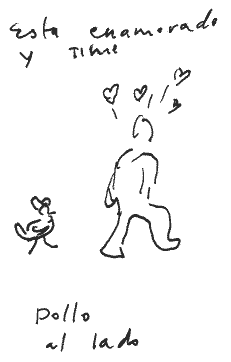 Scientifically defined chaos: "the irregular unpredictable behavior of deterministic, non-linear systems. This kind of chaos is the wildness that often asserts itself randomly where there otherwise seems to be only predictability or pattern, as when your heart suddenly skips a beat or when the steady dripping of a faucet inexplicably veers into irregularity. Chaos theory embraces aberration and disturbance as friendly, even instructive forces in the universe of natural events, and proposes the paradoxical notion that simple systems give rise to complex behavior."
Late September, I ride my bike downtown. I am thinking about the impending San Francisco rainy season. More specifically: where will I find the luscious girl/boy of my dreams to keep me warm all winter long? I look up from the pavement and am startled out of my reverie. The sky is filling with balloons. Garish pink and blue balloons drift upwards in a drunken saunter, crowning the sky above Howard Street.
I pedal up to their source stationed alongside the carousel outside of Zeum, the interactive children's museum. The Dating Balloon Experiment is a two-part interactive project performed by San Francisco based artist Ev Funes.It involves 500 biodegradable balloons,solicitation cards and a web site. This work is Funes' second experiment involving balloons and audience participation. The first can be viewed at www.balloonproject.com/existential. Funes is also the curator (and a participant) of The Element of Temporary (see www.laurasplan.com/temporary), a biannual show bringing together musical and visual artists, for one evening, to examine the ephemeral.
When I asked Funes about the catalyst for this recent experiment, the artist cited frustration with the arbitrariness of dating in my life. Now, dating has always been a somewhat treacherous affair. But recently I've detected amongst my contemporaries a sheer lack of faith in this area. Maybe it'st the fact that all the available babes in this city are being evicted by the hour? Or perhaps we are not consuming enough alcohol? I believe in luck but I am growing impatient with repeatedly scrubbing my flat with You Desire Me floor wax.
It seems romance ads and dating services, even the newer online dating games, are based on arbitrary factors. Even the Wild Side ads contain the same lingo in a different form: top seeking bottom ad nauseam. Dating becomes a matching game based on similarities and polar opposites. Funes' Dating Balloon Experiment attempts to recontextualize this binary world. The use of the gender-specific pink and blue balloons implies a sense of irony about our predetermined expectations of dating and gender. The potential suitor who receives your balloon through complete happenstance, whomever reaches out their hand as a lone balloon makes its way back from thestratosphere...
The whole experiment brings to mind a game we played endlessly in elementary school, called M.A.S.H. Through this game, the most essential elements of your future could be determined: the identity of your spouse, how many kids you would produce, and of course what brand of car you would drive. The name stemmed from the four housing options, reflections of a capitalist society: Mansion, Apartment, Shack,House.
Ultimately, children are practitioners of the I Ching. Everything children touch is conjured through a delicate sense of randomness and simultaneously engulfed in ritual and precision. It is these qualities about M.A.S.H. and Funes' recent work that strike me the most. In M.A.S.H., a piece of paper was divided up into boxes by exact folding - feat not so easily achieved by young fingers. Kids would scrawl out a number of marks on a sheet of paper. The tics were tabulated to arrive at the magic # your life so carelessly hinged upon. Then you counted off your life options and scratched them out systematically until you arrived at a prediction of your future.
Instead of rectangles of loose-leaf notebook paper, The Dating Balloon Experiment provides bright pink solicitation cards, similar to raffle tickets at carnival sand state fairs. I filled mine out with the usual stats:gender, age, and under the things I like to do category I listed "make volcanoes" and scrawled a drawing for good measure. I attached my completed card to a helium-filled balloon. Like Daedalus to his ill-fated son Icarus, I implored my balloon not to fly too close to the sun. Watching my egg-shaped proxy rise into the clouds, I feel a sudden strange giddiness.
I ride off with a hopeful remnant of the experiment in my pocket - a ticket stub. It lists my balloon # and assigned logon + password info for the site. If someone were to find my balloon they can leave a message that only I can retrieve from the web site. Anyone however can observe the result of the experiment @www.balloonproject.com. The website details the experiment and allows visitors to track the fate of discovered balloons.
Mansion, apartment, shack, house.
I await the descent of my balloon into your heart.
Sarolta J. Cump is a Libra and runs the MC5 reunion tour hotline.