Bo told me very casually one time how he'd been locked up for an entire summer by his mother in an attic. His story comes out in dribs and drabs over the time. About three years I've known him. Most often facts come out in order to explain causalities: his headaches, dizziness, and short attention span. His inability to remember things or accomplish any task that falls off the narrow track of habit.

Bo is about my age, so it must've been the 1960s when he and his mom were living in Canoga Park: a three room house, a gravel driveway running from the street to a packed-dirt alley. A Chevy Nova with a shot transmission, flies buzzing round the screen door to the kitchen. Nine gasping months of desert summer without enough electric power in the box to run an airconditioner. Bo always knew she didn't want him. Bo was a lonely-hungry child and she was sick of telling him to stay out of the refrigerator. Bo howled like a frightened animal, and then she grabbed him by the shoulders and drummed his head against the floor until he screamed, and to this day he panics if you ask him to do anything unexpected. While stupidity might be the inability to absorb new information, Bo has intelligently adapted to this condition requiring everyone who speaks to him to enter his own world of hierarchies and habits.

Bo's best friend is his cousin, and this cousin has leukemia. The two get by. In better days, Bo bought a pair of shoes reportedly once worn by Judy Garland at an auction. He is an old-style fag, mooning over certain youthful ethnic body-types that will be forever unavailable to him. His greatest pleasure is to walk down to the gay porn store on Friday nights and buy a soda. On these walks, he keeps an eye out for abandoned cats and kittens. Impossible to pass them by. He shares two rooms with seven cats and whatever transients he's placing. Recently, Lucy, his fluffy black & white, had a malignant tumor that cost $300 to remove and he was late on rent and the money that I loaned was acknowledged with a note: God Bless and Lucy thanks you.

Bo's neighbors ratted out his mom and he was placed in foster care while they searched out a relative who would care for him. And it was while living with this relative, a half-uncle in Nevada, that he discovered he could communicate with animals. He was fat, 14, and fantasized about being fucked by other boys. He found a kitten in a neighbor's garbage can and Bo's heart leapt at itscruel abandonment. He hid the cat and fed it. When he turned 16 he left, and Bo's biggest life regret was how the bus driver wouldn't let him bring the cat back with him to Los Angeles.

Bo has a country & western album recorded in the '60s by his father, looking like a young Merle Haggard on the cover. His father died before they ever reunited. Bo's dad came west to be a country & western singer. There were a string of record company studios where Route 66 dead-ended into Pasadena, and Bo's dad had thought he'd hit it big, but one month later the company went out of business. I don't know where Bo got it. Perhaps it was a present from his cousin. He's carried it around with him for twenty years, still wrapped in the original cellophane, unplayed. Bo thinks by never opening the seal he can retain the spirit of his father.

There is an unforgettable scene in a children's movie about Heidi, in which a little snow-globe that she's carried as a memory of her once-happy childhood is snatched away by her malicious guardian. The snowglobe hits the steps and smashes. Why is it that some people are born to become magnets for other people's cruelty? The innocence of animals and their suffering leaps straight into Bo's heart. His powerlessness redeemed every time he helps a dying kitten.

The gypsies believe that good and bad exist equally and constantly in each person. 'Each person is part Judas, part Christ,' an Estonian Rom told a Polish television crew. 'Only luck decides him.' The gypsies have a god named Phara-un. He is part god and part human. Therefore, he is like the gypsies: neither bad nor good. But the gypsies see a great divide between the 'bad' and 'evil'. Anything touched by gadges (i.e. non-Gypsies), is unclean, mahrime, and therefore evil.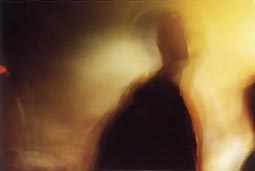 Currently, Bo's t-cells are hovering around 300. Bo makes his living as a cleaner. Before collapsing 18 months ago with pneumonia, Bo had no idea that he was HIV positive. Upon learning he had full-blown AIDS, Bo felt obligated to inform his clients. Five of his dozen regulars subsequently dropped him: gay and het art/media professionals in the trendy boho suburbs of Silverlake and Mt. Washington. 'It isn't personal,' they said, 'but we must protect the safety of our children.'

A Los Angeles acquaintance criticized me once for surrounding myself with negativity. He was a leader in the self-empowerment movement and believed that poverty, like viruses, is contagious. He believes that where he lives in Santa Monica is 'more spiritual' than where I live in Highland Park, 'the slums', because money is a symbol of God's love. 'Look at your self-created misery,' he said. 'The clothes you wear, the books you read, your AIDS-ridden housekeeper...'

The gypsies don't believe in god but they believe in luck. The New Agers don't believe in luck because luck implies a certain uncontrollability.

Bo was too sick to drive himself to the hospital last month when he had lesions and an abscessed tooth and shingles, so he asked a semi-homeless friend to take his car and drive them both to LA County General. They couldn't find a park, and Aston panicked and forgot to lock the car, where Bo's two vacuum cleaners were stored tantalizingly in the hatchback. Someone popped the trunk and now, although he has recovered, he is a month's rent poorer than he was before, what with the six days off of work and having to replace the vacuum cleaners.

I am wondering at what point bad luck becomes a self-fulfilling prophecy. The luck of the rich, the luck of the poor. Does fatalism also extend to certain East European countries?

Driving to Los Angeles from Santa Barbara, a man's body dressed in black dropped from the Fairview Avenue overpass of Freeway 101 onto the windscreen of the car in front of me. The body was transported from the scene to Santa Barbara Cottage Hospital, where it was pronounced dead some 25 minutes later. Two hours later in West Hollywood I viewed a show of pastel-painted balsa sculptures by a renowned conceptual artist whom critics laud for successfully isolating the idea of form from surface.


***


Chris Kraus [Pisces Goat] is the author of Aliens & Anorexia (Semiotexte/Smart Art Press, 2000) and I Love Dick (Semiotexte, 1997). She was a contributor to Sophie Jerram's Posted Love (Penguin NZ, 2000) and to Sande Cohen's French Theory in America (Routledge, 2000). Born Bronx, New York, she grew up in New Zealand and now lives in Los Angeles.