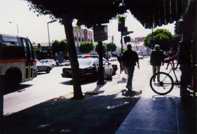 And then I don't. I would rather not go there (home). I stay in my studio and pick my teeth and go insane. I now own a "back-pack." That's good enough reason for New Zealand Immigration to never let me back in the country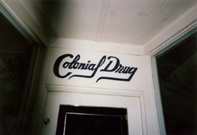 Colonial Drug on Vermont half a block up from Hollywood Blvd. Who could ask for a better store? Your reporter swears that behind this formidable signage there is a gated community of Tylenol, Neoprin and Advil, not to mention LA's best selection of sticking plasters, sun-block and aids for the disabled. The summer is abominable -- one needs painkillers regularly.


Another blistering fact: Colonial Drug is an all-girl pharmacy! Your photojournalist swooned on his first of many visits to Colonial Drug upon discovering that the store was run by five immaculate white-coated Latina, each with the same haircut, each with the same disciplinarian control over the inventory. Aside from LAX, this is the best tourist attraction the city has to offer. I am often found there in the evenings, transfixed, muttering in Spanish about leg-braces and incontinence blankets. (Useful website: www.missingkids.com)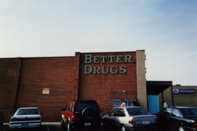 Sugar is the best and the most dangerous dope. Want some statistics? Addicted to Snickers bars and Nescafe iced coffee, as I am, it is hard to resist the confectionorama of Better Drugs on Colorado Blvd. in Glendale. The temptations for self-abuse are incredible, and the shit is fine. As one elderly Californian warned me on the bus: "Watch out for those drug addicts, man, when they're jonesing it's like they're whole body's a toothache." I know what he's talking about. I would drive my car through a brick wall to score Snickers anyday.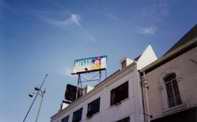 This very beautiful Misty ("light 'n sassy") billboard suggests a tobacco company funded collaboration between King Loser and Tracey Moffat. This particular one is in the McArthur Park/Westlake district between Korea Town and Downtown LA, but really they're everywhere. Below the happy woman's smile you will find x-number of snickers-heads and x-number of LAPD bully-boys and x-number of black, late model BMW's with white guys from UCLA with bright red and bright green hair sucking lollypops and pacifiers who "just happened to be driving through the area, Officer." You see, Misty cigarettes and chewing gum fuck up people's lives and intestines.

Giovanni Intra