The Honeymoon Suite House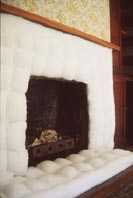 Emma Bugden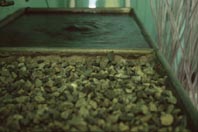 Layla Rudneva MacKay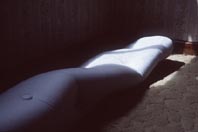 Layla Rudneva MacKay and Emma Bugden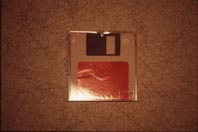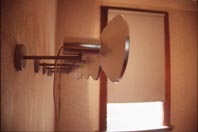 Warren Olds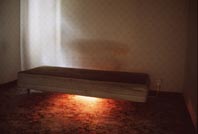 Richard Shaw


The Honeymoon Suite curates at Otira

The Honeymoon Suite are keeping house the obsessive compulsive way. From Warren Olds' ominous warning siren at regular intervals to Emma Bugdens' DIY interior decorating with it's clumsy homemade quality, domestic activity here has undertones of a painstaking paranoia. Evidence of extra terrestrial visitation is apparent in the traces of a crop circle etched into the front lawn, and inside the house nature has also come to visit, with Richard Shaw and Layla Rudneva Mackays' pond complete with stepping stones for viewers to traverse the house.

The Honeymoon Suite

The Honeymoon Suite operated as an art project space based in Dunedin from February 1997 until December 1998. During it's existence the Honeymoon Suite provided an alternative Dunedin venue for both local and visiting artists, and was an important forum for generating arts debate in the community. HMS can still be found online, at http://www.studioahoy.com/honeymoonsuite/

Artist Information

Warren olds is an artist and designer who was one of the co-coordinators and designer for the Honeymoon Suite. Recent print projects have included design of several issues of Physics Room arts magazine LOG, and publicity material for the School of Art, Otago Polytechnic. Olds has also shown recently in Nu Era at Room 3, Auckland, and in Big Room, at the High Street Project, Christchurch. Upcoming projects include curating a web project for the Physics Room, and design for a forthcoming Christchurch arts and culture magazine.

Emma Bugden is an artist and curator who was also one of the co-ordinators of the Honeymoon Suite. Latest projects include work in Nu Era, at Room 3, Auckland, and curating a CNZ funded group show for the Hocken Library, Dunedin. She has also worked as a guest curator for the High Street Project, Christchurch, and the George Fraser Gallery, Auckland. Emma Bugden is currently employed as Exhibitions Officer for the Physics Room, Christchurch.

Layla Rudneva Mackay graduated in 1998 from the Otago School of Art Dunedin, with a top scholar award in Sculpture. Recent projects include filming a video documentary profiling contemporary Dunedin artists used as teaching aid for various theory papers at the School of Art, Otago. She was also co-curator in 1998 of Smooth, a group exhibition of installation and performance, at the Meridian Mall, Dunedin. Upcoming projects include performing at the 1999 Magdalena Festival of Performing Arts in Wellington.

Richard Shaw is a Dunedin designer and sound artist who graduated in 1998 with a post-grad diploma in design at the Otago University, Dunedin. He has recently designed a website for Dunedin entertainment guide F*ink, and produced print design for Flying Nun band HDU, as well as participating in True Soldiers, a group exhibition at the Honeymoon Suite. Current projects include recording with electronic sound project ARC.





The Honeymoon Suite website