Seems to be a lot of galleries this year. In a dirty nether arcade from Wellington's awkward phase, at the dark end of a row of noticeboards/display boxes, whose hopeless advertising recall that strange age when display cases seemed worthwhile, is Showcase. Its wee white box has held the usual arrangements of international jetsam, and a pigeon. It is a good thing, nevertheless. The trendy format, while not achieving any crass aims of reaching new audiences, does allow an interested person to wander by as leisure allows, without dread of gallery conversation. It also allows artists to relax, with the merest item sufficing to fill the space without revealing too much. A bitter local was heard to say [exactly] "any old thing can come in an envelope from Amsterdam but will we be allowed to pin up whatever we please?" Which will only be answered in time. With luck it will continue for yonks, due in no small part to its value as easy CV fodder. Showcase was instigated by the young Hamish McKay sidekick, Andrew Thomas, who we see going a long way in this business. (Contact showcaseproject@hotmail.com.)
Enjoy meanwhile has become a more robust and confident creature, appearing more relaxed and less embarrassed with recent material. There is still the insistence on theme series. Is this necessary? Theme shows (as in 'Sex') are a bit like theme parties, not-very-Now. However, the last series, 'From Enjoy', was based more on an imposed format than imposed theme, making things a bit tidier and satisfying Enjoys' mania for creative control. This time around all shows were to be outside of the gallery and viewed from the gallery windows. 'Extallation', as Chris Clements put it. Most entries in the series played a "spot the installation" game. Tao Wells' and Andrew Thomas' 'Free Parking' (?) was an exception but failed to entertain. It took the multi-talented Clements to close the series with a bang. '"It's goodnight from me" "And it's goodnight From Enjoy"' had Clements in boiler suit spraying the windows black from outside in synch with the sun setting. His task seemingly complete, most of the substantial opening night crowd downed last drinks and filed out. The stragglers were in for a ghoulish treat as an eerie thumping began to sound from one window and a scratching at another. Quite scary really.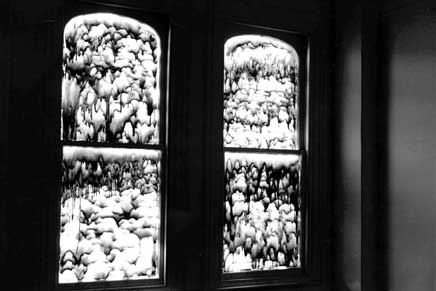 Chris Clements, It's Goodnight From Me..., Enjoy Gallery, Wellington, June 2001
Out in Newtown, the tiny Neut gallery appears to continue in the same old fashion, in the face of rumours spread by director Jason Secto earlier in the year that he was moving to Auckland in the near future. Enjoy at the time made it known they were eyeing up the wedge-shaped premises as a potential satellite space. However, it is June and Secto can still be seen brooding in his gallery, behind a huge shop window on a busy intersection. After a Ciaran Begley installation at Easter, a single show, Mental Notes, by Secto has occupied the space. In fact, jostling alongside the Neut logo is a new over-sized 'Secto' signature on the window. Has 'the Ego' stranded?
Then there's the City Gallery. Great crowd. Great wine. So I (Lissa) lay back and relaxed at the Telecom Prospect 2001: New Art New Zealand opening. There is a lot to pick through. From the various 'eye-candy' of the Beehres' to Tony de Lautour taking on global branding. The catalogue is in two parts - a website: www.newartnz.org.nz and an A3-sized Truth-style rag on newsprint. The cover, sportingKirsty Gregg's Collection 2001, makes a pass at those deemed the lowest common denominator - fauve Oui, oui, oui's all round. Inside everyone from Helen Clark (PM) to Peter Gordon (Chef) inform us that contemporary art is [shock] alive, vibrant and exciting. Helen explains why art makes economic sense: "[w]hether we feel that a work of art is beautiful, disturbing or even repellent, the point is that we do feel it, and we find in the piece something which has meaning for us." Meanwhile Graham Capill, in a moment of connection with John Ruskin, titled his piece "A Reflection on the Arts". Therein he approvingly quotes Leland Ryken: "'art whose effect is to encourage people to behave selfishly, immorally, or coarsely, does not merit our approval' no matter how creative it is". With this wealth of discourse on art, we eagerly await the next "Prospect", which is pencilled in for 2003. Will Theresa Gattung, CEO of Principal Sponsor, still find contemporary art to have as much "vision, innovation and excellence" as her business by then?
Having been out of town, I (B S Thompson) missed the opening of "Prospect". While I appreciate biennale-scale works like Gavin Chilcott's swan as fine opening night props, viewing "Prospect" suffered in the absence of opening night 'atmos'. Stuffed full of drinks and nibbles I imagine would ease swallowing the indulgence of Kirsty Gregg's balls or Yuk King Tan's parachute jumps. Alcohol that brings forth those tears of delight we are expected to experience at the youthful playing of the Beehre's...
Look out for the Capital Times' new social page scout. 'IT' girl Fiona Webster will be giving us two a run for our money by the looks of things. She's in your face and out there, we've been snapped already - how 'bout you?
B S Thompson resides in Newtown while Lissa Mitchell is currently in Roseneath.