Visited a few galleries (once) but saw nothing worth writing home about, other than to mention that all the work displayed an aversion to the amazing gadgetry this place has to offer. The best's at Tokyu Hands - twenty-four floors paying homage to do-it-yourselfers and the rest of us too late/lazy to do anything ourselves. Building supplies, wooden beams, Plexiglas (which can all be cut in-store to your specifications), hinges, knobs, screws, smile correctors, nails, glues, collapsible anything, hobby and craft supplies, paint, scientific apparatus, bathroom and plumbing supplies, kitchen devices and wares, rugs, tiles, build your own robot kits, safes, rubber materials, rope, road markers, raw wool, fossils, cushions, cork material, canvas, buckets, accordion doors, buttons, buzzers, canteens, vitrines, dog and cat repellents, door closers, door knobs, door wheels, futon storage bags, nostril trainers, paper cement, pumps, origami paper, putty, lunch boxes, chewable toothbrushes, cabinets, scissors (gardening, kitchen, office, sewing and hairdressing), pedometers, optical fibre, nettings, polystyrene (bricks, balls, blocks, tubes, poles and cutting tools), microphones, helmets, felt, fertilizer, chopsticks, bill holders, artificial lawn, turntables, ear cleaners, tarot cards, ink ribbons, umbrella parts, wax (for cars, floor and molds), audio and video accessories, yarn and looms. Available in excess. Deliverable for Y300.
Amongst Tokyo's musical events, which vary from sellout J-Pop concerts to Deep Purple (with orchestra) comebacks, there's room for smaller and less publicised noise gigs (large by NZ standards). I went to one in a basement space in a neighbourhood where I'm told many of the big J-Pop stars live. That night, the duet Relegere's offering took place in a, ahem, womb. Noise was patterned by playing hand held electronic massagers in miked metal bowls. Oh, and throwing blood-substitute filled baby dolls into the same bowls. From Sendai, Rotten Cop Mascara performed his set in the guise of a human aerial. Additional strobe light made for a convincing electrical storm. Offering the most engaging and listenable performance of the night was New Zealand's Eso Steel (Richard Francis - ex Ho Dogs) who opted for a less abrasive performance, mixing barely traceable samples of televised feedback. Last to play was aptly-named Seed Mouth, whose bad breath I remember more than anything played. Sorry.
The number of visitors attracted by the brotherhood of the Tobacco and Salt Museum would embarrass museums worldwide. Maybe it's this kind of precision and special kinship that would entice the New Zealanders to public museums, not the encyclopedic genus of Te Papa? I'm yet to pay a visit to the Tobacco and Salt Museum, but it's a top priority, amongst The Curry Museum, Museum of Ramen, Ace World-Bag Museum, Button Museum, Building Tool Museum, Kite Museum, Paper Museum, Map Museum, Shaving Culture Museum, Stationary Museum and the Playing Card Museum.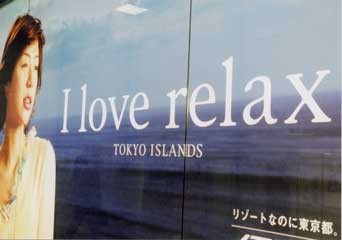 The finest example of quality literary production in English in Japan can be found in the writing done by mutinous linguists, making Yen writing catchy slogans for Japanese products. Those emblazoned on domestic rubbish bins and thermoses make for excellent reading. Whether they're haphazard slippages in translation, which is doubtful, or willful attempts to steer the course of the English language, this revolution needs recording. Also, reading product catchphrases is cheap entertainment in a city where a loaf of bread from the Seven Eleven can cost $24. And bread's not that entertaining. The examples below would need including in any anthology of The New English:
"Snugly. Please, tea time is a calm frame of mind" (Thermos)
"MINI - This is the best partner for enjoy days" (Thermos)
"PAL TIME - We had a good time today. If it will be fine tomorrow, let's play together. I wish everyday is holiday" (Thermos)
"There are bright sunshine and gentle breeze. We feel it so fine and so valuable" (Domestic Rubbish Bin)
"That fits so snugly in the hand" (Domestic Rubbish Bin)
"This expresses our life vision LET'S supreme can" (Domestic Rubbish Bin)
"Color Mist - There's nothing like gentle tool" (Domestic Rubbish Bin)
"Mermere - puffy as clouds, fluffy as cotton" (Domestic Rubbish Bin)
"Pose - refined senses of life" (Domestic Rubbish Bin)
"Helpful reforms your life - this swing dust is thought to ecology design. It's spent your life with our goods" (Domestic Rubbish Bin)
"Swing Slim - please prize living space, we'll support urban lives" (Domestic Rubbish Bin)
"Simple and Feel a useful T.O.S.S. - we have to think about more simple life style" (Domestic Rubbish Bin)
What about New Zealand's presence in Tokyo? You can purchase a Canterbury rugby jersey, and some do. There is also a generation or two of Japanese natives speaking with our accent, thanks to the forces of large English language schools. Any VHS owner can catch a glimpse of New Zealand creative magic. You can rent a bilingual edition of The Ugly.
Dane Mitchell, an artist, is a New Zealand boy, far, far from home...