Perhaps it is only appropriate that I start this article with an admission: I really like '70s performance art.
No, I mean, I REALLY love '70s performance art.
Yes, I have long been a fan of work from this particular period in New Zealand art history and was eager, nay desperate, for the trip down memory lane that the Symposium promised. Well, sure, I wasn't actually THERE for any of it, being merely a noisy child at a South Auckland primary school, but I have often romanticised this period as representing a certain wilderness in our art history, demonstrating our own true bohemian background as an artistic community. From the moment I first saw Wystan Curnow's NEW ART manifesto from 1976 I was hooked - Jim Allen's pretty Elam students rolling in paint in their erotic, if silly, '70s bikinis, Bruce Barber stumbling across a gallery floor with a fish in his mouth and a bucket on his head.
Therefore it is obvious I was excited to have the chance to attend the Symposium, a conference jointly organized by the Robert McDougall Art Gallery and the University of Canterbury School of Fine Arts. This enthusiasm was obviously not shared by many my own age in Christchurch, with low student representation at the conference. However, I was impressed with the big contingent of artists and students from both Dunedin and Hamilton, as well as the few interested punters from Auckland. Apart from this collection, it was gray hair all the way as the originals from the period reunited, some of them for the first time in twenty years.
And indeed, this was surely the primary reason behind the conference, and one that it was hard not to be moved by. Artists and critics reminiscing, catching up, showing off wives, drinking... It was easy to imagine how much fun they were having. And for enthusiasts like myself it was also hard not to be moved by the presentation of original documentation of early performances in some of the lectures, including a talk by Andrew Drummond in which he showed extensive documentation of both Filter Action and Vein, two of my favorite pieces of all time. It would be fair to say that I was creaming my knickers at this point. With performances by international practitioners Carolee Schneemann (she of the Meat Joy fame) and Toronto artist and academic Charles Garoian, and papers by Anne Marsh (Sydney), Tina Barton (Wellington), Blair French and Lita Barrie, the Symposium was a major event in the Christchurch calendar.
A southern counterpoint to the Auckland exhibition and symposium Action Replay held earlier by Artspace Auckland, the Symposium was a conscious attempt to historicise and validate a hitherto slippery period of New Zealand art history which, due to its emphasis on temporal and fleeting works, now exists largely as slides and articles in old Art New Zealands. That generation's focus on the landscape and its environment meant work which was heavily politicized, anti-big business, and utilized the body itself and the land to demonstrate issues of environmentalism, feminism, and personal politics.
While there is a clear need for this period to be further discussed and placed into a historical context, some of the Symposium seemed in danger of collapsing into a show-and-tell from people's photo collections, as artist after artist dredged out obscure images of themselves in terribly embarrassing poses (and clothes!), all with the accompanying drawn out anecdotes and tales. At times I couldn't avoid feeling, along with other younger audience members, reminded of other people's Dads at a BBQ, only without enough sausage to go around.
And, predictably, on the slippery slopes of history in the making, during the course of the conference issues began to arise regarding what was NOT represented at the Symposium. It was difficult not to notice that of all the speakers at the Symposium, the only women represented were either international artists (Anne Graham, Carolee Schneemann), or else present day commentators or critics of the period (Deidre Brown, Tina Barton, Anne Marsh). The absence of any of the woman artists of that time whose work in New Zealand added greatly to the range and depth of the growth of performative and post-object practices here was noted privately by many of the audience, and publicly, in passionate and articulate discussions by Bridie Lonie, Deborah Cain and Caroline McCaw in several lively, if largely ignored, debates.
Surely, when one thinks of that period of practice, one is not only assuaged by images of Bruce Barber running round with buckets on his head, but also by the groundbreaking collective work of the Women's Gallery in Wellington, and the performance work of particularly Maree Horner and Di ffrench. It is difficult to say what factors brought this situation about, and indeed the (all female!) organizers from the Robert McDougall were at pains to point out that they had attempted to include a number of women artists of that era, none of whom were able, or willing to attend. However, even a generic overview of many of these artists' work by someone like Bridie Lonie, or a discussion of the history of the Women's Gallery, a pivotal collaborative artists' project, would have been welcomed to have extended the conference's somewhat narrow focus.
In a similar vein, the final day of the Symposium, which was to look at the impact the period had had on present day contemporary practice, was also disappointing: a line up of papers of which only Deidre Brown's detailed and meticulous discussion of the work of Auckland artist Eugene Hanson even touched the surface of current practitioners. And Eugene, for all his work is sprawling, gorgeous, and draws on both the practices of installation and the readymade, does not immediately jump to mind as being most heavily influenced by, or reactionary towards, that particular period of NZ art history.
Where was discussion of both Daniel Malone and David Townsend, whose practices have included exploration and interrogation of the early performance work of Peter Roche? The merging of post-object practice with indigenous and Pacific performance tradition in the work of Rachel Rakana, Michael Tuffery and the Pacific Sisters? The exuberant theatricality of performers such as Christchurch's The Clinic, and Aucklander Mark Harvey, or the merging of collaborative practices with new technologies in the work of new-media artist Caroline McCaw? Sadly, what emerged in this final day was a line up of speakers who appeared out of touch with a thriving contemporary scene which expands '70s notions of performative practices in new and vital ways.
Instead, some conference speakers interpreted the brief as a chance to update audiences on the progress of their current work, much of which was big, expensive and had obviously paid off by the sound of their current lifestyles. What happens when you grow up? I'm here to tell you now that you get older, grayer, get a little tummy tyre, and acquire kids, wives, ex-wives and mortgages, all of which are financially demanding and require you to ACTUALLY SELL STUFF.
Omnipresent in all discussion was Australian artist Mike Parr, a garrulous presence throughout the Symposium. The only word I can really find to describe Mike Parr is 'unstoppable', much like a bulldozer in full flight. Swarthy, loud, and with his trademark lack of one arm, he dominated proceedings with all the confidence of a used car salesman. No matter whose lecture it was, Parr was up there discussing his practice, his thoughts on art today, and his traumatic childhood experiences as a child. His own lecture was compelling and in-depth and I adored it, but by the end of the conference I think most people would secretly have been pleased should a stray meteorite have struck him in his seat.
However, queen of the conference cannot be taken by Parr, for all his 'look at me' pomposity and propensity for dressing in drag. That accolade must surely have been taken by Lita Barrie, resplendent in micro-mini, teased bleached hair, fuck-me stilettos, and shiny red talons, adding a touch of Beverly Hills glamour to the whole proceedings. Having left New Zealand in the '80s, Barrie's triumphant return home, now a LA-based writer and lecturer, was promoted as quite the coup by symposium organizers. Indeed, Barrie's lecture was eagerly anticipated by both myself and others in the crowd, and she is obviously capable of being highly erudite and challenging when she wants to be. However, her lecture was marked by a noticeable lack of preparation, and a distinct lack of enthusiasm for her topic, the Symposium, and New Zealand generally.
Somewhat aggressive and seemingly eager to impress the ones that never left that she had 'made it overseas', Barrie clearly carries a sizeable chip on her shoulder regarding those years in New Zealand. Beginning with a series of touristic images of sublime New Zealand landscapes (waterfall, forest, mountain) Barrie suggested to the audience that our one hope as a nation was to turn our backs on an over-theorized international art world, and simply render as artists the pure beauty of our country which surrounds us. When understandably questioned by members of the audience, Barrie continued in this vein until, tossing back her mane, she declared that she 'was only trying to be nice, and thought this country was fuckin' boring anyway, and was glad she had gotten the hell out of here as soon as she could'. Stomping her feet, she stormed back to her seat and the lecture was over.
The obviously embarrassed Symposium organizers made light of the situation, but it begs the question of what they thought they were getting when they paid for Barrie to come here and speak. Probably not temper tantrums and silly buggers, but you never know. Personally I felt she was a welcome addition to a line up of mostly aging middle class white guys without a touch of glamour or a hint of plastic surgery or make-up amongst them. And yet, at the same time, what worries me about the Lita Barries of this world is precisely the effect they have on articles like this, their careless, throwaway moments receiving paragraphs of text until, somehow, insidiously, the writer's word allowance has all been used up, and the article finished, with Lita Barrie assuming a staring role once again!
PLEASE NOTE: due to space and time, this writer was unable to write about most of the Symposium, including covering stimulating and intriguing lectures by Blair French, Anne Marsh, and Tina Barton, and elegant, pleasurable and emotive performances by Teresa Andrews, Charles Garoian, and Carolee Schneemann. To check out more details on the Symposium, a catalogue is available from the Robert McDougall Art Gallery or check out http://christchurchartgallery.org.nz/.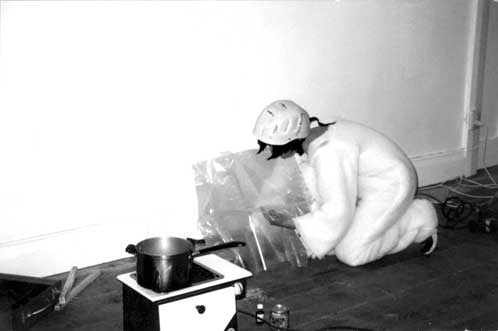 Emma Bugden, Filter Action, performance at The Honeymoon Suite, Dunedin, 1997.

Emma Bugden is a performance artist and General Manager of The Physics Room in Christchurch.