It was a fiery summer in the city of flesh for anyone who stepped out of the air-con. Last week at the local dairy the sweat of a young man (who happened to be wearing a Hendrix Voodoo-Chile t-shirt that I couldn't help but read as an omen) made a wet pool on the counter. In another moment of unhomeliness I had earlier watched a woman in tight sweaty jeans repeatedly drool into the rubbish bin as we waited for a train.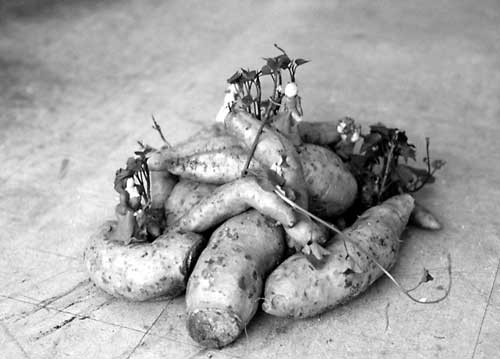 Leah McLeod's Hotel No Tell was one of the recent highlights at Blau Grau gallery in Chippo. Mcleod had to leave early to go to her night shift at the Kings Cross hotel where she has spent the summer working as a receptionist. At the gallery, over a beer, we listened to taped interviews with the hotel visitors, staff, and the residents who are mostly dealers of coke and heroin ("but you can buy anything there"),runners and sex-workers. A photographic line-up of the hotel doorways from the interior corridors of the hotel set up a taste of 'the life' of the Cross. The gallery was strewn with objects taken from the rooms like a re-creation of a crime scene: a worn carpet with blood stains, windows covered up with bedding (to avoid the surveillance cameras) and other momentoes of violence. McLeod told it straight - "The other night one of the runners was chased by the police into the hotel. A dozen cops swarmed. 206 was raided. The drama that resulted saw one of the dealers go beserk with a machete, evidenced by the smashed window in room 203... Have a look at the machete cuts in the bedside table from 201. They're marks from the week before when he tried to cut one of his runners' hands off."
A wired-up sign made from cardboard boxes flashed 'NO TELL' with all the sunken aspirations and make-shift repairs of a Cross hotel. (The brochure reads "Great Family Atmosphere". "Think Manson family. Think Murphy brothers" says McLeod.) It gave off a weak flickering artificial light like the neon that illuminates the Cross with its ethics of silence. "You might get slapped for not telling, but for informing, for dogging, the penalties are even higher".
If you can't check out of the Hotel California, it's only one bus trip from the Cross in a frenzied escape from the city of flesh to the place where it all makes sense: the open sky, surf and lascivious vibe of Bondi Beach.
But I wanted to get really toasty, so I made a trip to the outer west where it's several degrees hotter. An hour on the train watching suburbs of red brick housing developments had me feeling slightly shaky, so when the train entered a piece of nature which turned out to be Casula Station I felt like I had arrived at The Zone from Tarkovsky's Stalker.
At Casula Powerhouse, David Griggs (well known for his bogan revelry with his mates from last year's Skulls 'R' Us exhibition) curated Welcome to Junkiesville - named after some tagging that referred to the neighbouring western suburbs that include NSW's heroin centre, Cabramatta. Mel Donat had a video installation called Fluff Snuff, that played soft toys being run over by cars and squashed to bloody messes. There was a photographic archive of bombing from around Sydney, and at the Saturday workshops local boys, and a few on-looking girls, learnt breakdancing and piecing from the best - including Prinz and Demote from the Big City Freaks bombing crew. Welcome to Junkiesville adopted the aesthetics of the street and a sense of being down with the yout' scene (while living within an only vaguely mis-spent late-youth). It took me a while to break the spell of the zone and get on a train back to the city on which I watched some young guys with cool haircuts and gangsta poses. With elaborate manoueveres involving mobile-phone communication from carriage to carriage, they co-ordinated reconnaissance plans for the Whack they were going to give or get further down the line.
After all, it was, as Bloody Fist say, 'Saturday night - looking for a fight'.
Bloody Fist's hard-core hip hop is coming loud and fast from the steel and coal-town of Newcastle, just north of Sydney, where unemployment apparently hangs around 27% for the children of former coal and steel factory workers. Nasenbluten, literally Nosebleed because the music they perform is loud enough to give one, played their Amigas to full affect at the annual What is Music? festival. The Bloody Fist label that they make up also carries the thrilling mythology of its literal interpretation - that they dance pounding their fists on the floor until their knuckles bleed.
The MCA's survey show of Mikala Dwyer featured a cubby house with brown packaging tape binding a pot plant and a brown cardboard computer box to the top of a plank of timber. At the exhibition Voodoo Child, Lauren Dyt and Michelle Hanlin made a Picnic at Hanging Rock landscape out of sprouting sweet potatoes with plasticene Victorian girls running screaming. Robert Pulie made a paranoid t-shirt, which read "I want to look at them I want to stare at them but I'm not looking at them I'm not staring at them", at Imperial Slacks' Ante group show. At Rubyare Gallery, Brent Grayburn tracked the wanderings of a digitally contorted boy through a shape-shifting city. An empty carparking lot was occupied by a group of artists (each allotted their own carparking space) where Andrew Hurle stripped a car back to its stereo system that played the anxiety-inducing soundtrack of the absent car failing to start. In Artificial Intelligence, Simon Yates illustrated his entire life story and dissected a brain, and Shane Haseman made the Whole Holy Hole of Aggression, precariously balancing a book titled "Aggression" over a bucket with a hole in it. King Kapisi and other Sons of Samoa were in the Bondi fale, bringing hip hop education to the bogan nation.
Sucking on an icypole provided instant relief while waiting for the thunder and lightning storms to arrive.
Shay Launder is studying in Sydney.