Neural Notations, a group show curated by Donna Leigh Schumacher, featuring the work of Elliot W. Anderson, Cheryl Coon, Jennifer Gwirtz, horea, Sara Roberts, Elliot Ross, Donna Leigh Schumacher, Susan Schwartzenberg, Catherine Wagner and Gail Wight. The Physics Room, 31 January - 10 February.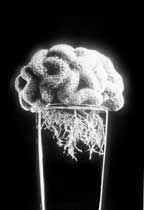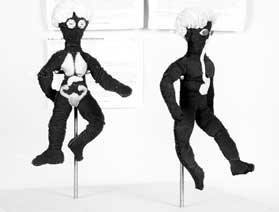 Californication is the name of the song from the Luke Warm Dill Pickles. Kalifornia, where the future happens first (smog, electric cars, scheduled power blackouts, the draconian laws making life's little nicotine pleasures illegal in public... oh yes, and the microchip), Land of Valley Girls and the sprawling megacity of San Angeles where flakiness is mandatory; where you can drop in, drop out, be a drop kick or drop any number of cutting edge substances from the recreational pharmacopoeia - a sensory glut of porn, glamour, high tech and things as yet unheard of, all about to plunge into a fault-line as a wreckage of capped teeth and Caesar salad. It's a mad, mad world, but at the same time they understand the importance of making it all about you.
Yes, they're an introspective and psychologically/psychic aware bunch out there, so it's perhaps unsurprising that an exhibition like the deliciously evocatively titled Neural Notations held at Christchurch's (swamp capital of the big 03) The Physics Room (their first show of twenty oh one... dum - dum - dum...dadah! dum dah dum dah dum dah... Where's my black monolith?). Since the nineteenth century, it has become traditional to make your inner demons into ART, and when I first heard about the show, I was understandably sus' about it, perhaps afraid I would be confronted with a dolphin-petting tank and reclining therapy couches. Thankfully, this was not so. Notations (as ever, the curator is auteur) is a collection of works by US art practitioners concerned with translating the union of neurophysiological function and spiritual/emotional reality. The show dances around outsider art, considering issues like epilepsy, monopolar effective disorder, manic depression, as well as whatever 'normal' is, through a hybrid of artistic intuition and neurological science. It plays with our postmodern existential angst. Notations has previously shown at the Mary Porter Sesnon Gallery, at the University of California, Santa Cruz.
It was very much a show centred on the hiccoughs of the brain. My ears were delighted by a remarkable plain-song/Gregorian chant-like choral performance by the petite Jennifer Gwirtz who'd synthesised electroencephalogram (EEG) readings into vocal scores, and performed before a backdrop of the graphs and readouts. There is a great deal of appeal in the idea of the process, but it's not a parlour game you should try at home. A fascinating reversal of the way the brain interprets musical harmonies.
There was a large blow-up photo of one of Susan Schwartzenberg's cerebellum-like cacti that leaves you wondering how it was forced to grow like that - gardeners will fume in their hothouses. Prickly as only the paranoid can be.
Part of one wall was imbedded with Cheryl Coon's ninja throwing star-like whatsits made from nails bound with thread and "thrown rather violently at the wall" (according to the catalogue).
Donna Leigh Schumacher provided spooky little sewn voodoo poppets representing friends and family with their external organs exposed on the outside. Pins headed with various kinds of tablet medication indicated what illnesses the subject suffers from when cross-referenced with the prescriptions on the wall (how did she get that through customs!?). There was also a nice range of those games where you usually have to move a little ball bearing around a maze - but the little balls were little pills and didn't roll so good. And I'll have my pedant card revoked if I don't draw the parallel with Borges and Kafka's paranoid mental labyrinths. (Where is David Bowie in codpiece and Tina Turner wig when you need him?)
I rather enjoyed Eliot Ross' bizarre and disturbing self portraits allowing him to introduce... himself. For me they evoked the expressionism of Francis Bacon and early De Kooning, as well as that effect in horror films when you catch the demon masquerading as human from the corner of your eye and you see the human face smeared around with evil demonic bits dimly viewed beneath. You can't help but feel sympathy for his inner torments - and remember that in each of us Harlequin, Nosferatu and Nazerene fight constantly for control. It was very Clive Barker.
Every work seemed to involve diagrams and notes as intrinsic parts. Gail Wight's First Evolutionary Occurrence of Pain uses a huge and detailed map of a snail's nervous system, connecting the pain receptors (highlighted in copper) via wires to a street lamp in a tiny model of a car wreck. On opening night the naughty Christchurch-cad-about-town (now moved on to greener and more Australian fields) Nik Wright, conspiring with the equally mad, bad and dangerous to know art-floater Lee Devenish, convinced the lovely curator Donna to disconnect it (apparently to see if the whole thing was live) while stalwart director Emma clutched her head in a rendition of Edvard Munch's Scream. Bless. (It wasn't live, but never mind - the pain was real).
It was all good - memory, paranoia and culture all tied together very nicely thank you. Pass me my Prozac. <applause>
Andrew Paul Wood is a New Zealand poet/writer/art critic/historian/academic and friend of The Physics Room. He is currently writing his MA and has a crush on David Rozetsky.