USEby: Asia-Pacific Artists Initiatives Project
Centre for Contemporary Photography and 200 Gertrude Street, Melbourne, October 2000.
rubik #11 : pan pacific
1st Floor Artists and Writers Space, Melbourne, October 2000.
The title USEby doesn't conjure up the most positive of associations. Is this a begrudging acknowledgement of the probable (shortlived) longevity of most artist-run initiatives or a celebration of the ephemeral, contemporary, flexible and contextual? When I relate the term "use by" to some of the works I have experienced by artists initiatives or in artist-run spaces, some recollections are of ephemeral projects that degenerated throughout their exhibition period; others are of completely naff art which ought to have degenerated. USEby can also allude to notions of contemporary as well as temporary, replenishment as well as demise. Artist initiatives and artist-run spaces inhabit a precarious position, being both antidotal and integral to the wider arts community.
USEby was celebratory of the contemporaneity, resourcefulness and flexibility of the artist-run initiative. Instead of presenting a selection of works in some way derived from artist-run initiatives as an end product, the project was concerned with developing a form of dialogue about the issues pertaining to emerging artists and the infrastructures they create for themselves (and/or their communities). To this end, I think the USEby project was successful, in that it has brought a survey of varied works and numerous artists together in a well-conceived and professional manner. Part of this professionalism has entailed the recontextualization of the work of artist-run initiatives within two of Melbourne's public contemporary art institutions. As the Melbourne based curators Sarah Tutton and Tessa Dwyer assert, "USEby is a large-scale project about small-scale practices".
The work by Tokyo group Command N is a video compilation featuring the work of 34 artists from 12 countries. The 2nd International City Video Installation Akihabara TV was a kind of MTV snippet-style offering of a site-specific video installation in Japan's Akihabara Electric Town. This raised some interesting points with me. The individual works were selected and compiled for a particular mode or context of presentation, simultaneous broadcast on numerous television screens in urban Tokyo. The inclusion of Akihabara TV2 signified an appropriation of (already curated) public art for presentation within the confines of an arts institution. I couldn't help thinking that in being "transplanted into the quieter, more meditative space of the gallery"Akihabara TV2 has become a displaced resonance of the original project. Besides which, Akihabara TV2 was 35 minutes long and one of my main gripes with the presentation of such video works is that 35 minutes is too long to stand up and feign engagement. Bring on the comfortable chairs. That is one of the reasons why Exotic 101 by Michael Shaowanasai was so refreshing. You could shake your booty around the provided pole while watching the step-by-step video guide to being exotic (for non-exotics).3 Very entertaining stuff with practical applications.
Another highlight from the CCP component of USEby was Harmonious Grandiloquence by Melbourne artist Alexander Knox. Knox has created an optical extravaganza of coloured fluorescent tubes, mirrors and traditional Chinese dragon and pagoda motifs. Harmonious Grandiloquence was like a tribute to the aesthetics of tacky Asian restaurants and those accessory light-emblazoned, cuddly toy-strewn sportscars that never seem to be carrying less than five people. The use of reflection and light created both a perpetuation of motifs but also a light that disappeared into a void of seeming cultural unfathomability.
There are artists who have explored the term "use by" within more literal terms. The work of Singapore artist Ye Shufang Chocolate Painting was, as its title suggests, constructed out of chocolate. Shufang applied a domestic medium to the models of minimalism. A line of five small squares of coloured chocolate offset the large white chocolate rectangle, like five M&Ms directing you towards a life size white chocolate Oompa Loompa. Untitled (what if I Drive?) by Sydney artist Tim Silver utilized wax melted down from Crayola crayons to construct a series of Tonka toy 4 x 4s. The trucks were affixed directly to the wall, with brown trucks going one way, and the blue trucks going the other. The wax trucks were ground into the wall creating a 'burn out' trail behind each of the vehicles. The child-like renderings of the skid marks on the gallery wall seemed like an analogy for the emerging artist naughtily defacing the sacred confines of the art institution.
Julaine Stephenson's Seismophone also occupied the front room at 200 Gertrude Street, taking form as a seismic sensor and transducer installed in a Lotto ball. This work seemed to reflect the earthquake abundant context of construction, and the presence of seismic registering devices prevalent within New Zealand museums and galleries. The inclusion of this work within the USEby project exemplifies the alteration of meaning through the removal of original context. One could say this about numerous inter-cultural curated exhibitions, but the issues seem compounded by the local concerns and audiences addressed by many artist-run initiatives.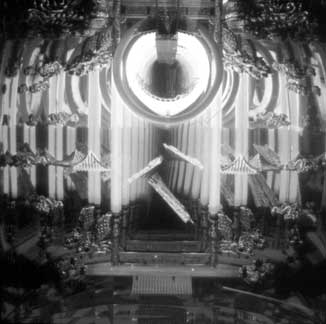 Alexander Knox: Harmonious Grandiloquence (detail), 2000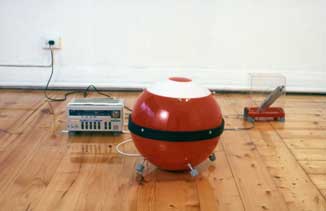 Julaine Stephenson: Seismophone, 2000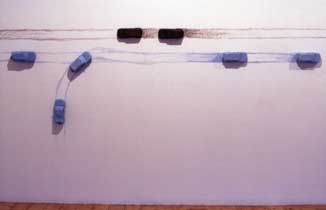 Tim Silver: Untitled (what if I drive?), 2000
In addition to the main exhibition pavilions at 200 Gertrude Street and the Centre for Contemporary Photography, the USEby programme also incorporated a forum, film screening, très swanky website (www.USEby.net), and a satellite exhibition at the 1st Floor Artists and Writers Space. The satellite project took form as the New Zealand, Australian and Los Angeles faceted rubik#11: pan pacific. pan pacific was the only component of USEby actually situated within an artist-run space and represented a more analogous approach to the inter-cultural project. This project featured an array of mostly small-scale works, with numerous works on paper. This seems fairly consistent with the previous (predominantly printed) manifestations of rubik as a project, with many of their art fanzine-styled compilation/exhibition publications available for pan pacific patrons to peruse. pan pacific emphasized a more pragmatic grass-roots level of intercultural curation, emblematic of the artist-run space ethos, accentuated by the relative buffness of the funded/relocated/endorsed USEby mothership.
Auckland artist Dane Mitchell offered a piece based around legal documentation surrounding the appropriation of (alleged) Gow Langsford Gallery rubbish. In contrast, Melbourne artist Helen Anderson has created the beautifully rendered Media Suite 2000, a look at politics outside of (but nevertheless affecting) the art world.
Another highlight was the music of Los Angeles artist Jennifer Moon. Moon laments and rejoices in her personal experiences (or role-playing) in a style developed from the 'I sing in the shower, maybe I should make an album'-type disillusionment. But the songs are both funny and tragic, and there was an accompanying video featuring a behind-thescenes look at the artist as musician, in a kind of Benny Hill-meets-LA-art-school superhero style of filmmaking.
In my opinion the USEby project worked well to recognize the contributions artist-run initiatives make to contemporary art. In elevating the practices of emerging artists beyond the insularity of artist-run spaces or initiatives, the project offered awider framework in which to look at local responses to contextual and international concerns. Furthermore, USEby provided a platform for the possibility of increased inter-cultural collaboration and discourse between artists and small arts organizations that may in future offer wider audiences a broader response to the local and international within contemporary art.
Mark Feary is a boy who doesn't care so much for the colour pink.
1. "Left-overs, scandals and other surprises", USEby catalogue, 2000, p6.
2. ibid, p37.
3. ibid, p38.