The immediate impression of Jim Speers' Tiffany's Kyoto at Artspace was one of immaculate emptiness. A wall of shining department-store front glass gave way to a lone 'bare-cherry-tree-in-winter' draped in white lights, with a large wooden origamiesque sculpture (as referent to corporate foyer sculptures?) lurking nearby. Speers' formula seemed to utilise a straightforward conjunction of two images: Japanese cultural-city Zenaesthetics meet corporatised American minimalism (in fact it's right there in the show's title). Noting this, I thought a local version would have made an interesting show: Smith and Caughey's Rotorua. As it stood there seemed to be a lack of conceptual distance between the two sites, resulting in a lack of generative fission.
Speer's work in the long gallery was perhaps a little more 'arty' and certainly better for it. Super brightly lit, mirrored and glaringly white, the long room housed a flock of factory-fresh enamel-white forty-four gallon drums lying around like an accident in an Exxon showroom. The piped muzak was still running but technology had failed, retarded to a lockgrooved couple of bars of Dylan's Knockin' On Heaven's Door. This produced a surefire neural short-circuit in the viewer nostalgia stripped of its usual fulfilment potential and reduced to biomechanical manipulation.
This year's model of hot young things, Measure of Strangeness, at Artspace, was not enough of a measure nor strange enough to make for a representative show. Three artists, all Elam affiliated, 'debuted'. Caroline Rothwell presented large wall-sized orchids traced in coloured tape, alongside wall-inset vitrines hosting organic porcelain lumps, in a way that exploited readymade sexualised notions of flowers and amorphous clay blobs. David Townsend was re-presented by the velvet paintings last seen at the closing of Fiat Lux (surely the end of an era) -homoerotic muscleboys meticulously rendered in a tastefully retrodelic manner. Peter Stichbury's glossy oil paintings tried for an exaggeration of the superficiality inherent in recent fashion photography. Originally shown at Anna Bibby's, this emptying of an already empty vessel seemed an exercise in redundancy.
Rm 212 is in hibernation after its directors' departure for Europe etc. on a CNZ See The World junket that took in shows in London and the Netherlands. The last shows here produced good work from Peter Madden (surgical recontextualisings of National Geographic material) and the threat of legal action for Dane Mitchell (exhibiting the results of trawling through Gow Langsford's trash, airing various inoffice memos potentially embarrassing for their client relations). Following this the last exhibition included alluring long-exposure photography of jumbos taking off from David Bennewith, Steve Carr's model train taking in a compressed view of New Zealand art, and videowork by myself of a lion disco-dancing to the tune of the alien mothership from Close Encounters of the Third Kind. Rm 212 is currently looking for new premises.
The German invasion handiKraft up at Artspace, coordinated by Tobias Berger to tie in with the simultaneous Fluxus assault on New Plymouth, (NZ's only stop on a world tour curated by René Block) gave us three young lads serving up a kind of work which may or may not have represented the cutting edge of a new European direction. In the large gallery, René Zeh offered a collection of artefacts related to, according to the wall-puff, 'virtual travel': a prefab frame of a motel-like room with a bed, a laptop and a poster for the movie Westworld. On the walls of the gallery were two large discs covered in gallery flyers, maps of major cities of the world, and, in vinyl letters, S, M, L, XL -a reference to the big Office of Metropolitan Architecture book that came out a couple of years ago. Arriving at the opening straight from Carole Becker's (of the Art Institute of Chicago) no-nonsense lecture on the "Romance of Nomadism and the Homogenization of the International Art World", the work seemed to address a very real kind of travel, one which sees artists working in communities where their ideas are only as relevant as the currency of International Art.
In explicit art nomadic-style, John Bock installed a shantytown shelter in the small room there assembled from found materials and apparently the site for a performative lecture referencing Beuys, the Aktionists and Paul McCarthy. I didn't see any of that and only caught the remains, which were felt marker on plywood 'Kippenberger rejects' propped against the walls, miscellaneous junk, a juke box remaindered from the eighties and two video monitors. The props and the gloominess of the darkened room gave it a squalid depressing feel and its 'bad boy' leanings seemed appropriately distasteful.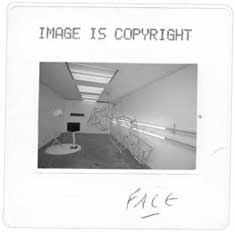 Austrian physicist Erwin Schrödinger argued that an imaginary cat-in-a-box-with-a-bottle-of poison, which it has a half chance of consuming, but which we can't observe, is, since it may be alive or may be dead, arguably both at once. Accessed through a polystyrene cat door, Björn Dahlem's (is it a dahlema?) Club Schrödinger's Katze realised this philosophical conundrum for us from construction materials, fluorescent lights and a wire lamp/ figure examining a velvet box. A copy of Freud's Jokes and Their Relation to the Unconscious in the 'head' of a rhizomic wooden structure and a window into a walled-off area containing rejected materials suggested the suppressed urges of the unconscious.
The Ed., GP, writing in eyeline magazine said that 'prismatic geometry', the curatorial premise for The Crystal Chain Gang, at the New Gallery, "reminds me of primary school - cardboard, glue, failed dodecahedrons". For me, the memory is more personal, more cringey - successful dodecahedrons (I even sold a few to some of the other kids) leading to years of Dungeons and Dragons (d4, d6, d8, d10, d12, d20, do you know what I mean?). Crystal Chain Gang was something I could relate to. Jim Speers' diagrams-on-the-wall work of crystal formations at his father's farm seemed to capture the necessary boyish appeal of this material, and Gavin Hipkins' photos of scientific models looked a lot like multi-sided dice.
Moving on, Kerrie Poliness' early stenciland-spray paintings reminded me of cool Spaceman 3-type LP covers. "Taking Drugs To Make Music To Take Drugs To". However, that kind of crystal reference was otherwise disappointingly absent. Too many works were of a drab materials-and-their-possibilities nature, or just plain boring. Clearly the best works in the show were Louise Weaver's Rainbow Lorikeet (grafting) and Rose Quartz (pink stone) - a stuffed bird on an antler perch had been cocooned in pink knitting and dressed-up with sequins and a pompom, only its feet and beak poking out; the 'quartz' was just a stone wrapped in the same pink knitting sitting on a plinth. In their humour, Weaver's works were both wickedly smart and obstinately simple, stupid fresh, in fact.
Dylan Rainforth is an artist living in Auckland.