The cultural life of Wellington doesn't get much crazier than this: once every two years the calendar is overwhelmed by the simultaneous occurrence of the Arts Festival (NZ Festival 2000), the Fringe Festival and Victoria University's orientation week.

Orientation: February 29 Shellac played the Union Hall with support from locals Seven and HDU. I arrived with Dunedin's HDU in full swing and sounding for all the world like U2, or was it just me? I think not. A wash of harmonics peeled off heavily effected guitars. Was the singer's posturing angst even inspired by the great Bono Vox? While HDU tilted at the sublime Shellac got there. Kill the Rock 'n' Roll mood lighting, time to get serious, white light, straight up, Fugazi style. Kill big effects and production shmooze, all the passion that Shellac delivered (and there was plenty) had to be wrestled from their instruments with determination. It was painfully honest. They could take a song way down to the mere hum of electricity and sparse prose without a snicker of cynicism from the audience, a hell of a feat.

The Fringe Festival officially started on February 26. The number of performers was up 50 % on '99. This despite the fact that competition made it difficult for many acts to secure an audience at last year's Fringe. The guide for the Fringe is a God damn headache! By the very nature of Fringe, you're not likely to have heard of most acts, yet these same acts insist on wasting their three precious programme lines. Instead of telling you what it's all about they attempt to weave enigma out of the fact that you may not give a shit. All you're left with is Fringe-guide-as-bad-poetry and a desire to revisit the Festival 2000 programme for its glossy pictures.

From the Fringe. RoTAction - the music ensemble of Aucklander James McCarthy - played the University's new Adam Gallery. Constantly referred to as being like From Scratch there are however some obvious differences. The most obvious is RoTAction's playfully ragged sense of humour, something less likely to find a place within the ritual spiritual veneration of From Scratch.

From the Fringe. Toasted was a series of art works by one Maurice Bennett. This guy uses toast as his medium. The science of achieving different shades of toast (uncooked through to blackened) is employed to create huge mosaic portraits. The works obsessive novelty (and skill?) impressed the locals. The only really amusing thing about it was that drunken revellers started to eat unburned pieces from Bennett's giant public portrait of our beloved mayor. This caused civic concern that the unwitting culprits might suffer polyurethane poisoning as the toast had been treated.

The big draw card at the City Gallery was Viva La Vida: Frida Kahlo, Diego Rivera and Mexican Modernism. Many travelled from far and wide to be disappointed at how few Frida Kahlo paintings were on show. The exhibition was advertised as the romance of the century between Frida Kahlo and Diego Rivera, in a manner that would befit the NZ Woman's Weekly. Perhaps feeling a little self-conscious at the lack of actual paintings by the great couple the gallery filled one entire room with dozens of photographs (or cheap laser-copies of photographs); Frida kissing Diego, Diego kissing Frida, Diego and Frida throw a red fist in the air, Frida and Diego enjoy the garden. Tedious. The main gallery upstairs was given over to a survey of Mexican Modernism and provided valuable context for the works of Frida and Diego - Modernism provided a canvas for reinvention during Mexico's time of revolution. The smaller upstairs gallery was given over to contemporary Mexican art.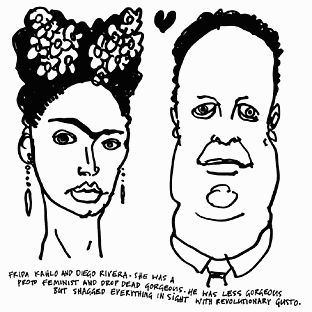 Friends and critics alike raved about let's op Bach - dance from Belgium, and Adolf - the one-man play by Britain's Pip Utton, both part of NZ Festival 2000. Seems I missed out on two of the best. Instead I got pissed on at the Edinburgh Military Tattoo as Wellington turned on the appropriate weather. I was briefly distracted from my misery by the awesome presence of the assembled Scottish pipe bands that opened the event. My exalted state did not last as what seemed like an endless stream of New Zealand brass bands chewed their way through TV theme tunes and goofy dance moves.

Festival 2000. We got down with the damn native at Cool Heat Urban Beat (USA), a showcase of skilled dancers who take it to and from the street. At its climax the DJ implored us all to "wave our hands in the air like we just don't care". Hundreds of white middle aged men and women let it all hang out, it was just too surreal.

Festival 2000. Somehow less surreal was Urban Dream Capsule(Australia). UBC lived in the window of Farmers for two weeks. Most of us thought we were in for some reality TV as performance art. Instead we got four children's show hosts on Prozac. UBS hammed up the most mundane of daily chores until they were robbed of all personality. They came on like entertainers which left me waiting on visual jokes that never arrived. They just couldn't make good on the promise of the shows attendant baggage as a show. On the subject, local entertainment guide the Package wrote: "Today we made Pavlova" - and who gives a shit.

Festival 2000. The only show to truly rock my world was Giulio Cesare (Italy). The New Zealand medical establishment accused this show of exploiting a clinically anorexic woman. How boring, puritanical and so totally unsurprising of them. Giulio Cesare was a visual and aural masterpiece that at times had more akin to Performance Art than Theatre. Some accused it of relying too heavily on the saturation of sound, lighting and props at the expense of real theatre. Real theatre as what? A cultural tradition and holy craft? Joint director Claudia Castellucci explained to the local press: "Whereas the dominating theme of Western theatre is still very tied to literature, our line, on the other hand, is that of... a visual theatre which takes account of all perceptions. Therefore there is not just an intellect listening to the piece but also a sensual approach."

In its first months The Adam Gallery has played host to many valued performers apart from its life as a conventional gallery space. From Scratch after RoTAction. More recently Otomo Yoshihide from Tokyo. It didn't take long for Yoshihide to drive me and many others out into the cold night air: his frequencies were torture and at volume too Was this the point? I did not bomb Hiroshima! At the Adam through March and April - Joseph Kosuth with Guests & Foreigners. His Adam show sees NZ as sixth stop in an international site-specific project. Kosuth is here as visitor to play with NZ's bicultural language and in doing so provide a wider context as guest/foreigner. A great idea but does it wash? Do the text-covered walls really utilise the site or should this guy just write a book? NZ artists get in on the act with the group show Language Matters, curated by Christina Barton.

At the Michael Hirschfeld Gallery (dedicated to art from Wellington, yeah! - not before time) recently I caught the opening of Neil Pardington's photographic
show Elsewhere. Not as sexy as the invitation. Iconographic photographs in black and white - Squirrel, Rat, Apartment etc. The appeal of the works' size and succulent exaggerated grain did not make up for what they lacked as strong images. Those in attendance were equally stylish. Prior to Elsewhere was the group show Past Life: "Wellington painters explore traditions of folk, naïve and visionary art". The esteemed collection failed to surpass anything down at Pablos, the under patronised Vivienne Street gallery dedicated to supplying an outlet for the art of mental health users. Try Pablos for "folk, naïve and visionary art".

Also worth visiting is the new performance venue The Space in Newtown, the suburb that resists gentrification. The Space is run by three members of the Wellington Jazz Collective. They like all that unlistenable left-field Free Jazz and Noise that doesn't get through the door at Bodega. Support The Space so it stays up and running.

Time out. I apologise for not covering Wellington's dealer art showrooms but you all know what goes on there. Some of the most collectable has been on show at Te Papa's new Recent Acquisitions space. Unfortunately the work is hamstrung by an all too desperate searching for the NZ identity. The show could be subtitled 'works by guilty Pakeha and angry Maori'. Our identity as New Zealanders is surely more myriad and wonderful than the impression we get here.

From memory Wellington doesn't recover from festival fever until August. Between now and then we have the comedy Laugh Festival followed by movie madness with the Paramount World Cinema Showcase, The Incredibly Strange Film Festival, The Gay & Lesbian Film Festival and Finally the International Film Festival. Get some sleep you lot!


***


Bryce Galloway [Aries Horse] is the founding member of the performance group Wendyhouse. Living in Wellington, he is an avid cartoonist with tenuous connections to the art scene.